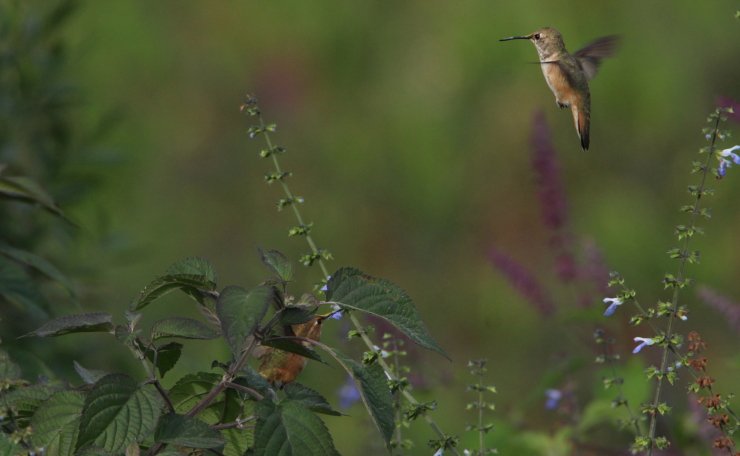 Golf is a good walk spoiled. — Mark Twain
Once, and only once, a while after I became a bit crazy about birding, my long-suffering wife decided to go along with me and see what it was all about. Now, my wife is extremely conscientious about exercise. Every day she walks one hour, to the minute. If anything interrupts her walking, she paces in place until she can get back to her serious business. And she thought, hoped, my birding outings would be something like that. They are not. She did not ask to go again. (Having to stay very, very quiet didn't help, either.)
Don't get me wrong. I do indeed walk, often a lot, on my Monday outings. A couple of weeks ago, I walked some 8 km (5 miles) in a single morning. But all of my readers probably understand that "bird-walking" is never continuous. And sometimes, there are so many birds, that I spend almost all my time standing in one place, just watching the show.
Don't you hate it when that happens?
Neither do I!
Last week's outing was one of those times. E-Bird, God bless them, tracks the exact distance and time of my outing, so I know that I walked a grand total of 3.63 km in 5 hours 25 minutes. That means I walked an average of .66 km, or .4 miles, per hour. But hey, I saw 64 species in that time and distance. So what was I to do?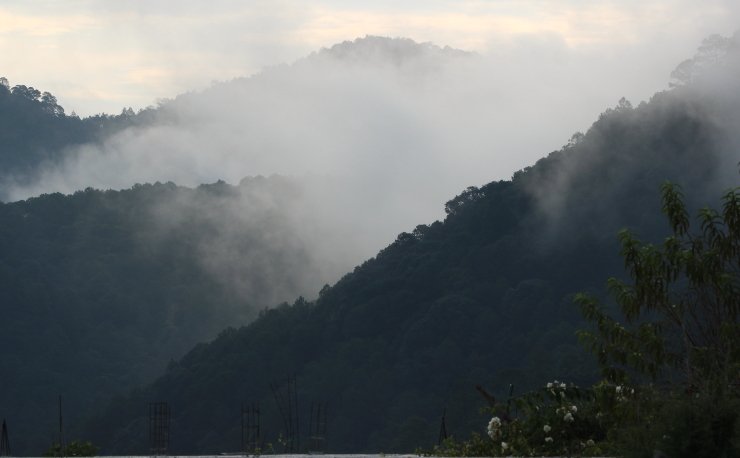 Plus, the scenery was wonderful.
I had chosen to go to Laurelito, my favorite spot for hummingbirds. And it was mid-October, which is Michoacan's peak hummingbird month. In fact, 10 of my 64 species for the day were hummingbirds, with (estimated numbers) 7 Mexican Violetears, 3 Rivoli's Hummingbirds, 1 Black-chinned Hummingbird, 3 Broad-tailed Hummingbirds, 10+ Rufous Hummingbirds, 2 Bumblebee Hummingbirds, 2 Calliope Hummingbirds, 1 Broad-billed Hummingbird, 7 Berylline Hummingbirds, and 4 White-eared Hummingbirds. That's a lot of buzzing birds! One of the White-eared Hummingbirds was even sitting on a nest, since non-migratory hummingbirds tend to nest whenever food is most abundant, which in our case, is in the fall, not the spring.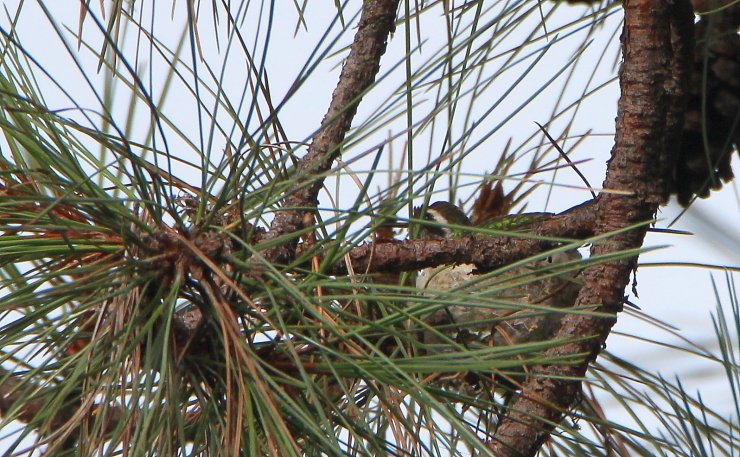 There is a White-eared Hummingbird on its nest somewhere in there.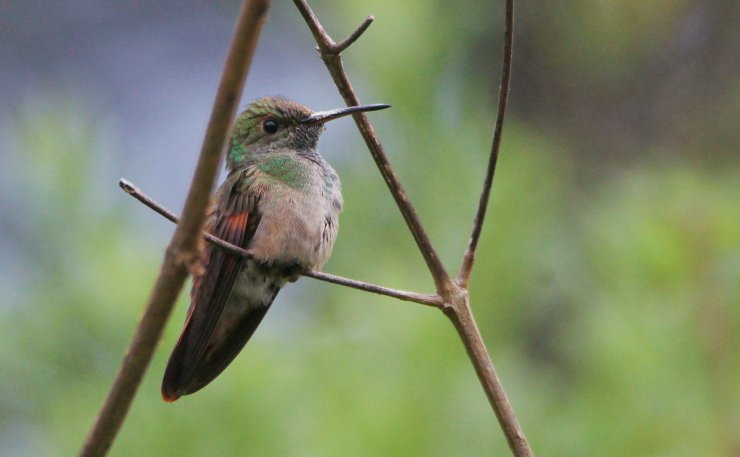 immature Berylline Hummingbird
Just in case those numbers sound like great fun, I should mention the downside to our fall hummer season: around 4 out of every 10 were almost-identical females or immature males of 4 Selasphorus species. (Or, perhaps, 5; you can never be sure a female Allen's Hummingbird hadn't slipped into the mix.) It took me days to venture an educated guess as to which ones I had seen. Deciding that the lone female Archilocus was a Black-chinned Hummingbird was no piece of cake, either. By some cruel twist of fate, most of the easily-distinguished males of all these species winter on the coast, while the females and immature males winter in the highlands… to torture me, personally.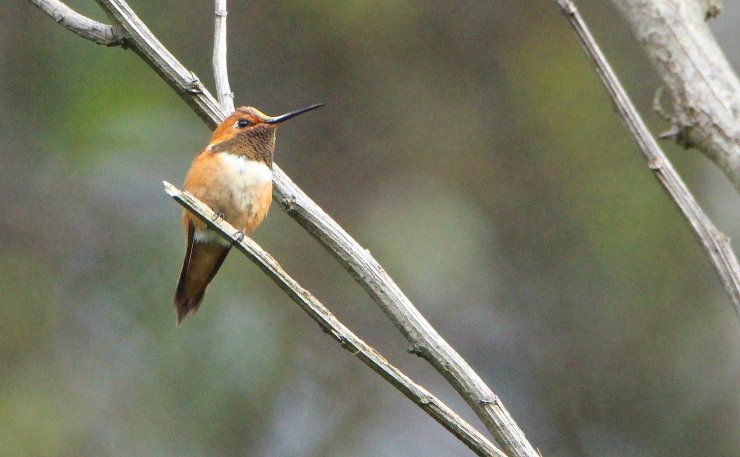 This Rufuous Hummingbird is a male, thankfully.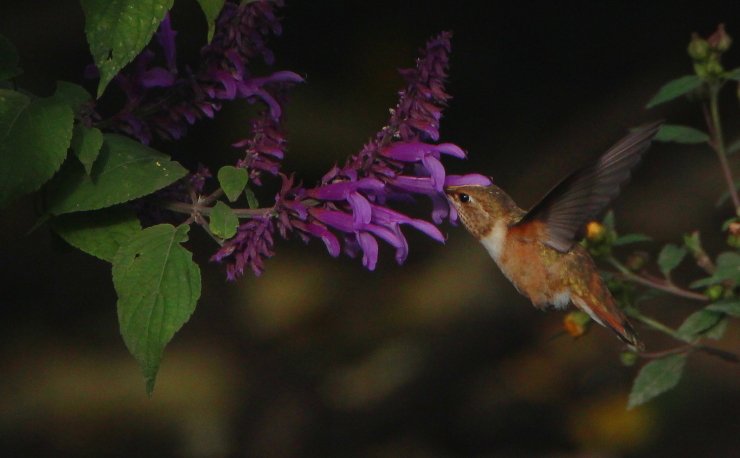 While the heavily spotted throat says this is an immature male Rufous Hummingbird.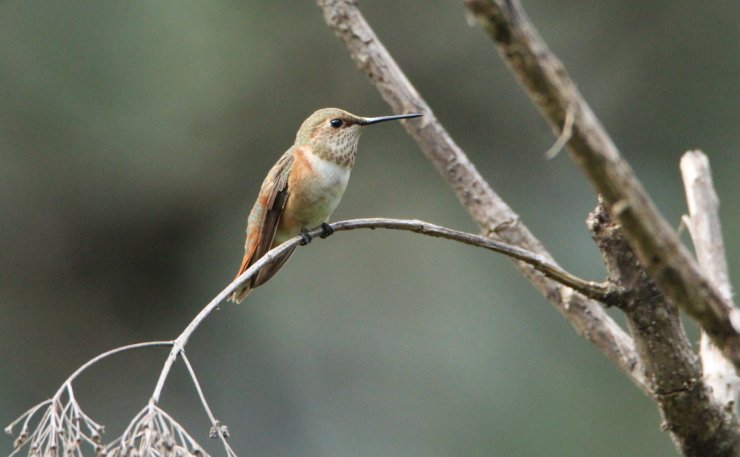 It gets more complicated with female Rufous Hummingbirds.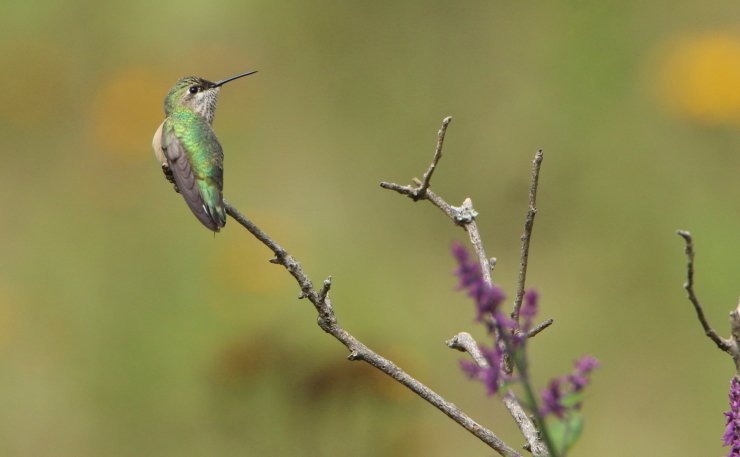 These wings, longer than the tail, say that this is a female Calliope Hummingbird.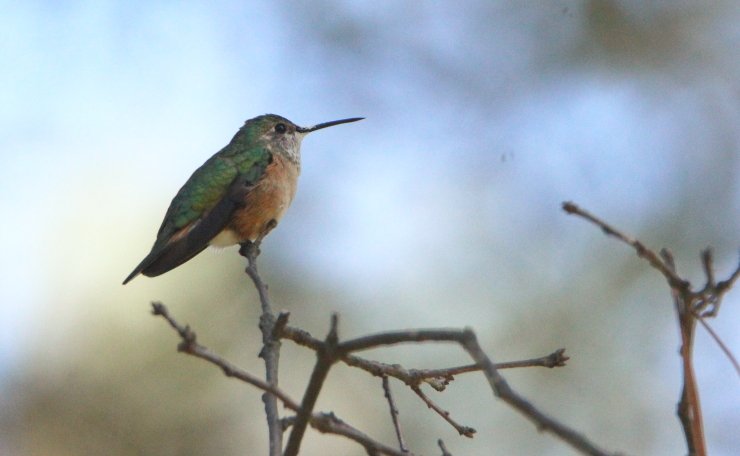 And this other short-billed hummer is a female Bumblebee Hummingbird… I think.
Although they were everywhere, hummingbirds didn't provide the only moments of excitement. There was the point in some of the site's deepest woods where I saw the following species, all at once: a male Summer Tanager, still in its reproductive plumage (a rare treat here on its wintering grounds), a female Flame-colored Tanager, a Red-faced Warbler, two Crescent-chested Warblers, and a male Elegant Trogon. Five simultaneous species, and every one was a prize!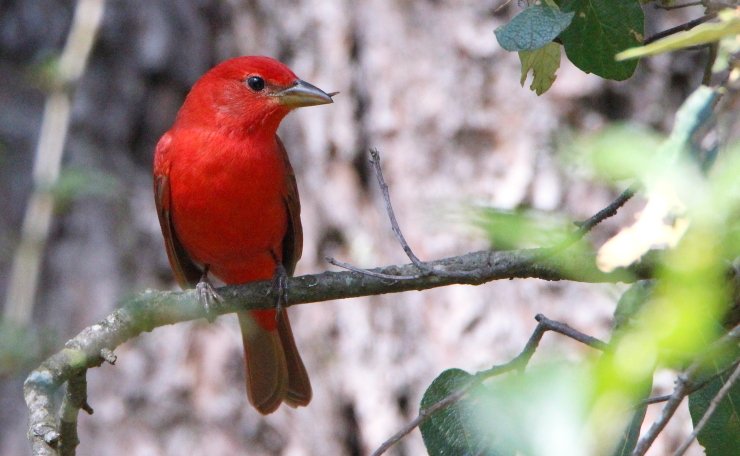 the male Summer Tanager
Other moments included watching two Sharp-shinned Hawks circle overhead, a brief encounter with a "red-shafted" Northern Flicker, and a group of Mexican Chickadees, rarely seen at this comparatively low altitude. I'll leave you with a few more photos from the outing: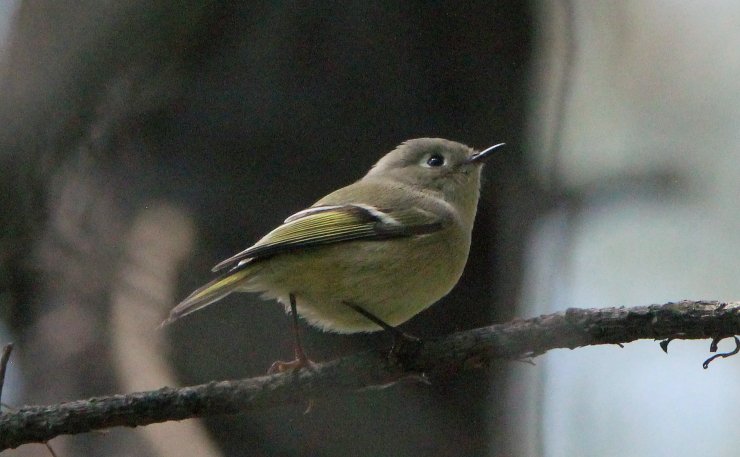 The Ruby-crowned Kinglets are back for the winter!
And so are the (female) Indigo Buntings.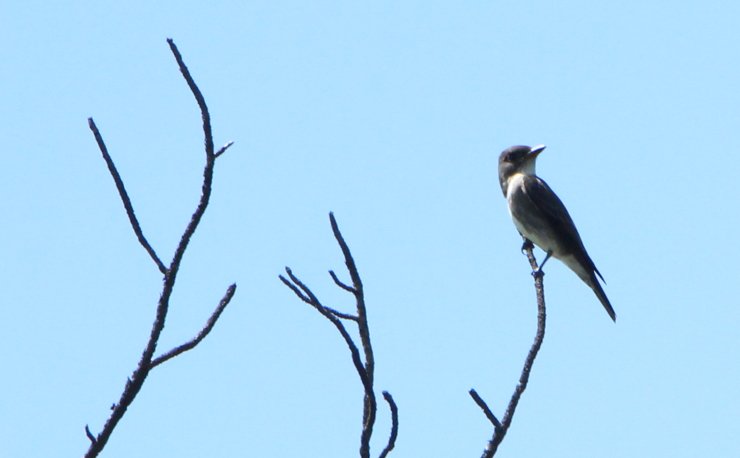 While this Olive-sided Flycatcher has yet to continue on its way south.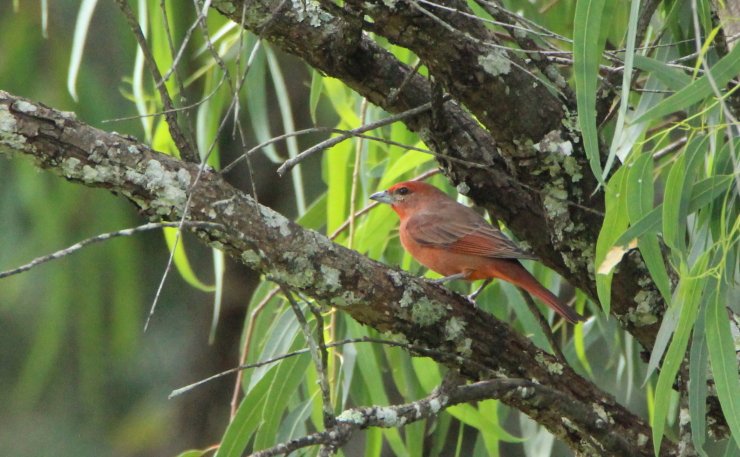 It has a certain resemblance, but this Hepatic Tanager is not a Summer Tanager.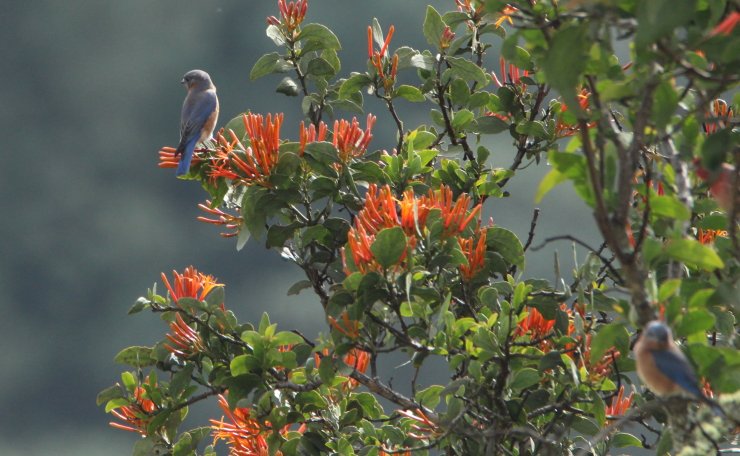 Believe it or not, the orange-flowered plant sporting these Eastern Bluebirds is a form of mistletoe.