So, how was your Great Backyard Bird Count? If you live in North America and pay any attention at all to avifauna, you probably did your part over the last four days to advance the cause of citizen science. To be honest, I wasn't all that excited about the GBBC this year. I strive to observe the local birding holidays religiously but the prospect of counting starlings and pigeons bores me to tears. I try to respect every species for the unique genetic snowflake that it is, really I do. But I live in a Bronx apartment with the nearest tree of any stature at least 400 feet away. With due respect to the immortal Albert King, if it weren't for trash birds, I wouldn't have no birds at all. The most interesting resident most days is an immature Red-tailed Hawk fattening up on said starlings and pigeons. The results of my first day of the GBBC bears this out:
Red-tailed Hawk – 1
Rock Pigeon – 4
European Starling – 8
House Sparrow – 2
On Saturday, Sara and I were discussing the dismal forecast for the day's bird count and commented that what I really needed was a Great Backyard Bird Count miracle. Back in the day, 2003 to be precise, we enjoyed a very special sighting out the apartment window during our first Christmas Bird Count. The bird was an American Kestrel, not our life kestrel but definitely the first one we'd seen in the Bronx. Now if you don't know what a kestrel is, you do not know what you're missing. These pugnacious little pocket falcons are a dash tangerine, a splash ultramarine, and a whole lot of just plain mean. The thrilling realization that a blue and orange raptor was hawking sparrows right outside our window was truly a Christmas Bird Count miracle. Unfortunately, while kestrels were a welcome sight for years after that initial observation, many months had passed since our last loving looks. I really had no hope that our old friend would drop by, even on this auspicious weekend.
But they don't call the GBBC the most wonderful time of the year for nothing. There I was casually sorting starlings from pigeons when I noticed a familiar silhouette provocatively pumping its tail at the top of our trusty tulip tree. Even before I reached for my bins, I knew the improbable had become actuality. For about five minutes, the kestrel basked in the adoration of its nostalgic fans, then streaked towards some distant sparrow, perhaps never to return. Even if it doesn't, we'll always have the 2008 Great Backyard Bird Count!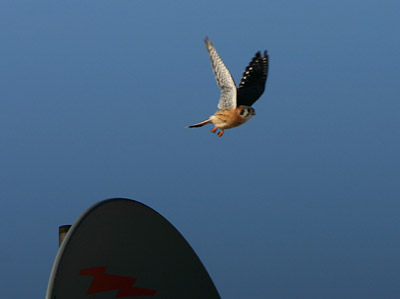 Our kestrel, back before he became such a stranger