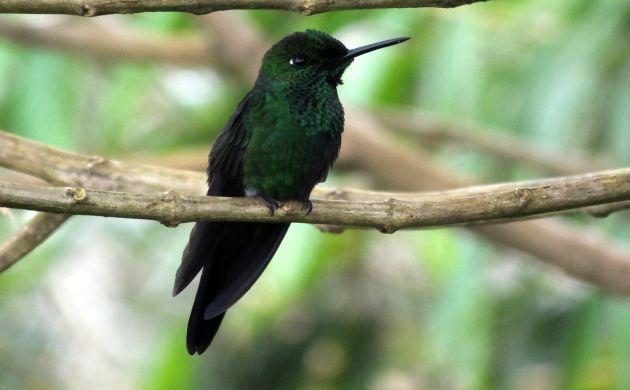 Last weekend, I went on a quest. The adventure was sort of like a search for treasure, except that the jewels were feisty, feathered sprites. Yes, the time had come to see how many of Costa Rica's hummingbird species we could find, and we had two days to work with. This oh so awesome endeavor was apparently somewhat inspired by a blog post I had written that toyed with the idea of doing a hummingbird big day in Costa Rica. Shetland Island birder, guide, and nature writer Jon Dunn saw the post, had a chance to come down to Costa Rica for a weekend, and the hummingbird quest was on!
The original idea involved a roundabout trip that went from the San Jose area to the wet foothills and lowlands of the Caribbean slope, then back up to cloud forest, high-elevation forest, way back down to the hot habitats of the Pacific coast, and then up to San Jose. Fortunately, I realized that this wacky jaunt from one side of the mountains to the other and back up again would involve more driving than birding so we opted for splitting that route into a pair of days. This definitely took the edge of off the craziness and turned out to be a necessary move because some hummingbirds just don't want to play.
DAY UNO
The nice thing about this Big Dayish endeavor was not having to start in the middle of the night. As opposed to listening to hours of crickets instead of hoped for owls, we left just before dawn for the leisurely drive down to the mangroves at Mata de Limon to try for one of our toughest targets, the appropriately named Mangrove Hummingbird.
This endangered endemic is always tough even right in the middle of its specialized mangrove habitat. Unlike other hummingbirds, it refuses to come to feeders, and rarely belittles itself with the slightest bit of nectar from a flowering bush. It's either a snobby, extremely picky eater, or a pacifist and since those traits don't jive with the usual ways of the Trochilidae, the Mangrove Hummingbird is far from common.
Fortunately, we did see one, and saw it well after an amazing degree of pishing/pygmy-owl imitation effort.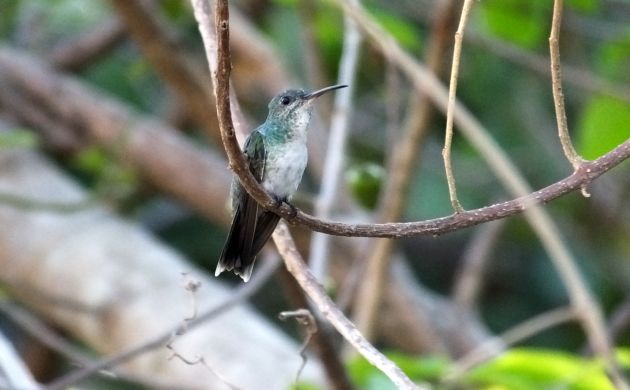 Our female Mangrove Hummingbird. Maybe it's just insecure about its drab appearance?
Having already snagged Plain-capped Starthroat, Scaly-breasted Hummingbird, and Cinnamon Hummingbird, the Mangrove was actually our third species of the day.
We followed that juicy target up with fruitless searches for Canivet's Emerald in tropical dry forest before giving up on the pishing to check out flowering trees at Tarcoles. That gamble paid off in the form of several Green-breasted Mango, Steely-vented Hummingbird, Ruby-throated Hummingbird, Rufous-tailed Hummingbird, and our first Blue-throated Goldentail.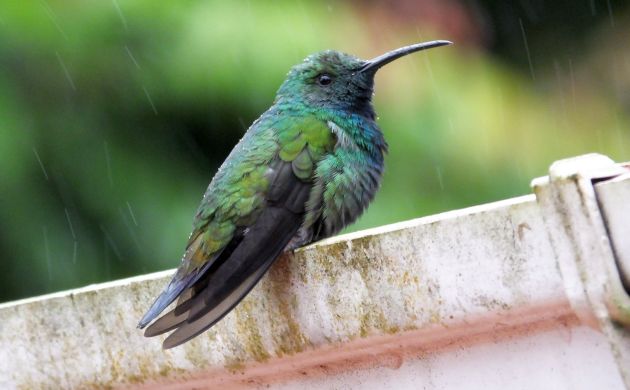 Green-breasted Mango.
Further searches for the emerald were hummingbirdless although we did see American Pygmy-Kingfisher, Red-legged Honeycreepers, and Boat-billed Heron among other species. By then, it was time for lunch. Since I had this big idea to combine hummingbirding with lunch, I figured we would cruise down the coast in search of a diner that happened to be next to patches of Heliconia flowers; a key ingredient for hermits. Unfortunately, perhaps because of drier than normal weather, or because big ideas tend to be learning experiences, we couldn't find any flowering Heliconias at a restaurant or even along the road.
The afternoon was then dedicated to looking for flowering trees and bushes on the road next to Carara National Park. Several species wee possible but our two main targets were the near-endemic Charming Hummingbird and White-crested Coquette, a pair of tough species for Carara. We saw more Ruby-throateds, goldentails, and Steely-venteds, and picked up our only Long-billed Starthroat and White-necked Jacobin but there were few flowering trees and still no Heliconias!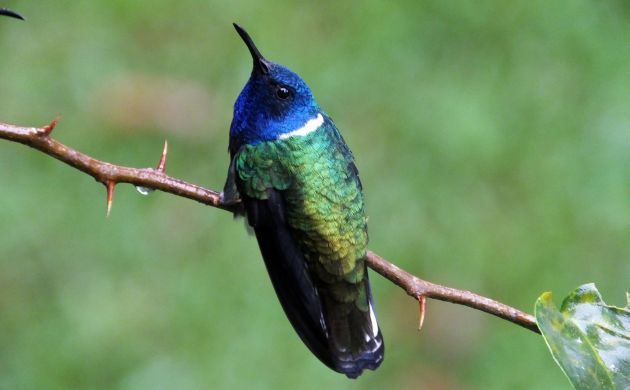 White-necked Jacobin- we thought we would see more of these!
Eventually, we did find a couple of flowering Ingas and since they were our best chance at senor Charming and the coquette, we waited and watched during the final forty minutes of daylight. Amazingly, the strategy paid off when a tiny hummingbird materialized on the tip top of a twig just like coquettes love to do. A quick look showed that, yes, it was a White-crested Coquette before it was just as quickly chased off by one of those permanently angry, Ruby-throateds nasties.
Intent watching of the flowering trees eventually turned up a few Charmings near the last light of day, the identification of those drab birds clinched with a glimpse of the shining turquoise crown.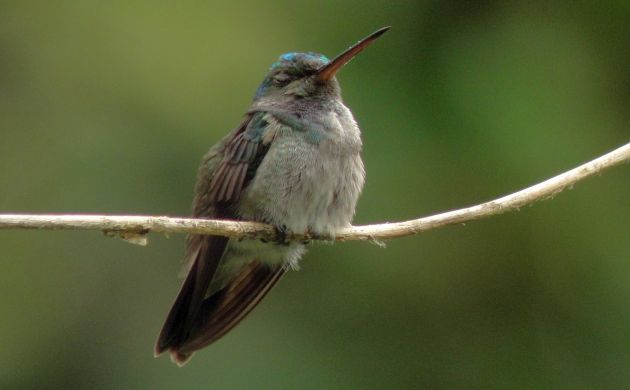 The Charming Hummingbird used to be known as the Beryl-crowned Hummingbird for more obvious reasons than its present name.
We ended the first day of the quest with thirteen species and I assured Jon that the second was really the bigger of the two because we would have hummingbird feeders to help us out.
DAY DOS
Our first site for the day was the legendary hummingbird garden at El Tapir. This site is a must stop on any birding trip to Costa Rica because it's one of the only accessible places on the planet for the Snowcap.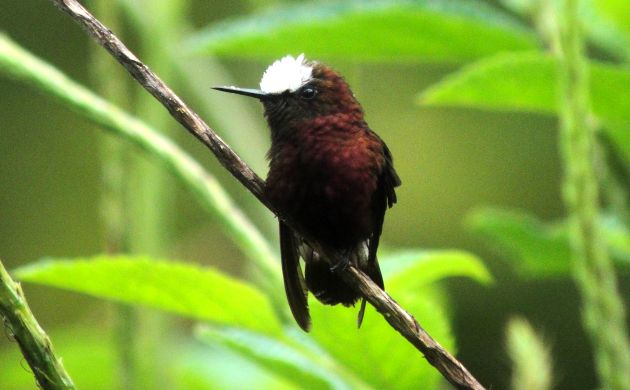 Snowcap….
We got there early and a good thing because we quickly saw a male Black-crested Coquette that never came back. We also got great looks at male and female Snowcap, and added Violet-headed Hummingbird, Bronze-tailed Plumeleteer, Crowned Woodnymph, Green Thorntail, and more Rufous-taileds.
The rain fell down and we moved on to Heliconia Island in the lowlands. By merit of the name, I thought this would be a good spot for hermit species. Well, it probably is but not so much when we were there. We still managed close looks at only Purple-crowned Fairy of the quest, and did pick up one good hermit though, a sneaky Band-tailed Barbthroat singing in the understory.
After thoroughly looking at every Heliconia patch and being soaked with rain, it was time for one last chance at hermits and another lowland specialty, the Blue-chested Hummingbird. We headed over to the La Selva entrance road because I had seen Blue-chested there recently and one usually sees a hermit or two. We got the scarce Blue-chested shortly after watching a bush with red flowers, and managed a Long-billed Hermit but no dice on Bronzy Hermit nor Stripe-throated Hermit. It's easy to miss the Bronzy  but neither seeing nor hearing a Stripe-throated in two days is simply absurd because it's one of the most common hummingbirds in the country.
We left the lowlands to finally get in some feeder action where hummingbirds would be a piece of feathered cake. Except at the Cinchona Hummingbird Cafe, they weren't. The wind and rain probably had something to do with the dearth although we did pick up Violet Sabrewing, Green-crowned Brilliant, and Green Hermit.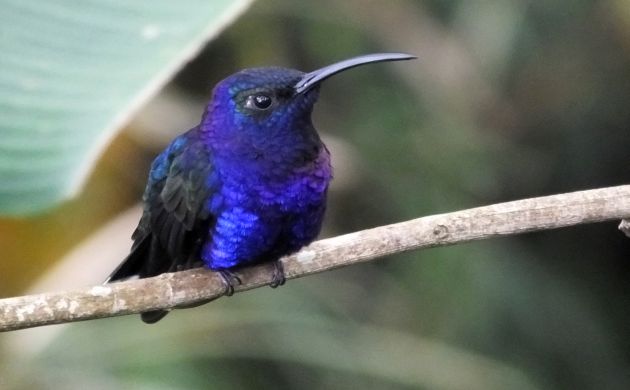 A Violet Sabrewing at Cinchona.
A check of nearby flowering trees refused to give us hoped for Brown Violetear but finally resulted in Coppery-headed Emerald, and more looks at Green Thorntails. We still needed White-bellied Mountain-gem and other cloud forest species but we also still had one big trick up our sleeves. This hat-trick and hummingbird ace in the hole was the La Paz Waterfall Gardens, a place I usually avoid because it's expensive to enter, is sort of like a zoo, and crawling with people. Nevertheless, it's also a necessary part of a hummingbird quest in Costa Rica because the feeders are some of the best in the country.
When we found the feeders, it didn't take long to pick up target Black-bellied Hummingbird, White-bellied Mountain-gem, and Purple-throated Mountain-gem along with more looks at other hummingbird species. With the targets in the bag and no sign of rare Scintillant Hummingbird or Magenta-throated Woodstar, we headed down to the river to try for Green-fronted Lancebill. At the river, it took one minute to notice a small waterfall that lancebills like, and then ten seconds more to see a Green-fronted Lancebill hawking insects over the water!
With success in the bag, we walked back up to the car and drove towards Poas Volcano. Our destination was the Volcan Restaurant, our last main feeder stop for the day. This spot can be really good and when we visited, the feeders were indeed buzzing with eight species of hummingbirds including our target Magnificent Hummingbird, Stripe-tailed Hummingbird, Volcano Hummingbird, Green Violetear, and Magenta-throated Woodstar.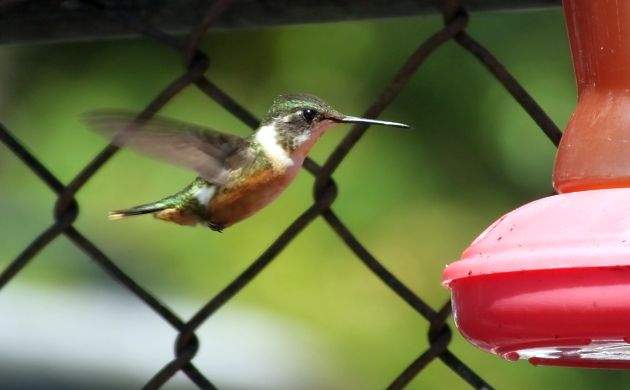 A female woodstar in action.
Although the Volcan Restaurant is a five minute drive from places where Fiery-throated Hummingbird is common, I have never seen it at the feeders. To get it, we had to drive up into rainy, windy weather and although almost nothing was moving, one eventually came out of the woodwork. We searched a bit more for Scintillant Hummingbird and Canivet's Emerald during the last light of day but had to settle for Fiery-throated as the final species. The quest was over, and we had 37 species  of hummingbirds for our efforts; a pretty good way to spend the weekend! I hope this weekend is even better because on March 8th, Robert Dean, Susan Blank, and I will be going on another avian quest- a Big Day in Costa Rica.