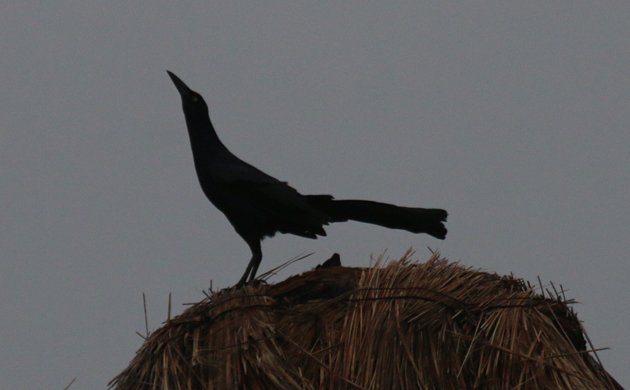 Taking advantage of my son, Desmond, having this past Friday off from school our small family decided to do a three-day trip somewhere. Our initial plan was to road trip somewhere within a half-day's drive of our home in Queens but we quickly came to the realization that we didn't really feel like driving anywhere that close to us. I started browsing on line and quickly discovered some great deals on Jet Blue vacations. Soon, we were booked for the Yucatan!
Now, going into this trip I knew it wouldn't be a birding-centered journey. Nonetheless, in a region known for a high proportion of endemism and at a resort that, judging by the views in Google Earth, looked like it had some decent habitat, I figured I could track down some decent birds in the spaces between gorging in the resort's restaurants and swimming in the pools and ocean. What I failed to account for was the weather. It rained. A lot. And not just soft, intermittent, rain. No, we dealt with some pretty heavy downpours accompanied by occasional strong winds.
And while the weather dampened the bird activity quite a bit we still managed to enjoy ourselves immensely. For the adults there was the joy of limitless drinks from the beachside bar which we could enjoy despite the rain because that very rain kept people off the beach and left us in prime position to enjoy cover under big, thatch, umbrellas in close proximity to said bar. For Desmond, well, I've yet to meet an eight-year-old who can't enjoy themselves on a beach full of sand with rocks, shells, seaweed, and water to entertain them. The occasional foray into the surf wasn't all that bad either despite the relatively cool temperatures. You see, I had multiple mojitos to fortify me.
But readers here aren't on 10,000 Birds to hear about my drinking or Desi's sand castles. No, you want to hear about the birds! Very well then. I'll get right down to it. Friday afternoon was mostly spent learning our way around the resort. Great Kiskadees, White-winged Doves, and, above all, Great-tailed Grackles were the species that couldn't be missed. At the beach there were non stop Magnificent Frigatebirds overhead, Sandwich Terns and Royal Terns working the waves, and Brown Pelicans dropping in regularly.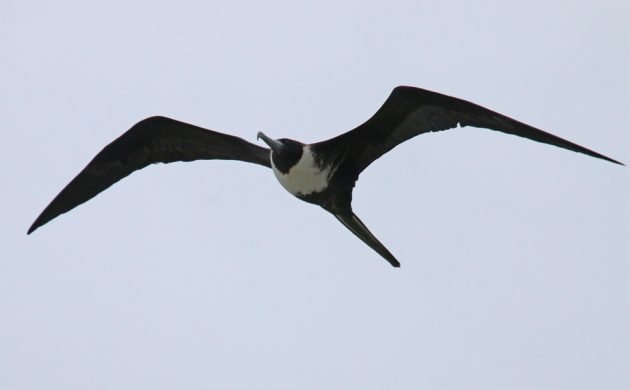 Desi misheard me when I first pointed out a frigatebird and for the rest of the weekend he referred to them as "friggin birds," much to his own and his mother's amusement.
I didn't spot much else on Friday but I was up bright and early on Saturday morning hoping to take advantage of those magical early morning hours to find some amazing birds. Instead, I got drenched in heavy rains and wind. The one notable bird I did find was Orange Oriole, an endemic species and one I was really hoping to spot during my trip. It was one of several orioles that I would see. (The others that I saw during the trip were Altamira, Hooded, and Yellow-backed.) Mostly, I just got wet.
The day Saturday was spent with more of the aforementioned drinking and lounging at the beach. One of the bartenders at the beach turned out to be pretty knowledgeable about birds and let me know where to find another endemic, Yucatan Jay, on the property, and also let me know that I should find Plain Chachalacas pretty easily. After lunch, walking back to the beach in the incessant rain, we came across a trio of Yucatan Jays and they gave cripplingly good looks. And, of course, my camera was in the room where it could stay dry. Nonetheless, it was nice to see a second endemic species.
Eventually, around midafternoon, the rain slowed down to the point where it was hardly even coming down and the family took a nature walk. Social Flycatcher, Tropical Kingbird, Northern Rough-winged Swallow, and Tropical Gnatcatcher were all spotted but it was the tidal pools we most appreciated. Desi had a blast finding crabs and other creepy-crawlies and a good time was had by all. The times got even better when a herd, yes, a herd, of Coati crossed our path. It was pretty awesome.
In addition to Coati we also spotted Agouti, White-tailed Deer, and the endemic subspecies Yucatan Spider Monkey. Not a bad mammal list for a weekend at a resort.
Random flyovers on Saturday included a Neotropic Cormorant and a White Ibis and a trio of Ruddy Turnstones flew past the rocky shoreline. A Green Heron fed on the shoreline for a bit. And that was about it for birds. Sure I spotted the occasional Melodious Blackbird and I was amused watching a Hooded Oriole feeding a Bronzed Cowbird but the birding was definitely less-than-stellar.
Sunday morning featured more weather like Saturday morning and by late morning we were in a van back to the airport. Refusing to give up entirely on birding I watched out the window for our entire forty-five minute drive, being tantalized by two different Myiarchus flycatchers that I couldn't see well enough to determine if they were Yucatan Flycatchers. Fortunately, we stopped at a red light at one point and I had point-blank looks at a Yucatan Flycatcher sitting on a wire. My third endemic lifer of the weekend!
A three-day weekend with the family at a resort was never going to be great birding but I must say that it was even more dismal than I had anticipated. Not that we didn't have a great time: even with the rain we managed to have fun, relax, and enjoy our time as a family in a wonderful destination. If only there had been more birds…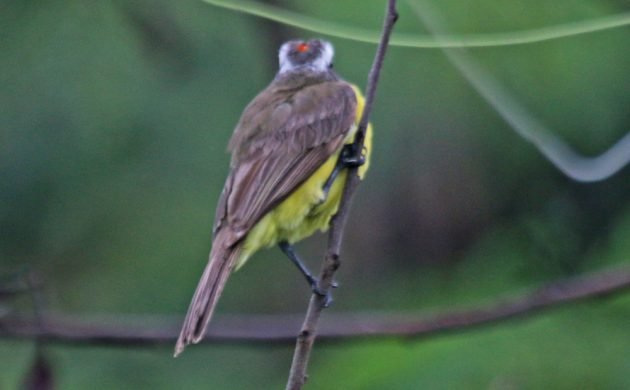 an anti-Social Flycatcher
…