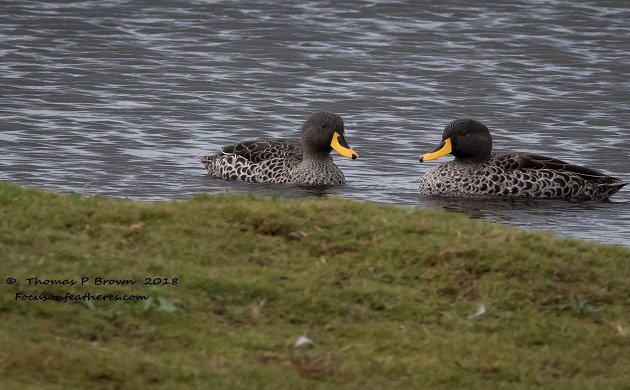 And so we are out of Africa, or South Africa at least. It seems like every time I have to leave a new country, and each of these has been a first time for me, I keep telling myself that I have to come back soon. From the onset, we were very aware that the time we have allowed was never going to be sufficient. And now it seems that for each new country visited, that sentiment has been increasingly stronger. Having done the lower end of South Africa, I truly long to get to see the parts farther north. There is a completely new set of birds, or so it seems, in each segment of this amazing country. That, mixed with the fact that I am visiting at the worst possible time for true birding, when I should be here in December or January. So, I will just have to come back, very soon!
We finished our time here, with our last week in the very south end, around Cape Town. We started with a visit to Table Mountain, and the Cape Town waterfront. Then, a short hop down the M34 towards Kommetjie, Scarborough, and the Simon's Town. From there, we visited the Cape of Good Hope, Boulders Beach, before heading in land toward the famous wine region Stellenbosch.
This is lovely couple are the Cape Bulbul, which turned out to be pretty common in this part of the area.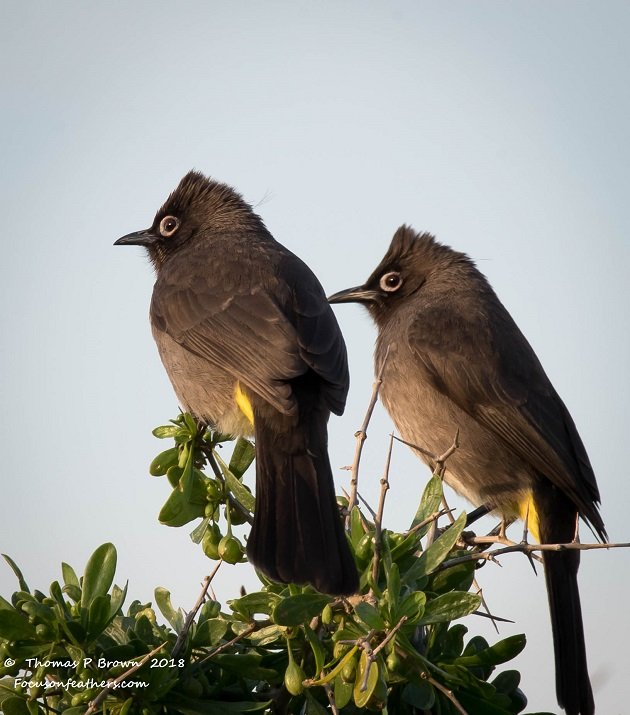 The most obvious thing I have noticed here, despite being in a 100-year drought, is the greater amount of flowering plants, and there for, a much larger number of sunbirds. Sunbirds, are in my interpretation, the hummingbirds of South Africa. They travel from flowering plant to flowering plant as the seasons predicate. I just happen to be in the right place at the right time, in a small town called Kommetjie. We were driving down the beach road, towards a lighthouse, in hopes of finding some shorebirds, when we ran across a neighborhood full of flowers, and birds. Southern Double-collared Sunbird, Malachite Sunbirds, Amethyst Sunbirds, and a huge surprise, a Cape Sugarbird. In addition, there were Cape Bulbuls, Speckled Pigeons, Cape White-eyes, and Cape Robin-chats.
Here is that Cape Sugarbird with its amazing tail!.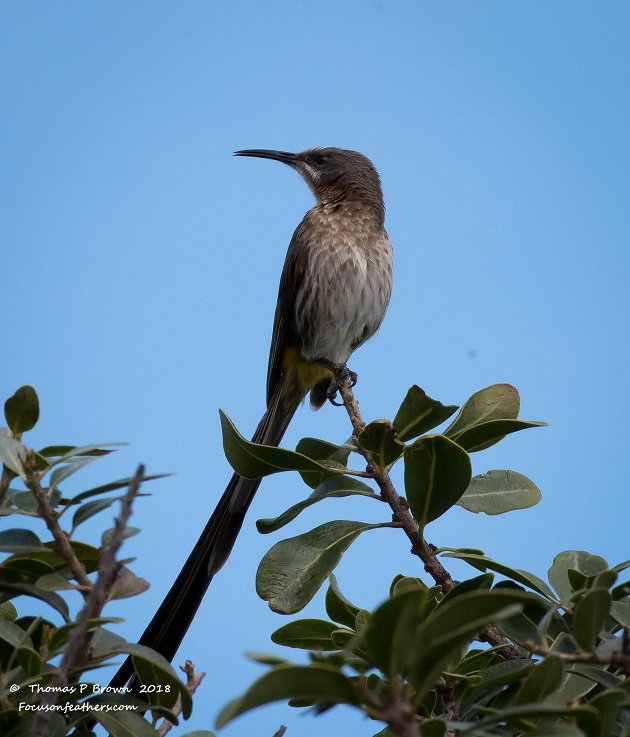 And the very next morning I found these two putting on quite the air-born show.
This is the Malachite Sunbird which has a pretty good tail of its own.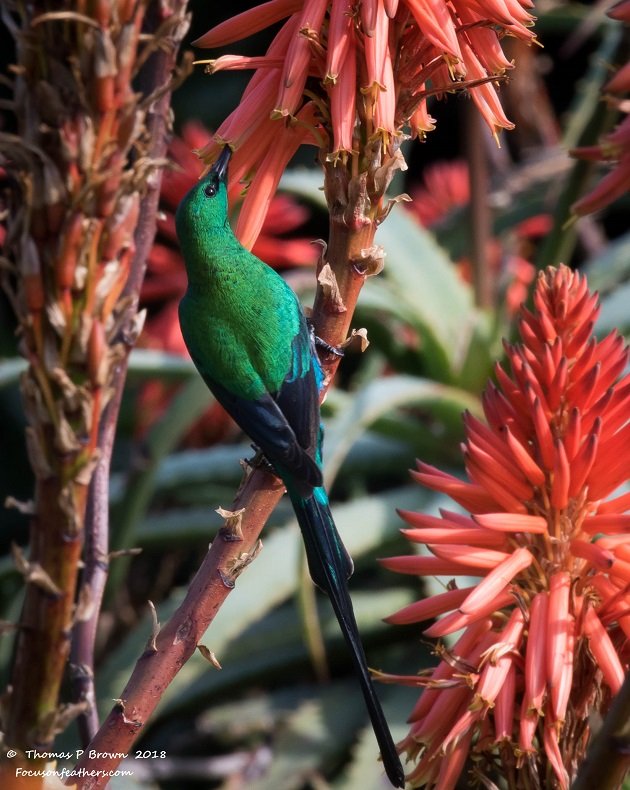 Here is one of the Double-collared Sunbirds.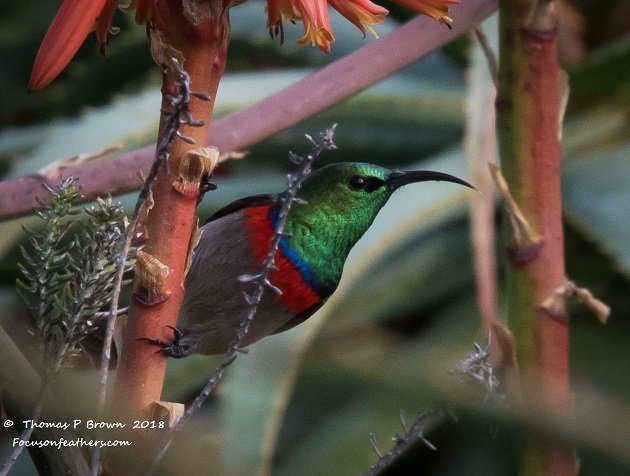 I actually got this photo of the Orange-breasted Sunbird up on Table Mountain.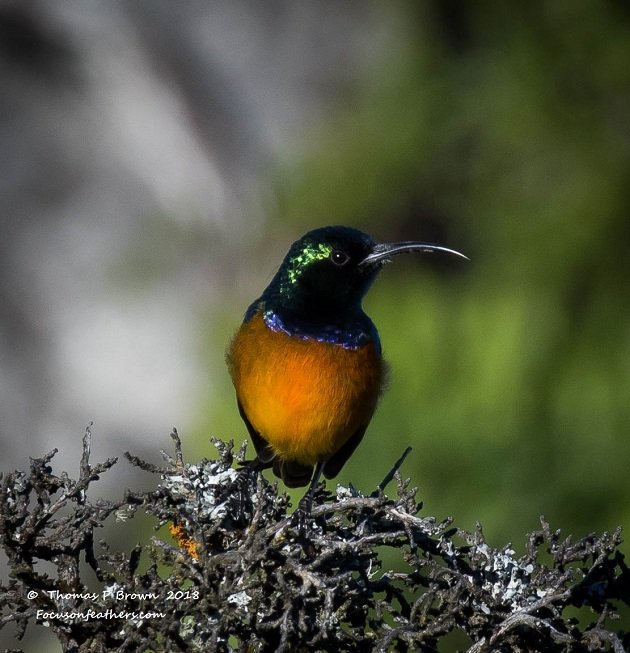 When we actually got to the lighthouse, many of the sunbirds were there as well, but I got to add the Common Fiscal, and the Spotted Thick-Knee. Here is a nice picture of the Spotted Thick-Knee.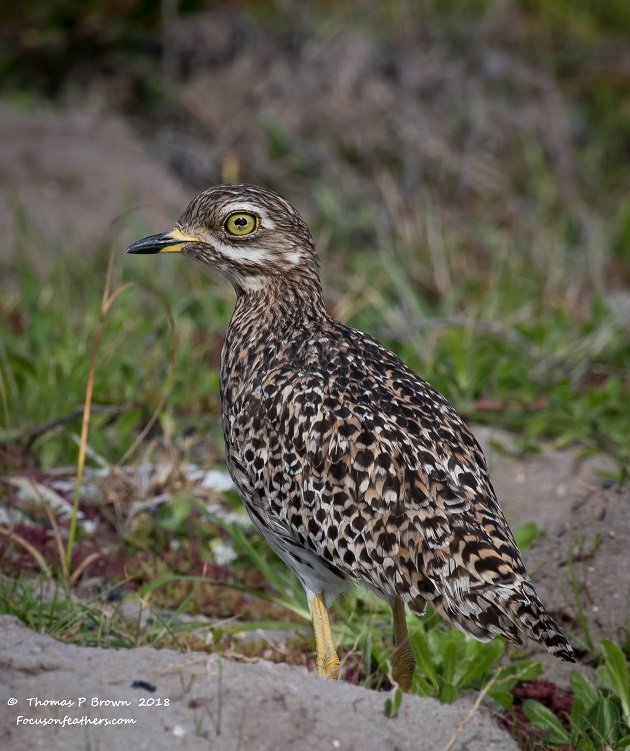 We then did a quick stop at the beach town of Scarborough, where I was able to add the African Black Oystercatchers, Red-faced Mouse birds, Cape Weavers, and Karoo Prinias.
These were my first African Black Oystercatchers.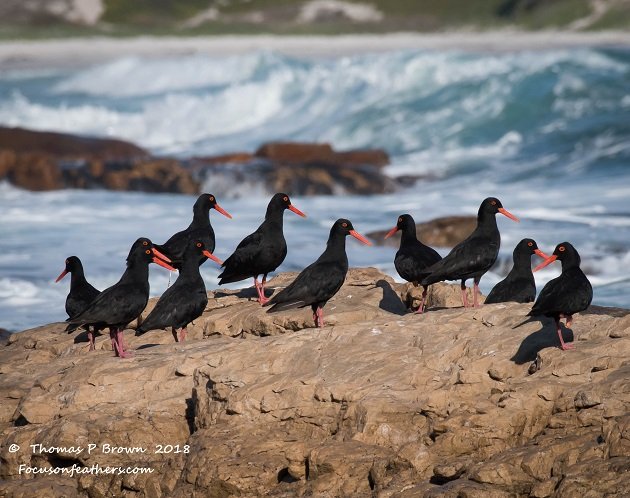 Simons Town is the home of Boulders Beach, and its very large number of African Penguins. In fact, at almost any given time of day, it is not at all impossible to see one or two walking around this waterfront town. We got to sit at shore side, and watch them come ashore. They rode in on the waves and foam, so effortlessly.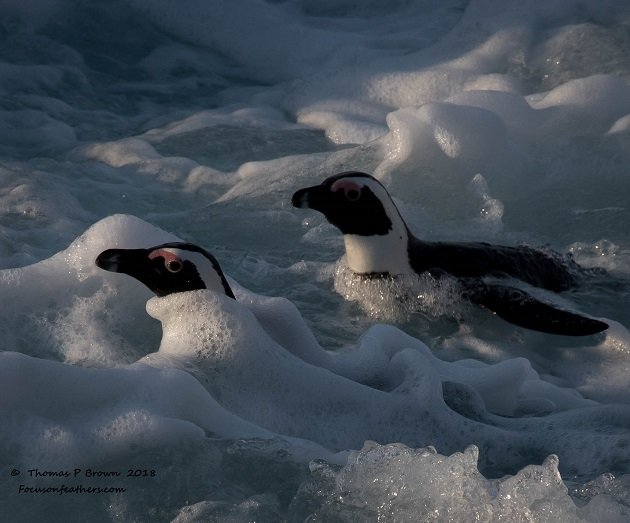 They are border line pets around town, and have no fear of people. This one walked right up to me in the parking lot just as the sun was setting.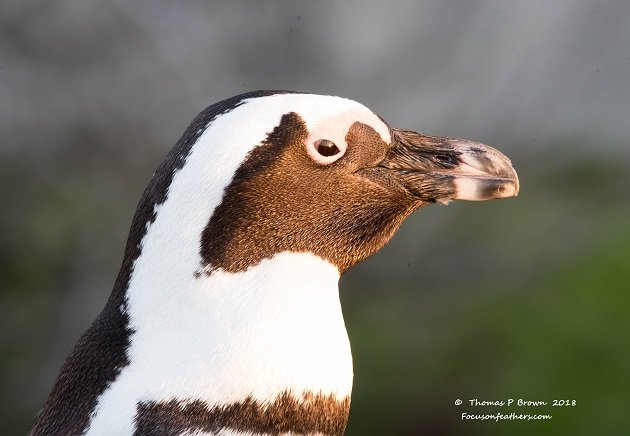 This White-fronted Plover was the only one I ever saw, but I was always on the look out for any form of shorebird.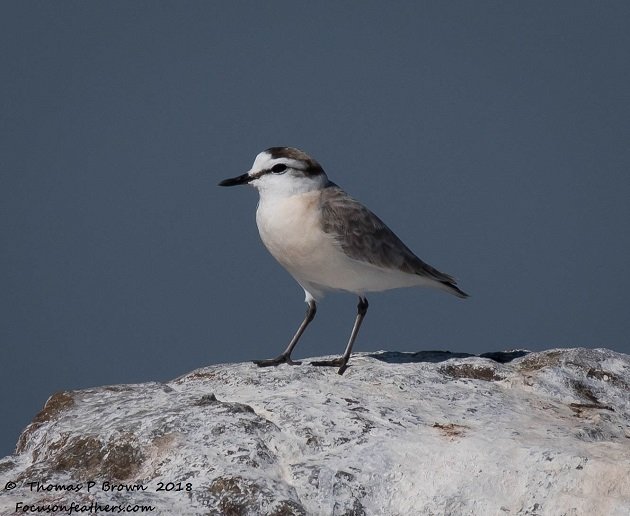 There were several of these Cape Buntings hanging around the Park offices for the Cape.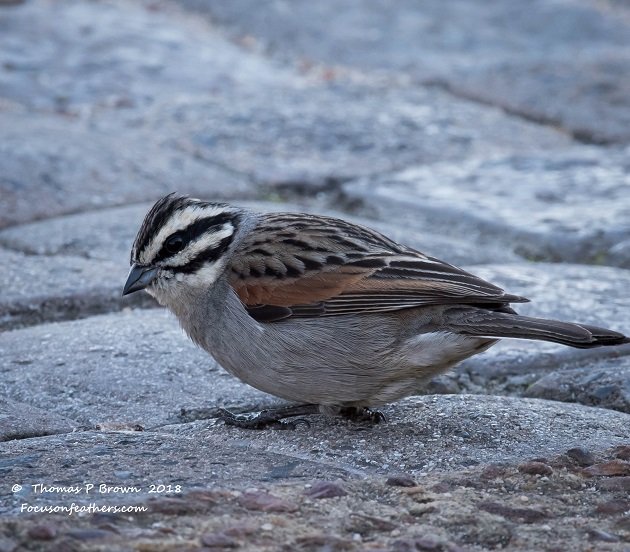 Our first morning in Simons Town, brought a new bird, and a big one at that. Not literally, as it was a Cape Crow, but it represented the 700th bird species on my Little Big Year list.
The final destination for our time in South Africa, was the Rondevlei Nature Reserve. Hosting nearly half of all Cape area water birds, this reserve was established in 1952. There are several well-constructed hides, and two look out towers, all joined by a very nicely laid brick walkway. Unfortunately, not only was the time of year less than favorable, there was a very nasty storm blow thru that morning with incredible amounts of rain (25mm – 35mm in just a few hours) mixed in with strong, gusty winds. I came several thousand miles to see this place, and I was not to be stopped. I put the rain gear on me, and on my camera, and waded out. The first hour yielded 11 new species, including the Spur-wing Goose, Yellow-billed Ducks (at the top of this story), Red-billed Teal, Southern Pouchard, Cape Shoveler, Hottentot Teal, African Purple Swamphen, Eurasian Moorhen, Little Grebe, Red-knobbed Coot and an African Swamp Harrier.
When I first saw this Spur-winged Goose, I thought it was doing some form of Yoga. It turned out to have a badly damaged leg.
I almost missed this Cape Shoveler in a large bunch of other birds…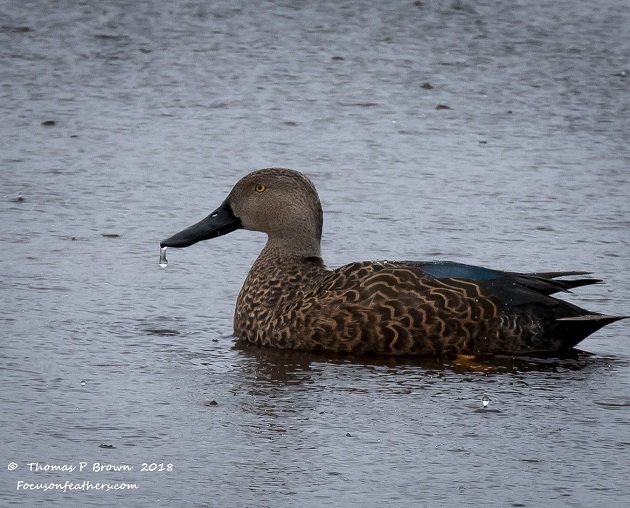 Here is the Southern Pouchard. As you can see the rain was really coming down.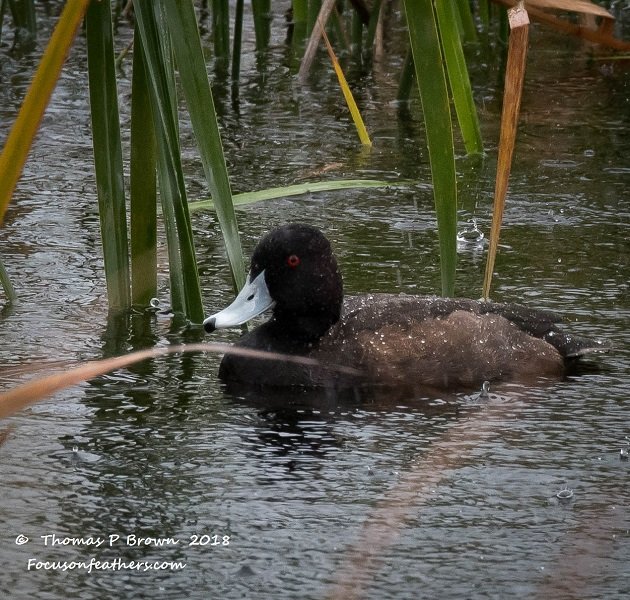 This is one of the Red-billed Teal.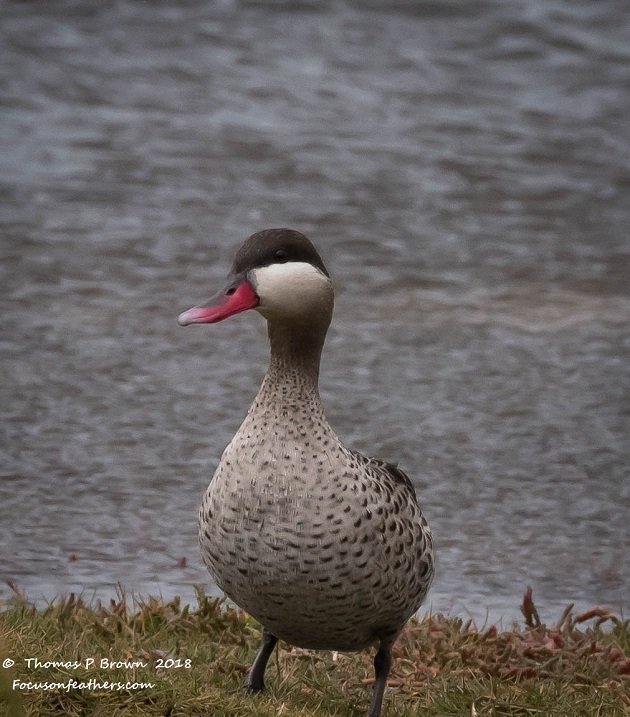 I had to take quite a few pictures of the Red-knobbed Coot, in order to get a shot that really showed of those two "knobs".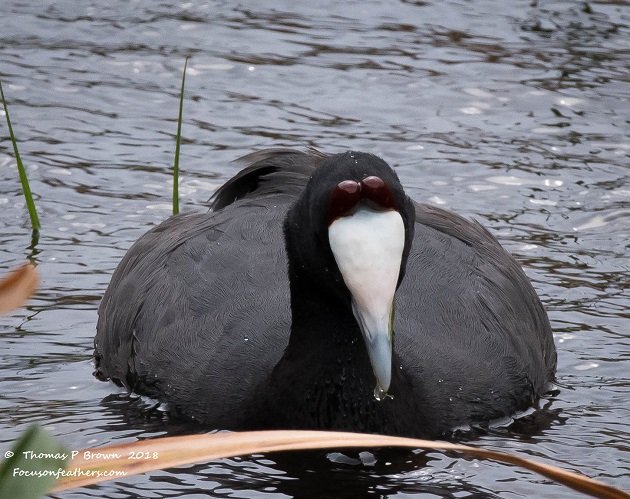 This time of year South Africa does not have much in the way of shorebirds, but I found several of these "Shorebirds" out at the end of the Cape of Good Hope. All in all we saw almost 30 Ostriches that morning.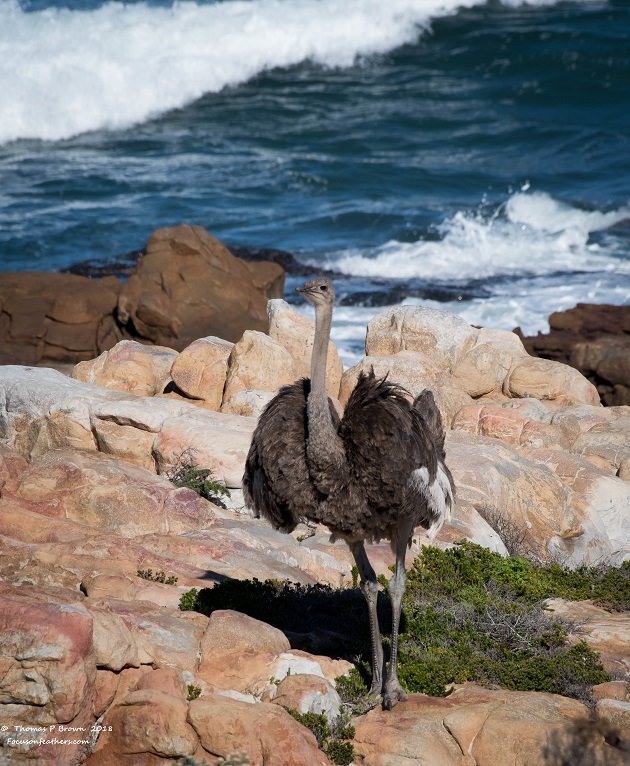 Much like all of this trip, there just is not nearly enough time for each location, not even close. South Africa has certainly brought this clearly into focus. I will be back, and soon!
The total count for the trip so far is as follows:
The Little Big Year – 712 species
South Africa – 219 species
eBird.org check lists – 187