I have been fortunate over the last week in that my folks let me borrow their car, which means I've had transportation for which I get to devise schedules and routes for the first time in the over-a-year I've lived in New York City.  What does this have to do with anything?  Well, by virtue of not relying on mass transit or the kindness of those with cars I got to plan an all-day birding trip to Suffolk County, the easternmost county on Long Island, to see the birds I wanted to see this past Sunday.  This meant that the grassland birds of the northeastern United States that had eluded me so far this year because I hadn't been in any grasslands in the northeastern United States might finally have flown into my field of view and the rare terns that sometimes frequent the mudflats of the south shore of Long Island might finally be checked off my New York State life list.
In planning my trip out east I emailed my entire contact list of birders in the New York City area to see who might want to join me and got only a single positive reply, from Andrew Baksh, otherwise known as Birding Dude.  We decided that rain or shine we would go birding but we still checked with each other on Saturday night after some serious rain, with more rain in the forecast for Sunday, to make sure we were both still up for the trip.  Were we ever!  I picked Andrew up at 4:30 in the morning and as we headed east on the Southern State Parkway the rain, which had been of the slow but steady variety, became rain of the biblical deluge variety.  I hydroplaned at least four times and watched a car behind us do a 360 on the extremely wet highway.  But we refused to give up, not with good birds awaiting, and by our first stop, the Calverton Grasslands, which some twit wants to turn into an artificial indoor ski mountain resort, the rain had slowed to almost nothing.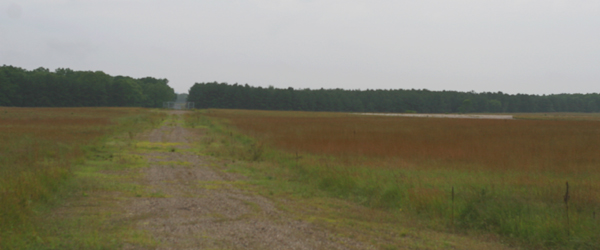 Granted, that picture above doesn't look like much but the bird life hidden in those grasslands was pretty impressive to someone who has missed most of the grassland birds this year.  The distant but crystal clear song of an Eastern Meadowlark was music to my ears, and seeing an American Kestrel hover-hunting over the fields was grand.  And when a female Eastern Bluebird flew in from its nest box to check us out, well, it was marvelous.  And then when one of the Grasshopper Sparrows we had been hearing flew to the barbed wire fence in front of us and gave better looks than I have ever had of a Grasshopper Sparrow, well, words fail me so I'll go to the picture.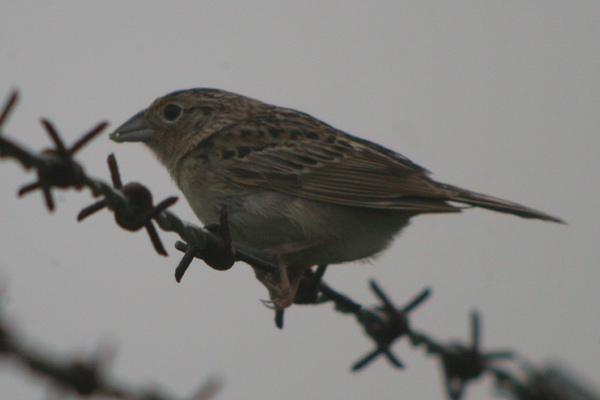 It would be beyond a shame, it would be a crime, in this humble blogger's opinon, to destroy such a superb grassland in a place that has very little grassland habitat left, just so the idle rich could ski on a fake indoor ski mountain.  The Catskills are only a few hours upstate!  And there are REAL mountains to ski on there!  What is wrong with people?
Sorry, I'll step back off my soapbox and get back to the birds by saying that we spent quite a bit of time exploring around the grasslands in the light rain that had started up again and missing two of our target birds, Blue Grosbeak and Vesper Sparrow (both very difficult birds to track down in Suffolk County), but finding Field Sparrows, Prairie Warblers, Pine Warbler, and host of other more common species.  We were successful in finding one of our major target birds nearby, an adult Red-headed Woodpecker, but failed to track the bird to its nest, though it is known to be nesting in the vicinity.  And we stopped to help turtles cross the road: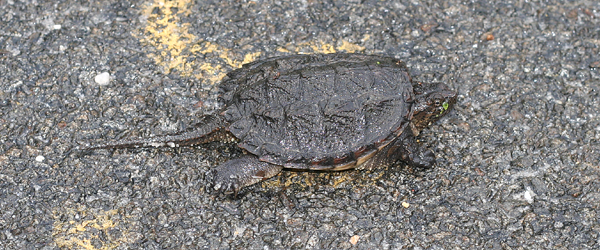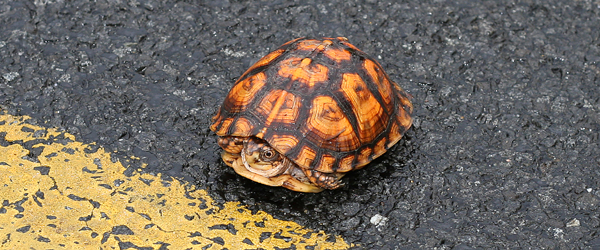 More stops at the DEC Bike Trail along Route 51, Hunter's Gardens, and the Gabreski Airport yielded more birds, with everything from Hermit Thrush to Least Flycatcher, Black-billed Cuckoo to Ovenbird, more Eastern Meadowlarks to more Pine Warblers (though we missed Northern Bobwhite, a bird I haven't seen or heard in two years now).  It was a bird-filled day though it was just past noon and we hadn't even hit the coast!
We met up with some of Long Island's (and New York State's) top birders at Tiana Beach to do a bit of seawatching where Andy Baldelli had seen a horde of Wilson's Storm-Petrels and a possible Leach's Storm Petrel.  By the time we arrived the vast majority of the birds had moved on but a single Northern Gannet and a single Wilson's Storm-Petrel were nice additions to the day list.  Before we adjourned with plans to meet at Cupsogue Beach County Park Andrew and I were told where to look for nesting Roseate Terns on an island viewable from the road and we headed straight there and could not pick up the terns.  Then the cell phone rang and we had to get back in the car because Shai Mitra and Pat Lindsay had found a Lesser Black-backed Gull in the parking lot we had just vacated.  So we went back and looked at that and then returned to a better vantage point for the island where Tom Burke picked out a Roseate Tern for us.
By the time we were all at Cupsogue Beach County Park the anticipation of what we could find out on the flats was just too fun.  I love birding expeditions to places like the mudflats at Cupsogue on low tide simply because they have so consistently hosted so many good birds that one feels that anything can be seen out there.  And when one is birding with Gail Benson, Andy Baldelli, Shai Mitra, Tom Burke, and Pat Lindsay, well, one knows that it is very likely that no rare bird will get away without being spotted and identified (I don't know about Andrew but I felt kind of like Daniel from The Karate Kid but fortunately we were not ordered to catch flies with chopsticks).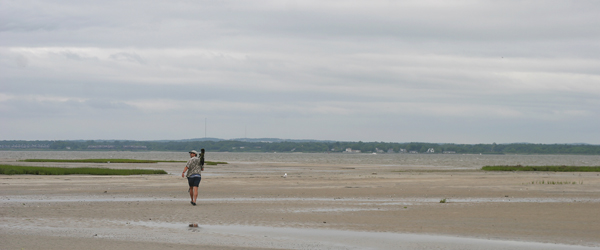 Anyway, as anyone who reads this blog regularly knows, we found a nice rarity for New York State, an Arctic Tern (and by "we found" I mean, of course, that Shai found it and we all looked at it and said things like "Why, yes, I do see why you called that bird an Arctic Tern").  Of course, Arctic Terns are really not much of a rarity in summer on mudflats on the east end of Long Island anymore, thanks largely to the gang o' birders that Andrew and I fell in with for the afternoon.  But there were lots of good birds present besides the Arctic Tern.  Common and Least Terns were both around, as were Black Skimmers, a host of shorebirds, Osprey, Clapper Rail, Seaside Sparrow and a Little Blue Heron, to name a few.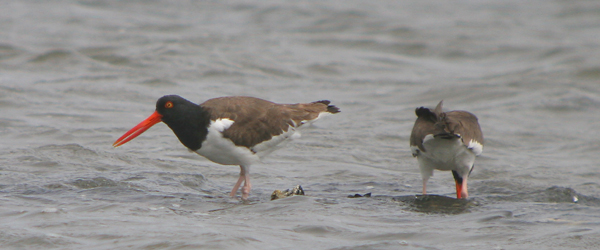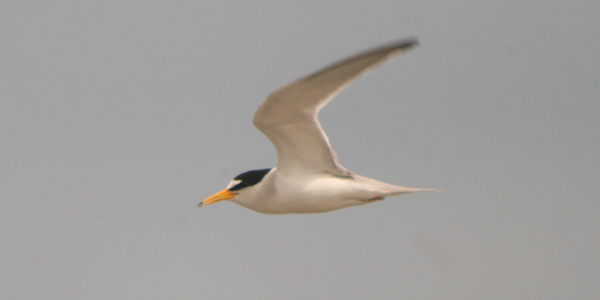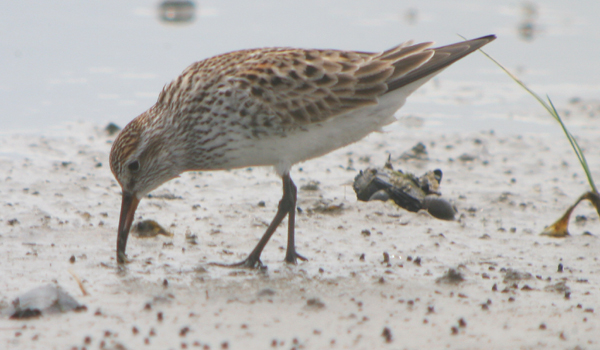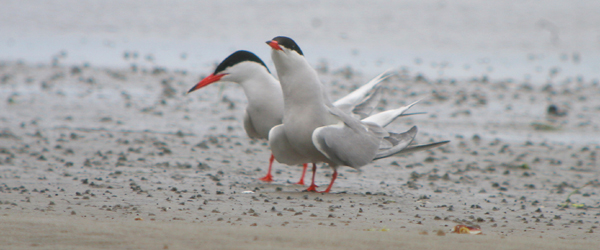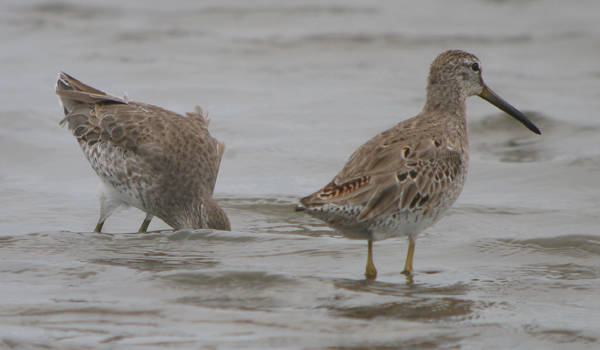 The most impressive sighting of our time on the flats was Andy Baldelli's bare-eyed call of a Western Sandpiper as it flew in and landed in the company of two Semipalmated Sandpipers.  Seriously.  He called a different peep, an unexpected peep in New York in June at that, without using optics.  That was just disgusting so I threw my optics into the water and let them sink, figuring if Andy could identify peeps bare-eyed I was wasting my time with optics anyway…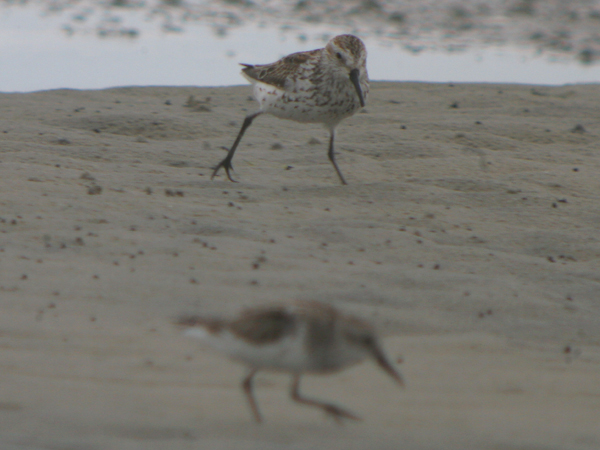 Andrew and I looked around the shore a bit more after everyone else headed out to eat and eventually packed it in even though our original plan was to stay out and try for nightjars.  We were just too tired after seeing 91 species of bird in a single county without really trying to rack up the numbers.  The drive back to Queens was no problem and I slept like a baby that night.
Thanks to Shai, Pat, Tom, Gail, and Andy for helping us see great birds and to Andrew for not screaming in horror at my slightly rusty (but still insanely fast) driving.  And make sure to check out Andrew's account of the day at Birding Dude!