On the fourth day in Kazakhstan I awoke early and, in the drizzlymist, once again birded the grounds of the hotel in Almaty.  The birds were essentially the same as the day before but I did add Common (Red) Crossbills to my Kazakhstan list when three flew in and perched at the top of an evergreen for a couple of minutes.  It wasn't long before breakfast was scheduled and our much reduced group gathered to eat and discuss our birding plan for the day.  The plan was relatively simple: drive east for hundreds of kilometers, paralleling the Tien Shan Mountains, from Almaty towards the desert and semi-desert environment near the Sharyn Canyon and look for birds wherever Dr. Sergey Sklyarenko, one of Kazakhstan's leading ornithologists and our guide for the day, told us to.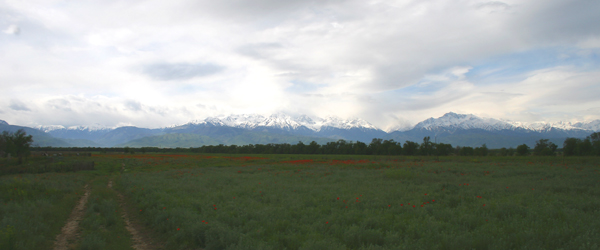 Our first stop, at a potential location for Laughing Doves, was an unassuming side of the road stop near a village.  We were told we would only look for five minutes, and the shortage of time combined with the still falling drizzlymist led me to leave my scope in the van.  At first, this seemed like a brilliant decision on my part because there were no birds around at all.  Well, except for Common Mynas, but even though they had been a lifer that I was excited to see just the day before I had since become jaded about them and no longer wanted to shoot picture after picture.  Then Dale pointed out a couple of interesting botany samples…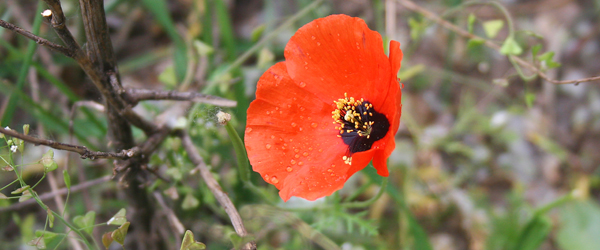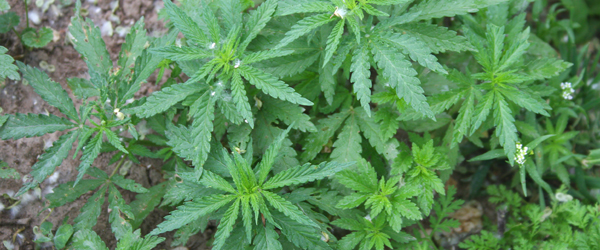 Suddenly the birding got great, with a pair of brilliant blue European Rollers being sighted on telephone wires, a marvelously yellow Eurasian Golden Oriole singing in the distance, and the fourth shrike species of the trip, a Long-tailed Shrike, hanging out in an Islamic cemetery.  Three lifers and all spotted in about the time it took me to type out that sentence.  One should always botanize before birding!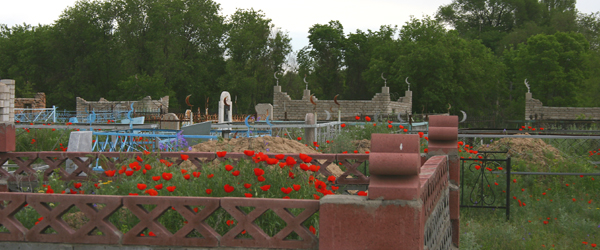 Eventually back to the van we went, faces full of grins at the birds we had seen.  We continued east, seemingly forever, until Sergey declared it was once again time to stop, this time to try to find White-crowned Penduline Tits.  The scenery from this location was just as nice, so, once again, you get treated to the scenic shot:
At this stop I was extremely pleased to get brief and not very satisfying looks at a bird I have wanted to see since I first became aware of it existing, the Eurasian Hoopoe, an amazing bird that also has a great scientific name, Upupa epops.  Despite the lousiness of the look it was a hoopoe!!!  I also got rather lousy looks at the White-crowned Penduline-Tits, especially when compared to the photos and video that lousy jerk Dale got (just kidding, Dale, you're more of an idiot with bad body odor).  Not that I minded not getting great looks and pictures of the cool little creatures, no, not at all (I think I might have broken my keyboard typing that last lie, err, line).
Anyway, a distant singing Red-headed Bunting and a much closer pair of Lesser Grey Shrikes made up, to some extent, for my inability to get good looks at the penduline-tits.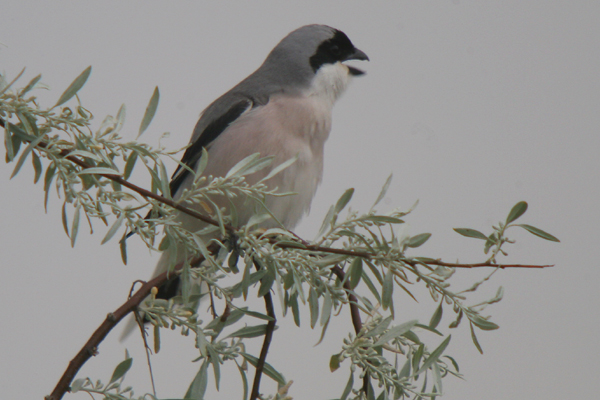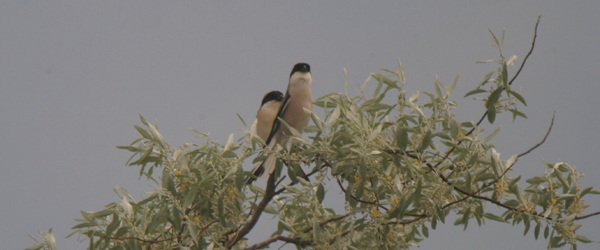 As we continued east we had the good fortune of seeing European Bee-eaters from the van.  We expected to get good looks at them from a later stop, but, unfortunately, this never happened.  Someday I will have to get better looks but for now I am happy just to have seen them.
Come back soon to see what we found when we actually reached the desert!
________________________________________________________________________________________________
My trip to Kazakhstan was made possible by the wonderful folks at Swarovski Optik who sponsored the trip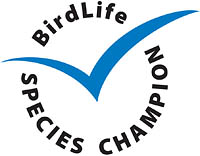 not only to draw attention to their marvelous optics but to the fact that Swarovski Optik is, with the RSPB, the Species Champion for the Sociable Lapwing, a critically endangered species that breeds almost entirely in Kazakhstan. We here at 10,000 Birds, the only blog designated a Species Champion by BirdLife International, salute Swarovski Optik's commitment to conservation.
To learn more about 10,000 Birds' commitment to conservation through BirdLife International's Species Champion program and what it means to us at 10,000 Birds (or to donate to the program through 10,000 Birds) just click on the nice Species Champion logo to the right.