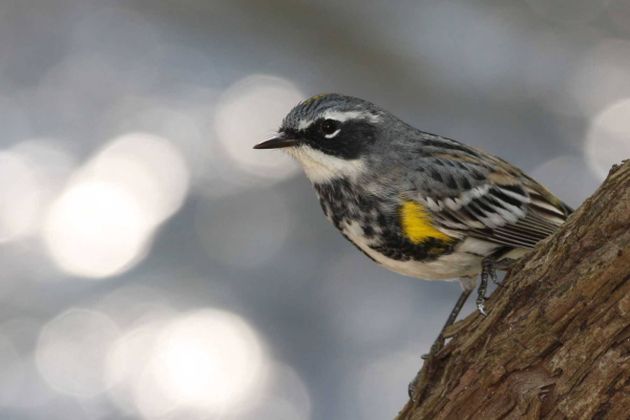 Perhaps I was always destined for disappointment this spring, between last year's ridiculous May migration bonanza and the killer birds I started the year with. Nevertheless, a combination of cold days, winds from the north, and time-consuming personal logistics mean that I have entered the merry month of May with a less-than-stellar list for my putative Big Year. I've already missed a few early spring migrants, like the now-you-see-it-now-you-don't Central Park Green-winged Teal.
On the other hand, I did manage to rack up some nice life birds already this year, and I finally broke the Woodcock curse, having seen two live American Woodcock this season and no window-struck dead ones, a nice change from my usual spring. And I've had one precious day of solid, uninterrupted warbler watching. It's hard to be melancholy when looking at a selection of North American wood warblers that includes some of the most confiding Palm Warblers I've ever encountered, an ever-handsome Black-and-White Warbler, a single early Northern Parula, and all the Yellow-rumped Warblers you could want.
The only thing better than looking at good birds is looking at good birds through good binoculars, and as such I took out the last of the Opticron products I'd been given for review – a pair of Opticron Countryman BGA 8x42s.
These binoculars are in a sense the daddy of the Naturas I reviewed earlier this year. They have a slightly wider field of view, slightly closer near focus, slightly greater eye relief, and a slightly lower weight (although not an amount that my kitchen scale could detect.) Of course, they also have a slightly greater price point. In the hand they feel a bit more robust, with a more textured surface. Their single-hinge design required a different, and to me a bit less congenial, grip, but their action was equally smooth and they felt equally well-balanced.
Due to the nature of the day and the ridiculous tameness of the Palm Warblers, the difference that wound up making the most difference here was the near focus. In my later tests the Countryman gave perceptibly clearer views of near objects, and the looks I got at the stunning russet-capped tail-waggers were killer. Since Palm Warblers are a bird I count on to make me happy whenever they migrate through, this pleased me very much indeed. And, of course, the wider field of view was as important as I had expected for warbler watching as well.
Overall, the Countryman seems to me a solid and versatile binocular that would be an excellent choice as your go-to pair for all-around bird and wildlife watching. They, unlike the north wind, did not disappoint me.
Featured image by Frank Miles, courtesy of USFWS