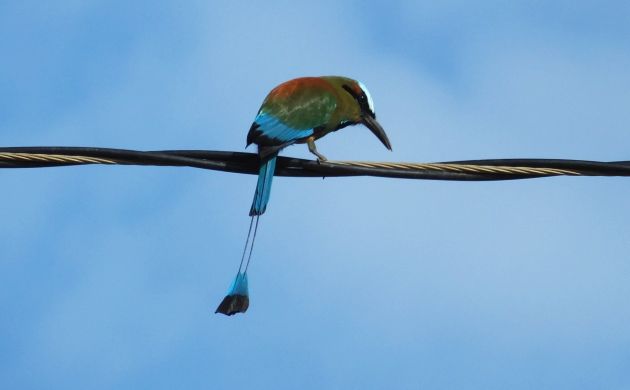 Birding opens numerous portals to knowledge. For example, if we had never been bitten by the birding bug, why on Earth would any of us try to figure out how to use our phones to take pictures through a telescope? Why would we bother learning about molt patterns? And why would we become amateur metreologists to predict where and when migrants birds would appear? One of the other things we learn about shortly after picking up the binocs, is that different habitats attract different birds. Knowing how to recognize habitats and associating them with key bird species is just as essential to birding as a damn good field guide.
Eventually, in our pursuit of birds and avian-related knowledge, we also realize that the birding can be best in the places where habitats meet. Such juicy collisions of biodiversity are known as ecotones and oh, how nice the birding can be, especially in the already bio-crazy tropics. A couple weeks ago, I had the fine fortune to get in a morning of birding at an ecotone area on the Pacific coast called Guacalillo. Just as the similar sounding "guacamole" is an interesting blend of healthy oils and flavors, Guacalillo turned up an inspiring, interesting mix of birds from such habitats as mangroves, second growth, tropical dry forest, and coastal lagoons.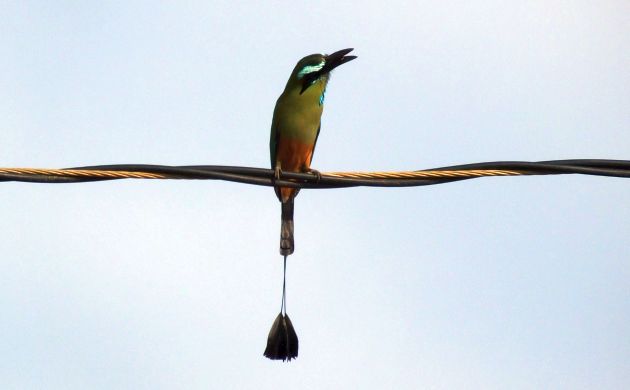 Turquoise-browed Motmot is pretty common around Guacalillo.
Situated just across the Tarcoles River, Guacalillo is near Carara National Park and if you have birded that classic site, there is a fair chance that you have also birded the Guacalillo area. When we checked it out, we looked for many of the the same dry forest species that tour groups search for. Although this is dry forest, the lack of rain had made the entire area look positively scorched (and some fields were literally scorched by fires that had gotten out of control). That may have been why we found most of the birds concentrated in a few gulleys or "washes". Stopping at one such site revealed White-throated Magpie-Jays, Lesser Ground-Cuckoos, Stripe-headed Sparrows, and other dry forest birds.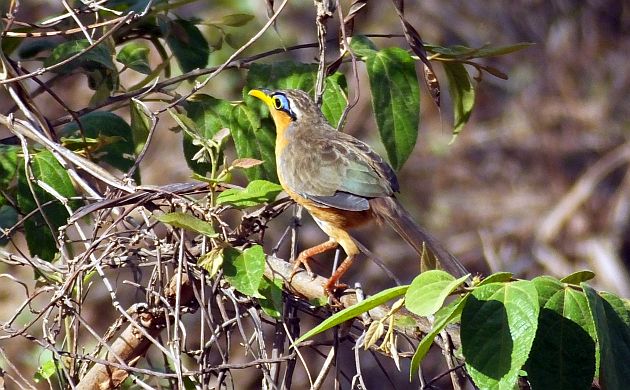 The Lesser Ground-Cuckoo has quite the colorful face.
En route, we also saw the three expected dry forest Psittacine species in Costa Rica; Orange-fonted Parakeet, White-fronted Parrot, and Yellow-naped Parrot.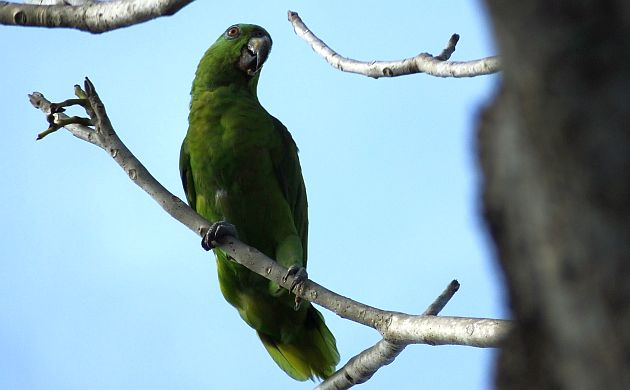 The Yellow-naped Parrot has reddish eyes.
Upon reaching the coast, we switched from birding in scrubby dry forest to scan the sea from a bluff. Although in the past, we had seen Bridled Terns, Sulids, and a few other seabirds from this spot, the seas were empty on Sunday. However, the low tide revealed enough spray-washed rocks to provide habitat for a couple Ruddy Turnstones, and 17 high camouflaged Surfbirds! Although Surfbird is a regular migrant in Costa Rica, we were happy to see them because they can be easy to miss.
Our next stop at Guacalillo were the coastal lagoons near the mouth of the Tarcoles River. These lagoons are highly unpredictable in terms of water levels and birds but because you never know what might show up during migration (such as Costa Rica's only Pacific Golden Plover), these wetlands are always worth a look. Upon arrival, the ironic high water levels during low tide were rather birdless. Other than a few herons, there didn't seem to be anything else and it was looking like we were only going to have a few species on our shorebird list for the day. Fortunately, despite the blazing coastal sun, we persevered and checked a couple other spots until we found some shorebirds. There weren't many but we were pleased to get lucky with another uncommon migrant, a Wilson's Phalarope!
Mangroves are behind the beach and although they aren't that easy to check, they do have a bunch of nice birds. Tooting like a pygmy-owl gave great views of Northern Scrub Flycatcher a visit from the owl, and other small birds like Scrub Euphonia, Brown-crested Flycatcher, Common Tody-Flyucatcher, Cinnamon Hummingbird, and others.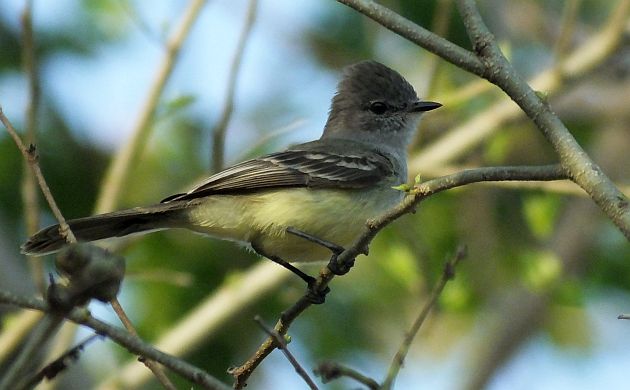 In Costa Rica, Northern Scrub Flycatchers only occur in mangroves.
After that, we checked another lagoon but only saw a few Least Sandpipers and Lesser Yellowlegs. However, we did get a Double-striped Thick-Knee during a fruitless, silly high-noon search for a Grasshopper Sparrow.
Not wanting to stay out all day, we started our drive back up to the Central Valley, making one more stop for coastal birds en route. Despite the enticing presence of dozens of Laughing Gulls and terns, we couldn't find anything else and therefore decided to end our Sunday morning of ecotone birding. However, with more than 110 species seen including several year birds, we weren't complaining!