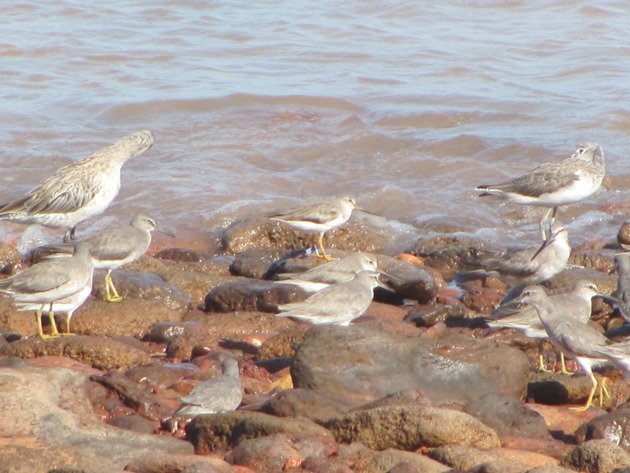 I had only just written about the observation of a Little Tern flagged in Taiwan last week when another flagged bird from overseas placed itself in our path! This time we were walking the beach near the port in Broome where we regularly encounter large flocks of shorebirds at this time of year. The beach is a popular roost with Bar-tailed Godwits, Great Knots, Red Knots, Common Greenshanks, Grey-tailed Tattlers, Terek Sandpipers, Ruddy Turnstones, Whimbrels, Greater Sand Plovers, Curlew Sandpipers and Red-necked Stints. The majority of the shorebirds feed on the mud close to the slipway area and then roost mid-way along the beach through the high tide each day and night. Shorebirds are always a lot more relaxed after the tide has turned and they no longer have the pressure of the incoming tide and the tall cliffs behind them where raptors roost. For this reason we never go on the beach until at least an hour after the tide has turned and the shorebirds are either stood or sat on the wet sand. We can enjoy their presence without putting any unnecessary stress on them at this time and often it means enjoying them in the late afternoon light.
On December 15th in the afternoon we came across a Terek Sandpiper that was wearing two flags on its left tarsus. The upper flag was blue with engraving on it and the lower flag was white and had no writing on it. The metal band was placed on the right tarsus. Once again it is important to work out the position of the flags and which is engraved. The Little Tern was also blue and white flags, but it was a white flag above a blue flag on the left tarsus and that indicates it has been flagged in Taiwan. Only one blue flag would indicate it had been flagged in Japan in the north around Eastern Hokkaido and two blue flags would indicate it had been flagged in Japan in the north around Lake Komuke. You may recall a particular Red-necked Stint that crossed my path last year that had been flagged at Lake Komuke that was wearing two blue flags and one flag read "321". It was within metres of that location that we encountered the Terek Sandpiper recently.
Due to the fact that the Terek Sandpiper had a blue flag over the white flag on the left it indicated that it had been flagged in the Obitsu area of Japan according to the leg flag chart for the Asia-Pacific Shorebird Network. We noted that both flags were a normal shape, because sometimes the flags are cut on an angle to determine a specific location. This could be one or both of the flags are cut on an angle, so it is important to get as much detail as possible. Of course this is a risky business when dealing with birds, which could fly off at short notice! It is actually more likely on an out-going tide that the shorebird will sit down and you don't get all of the information! Had these flags been angled it would have indicated that the shorebird was flagged in Tokyo Bay, but at the Yatsu tidal flats instead of Obitsu according to an alternate leg flag chart.
We were able to read the engraving on the Terek Sandpiper's blue leg flag on December 15th and it read "023", but it then sat down and no photographs were obtained. We know that shorebirds are site faithful and on returning to the same area the next day it was once again present and once again sat down shortly after observing it! Roll on day three…third time lucky! We were not expecting to be able to read the engraving on the Terek Sandpiper's flag with my small compact camera, but we were hopeful of evidence of the flags being present. There it stood on top of a rock as if it was waiting for us to come along and admire it and tell the world that it had come to Australia during its non-breeding cycle of the year! Finally some photographs of our visitor from Japan!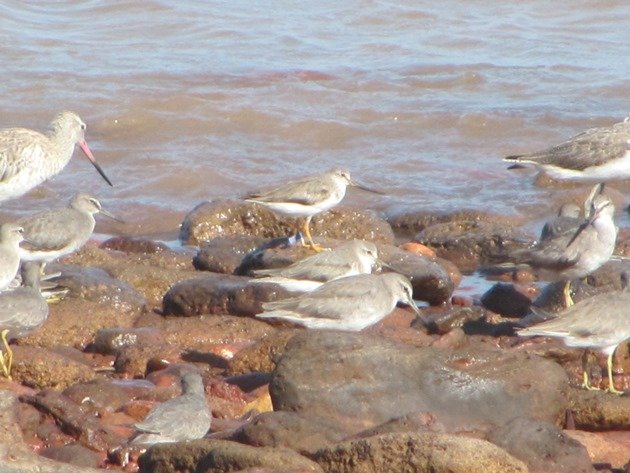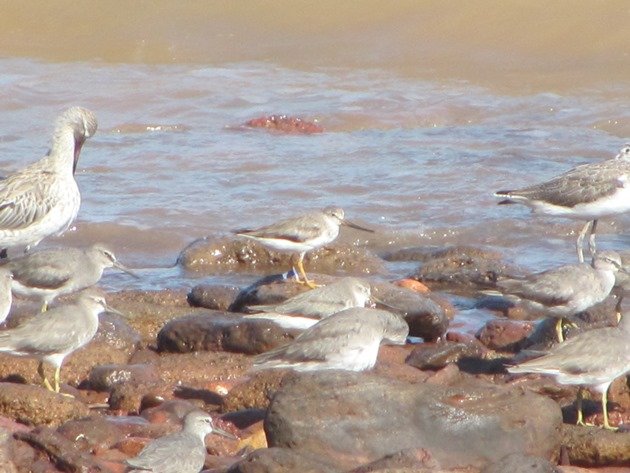 Terek Sandpiper "023" with Grey-tailed Tattlers and Bar-tailed Godwit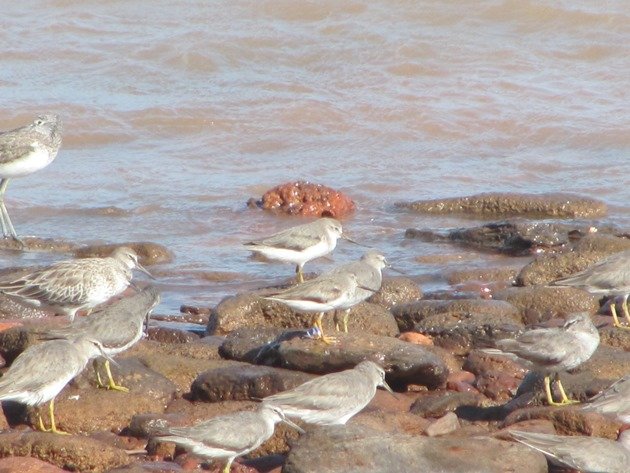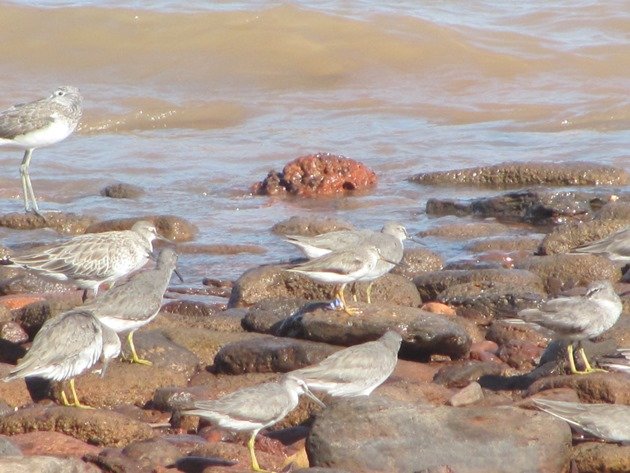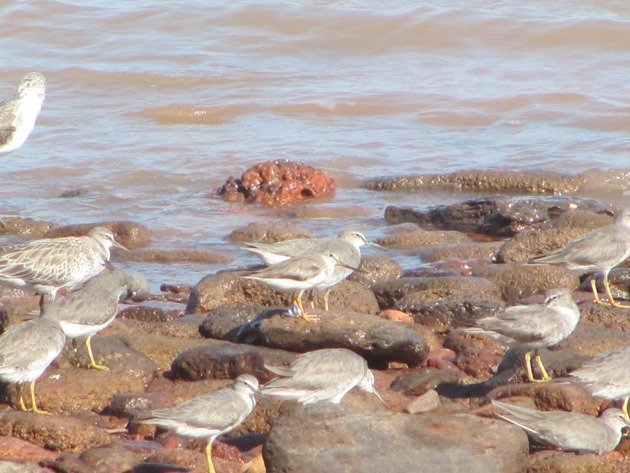 Terek Sandpiper "023" with Common Greenshank, Great Knot and Grey-tailed Tattlers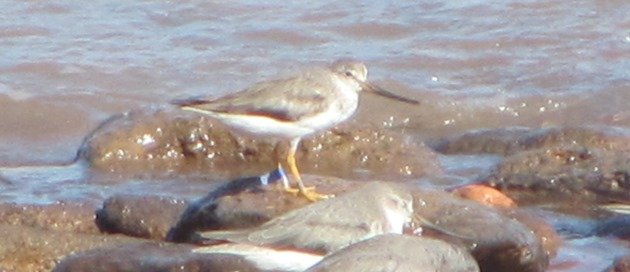 Terek Sandpiper "023" flagged in Obitsu, Japan visits Broome
We are still awaiting the exact information from Japan as to when it received its engraved blue flag and plain white flag, but as soon as we know the history of Terek Sandpiper "023" we will let you know!
UPDATE:- This Terek Sandpiper was captured and given a metal band and the flags as a juvenile bird at Torinoumi in Japan on 4th September 2015, so it is the first trip it has made to Broome, Australia! We hope it enjoys its time here and returns every year to see us!
As the year comes to an end we wish you all the best for the year ahead and may some great birds cross your path!
UPDATE:- This individual is back on the same beach in Broome as of November 20th 2016!