I did not expect to be in North Carolina this December.  I especially did not expect to see snow on the ground in North Carolina well before New York City received its first measurable snowfall of the year.  I really especially didn't expect to be adding life birds in pine forests in North Carolina with Nate this past Monday morning.  But, sometimes, one must go with the flow and just accept the fact that for some reason one is in the land of grits and Brown-headed Nuthatches and enjoy the experience.  So enjoy the experience I did.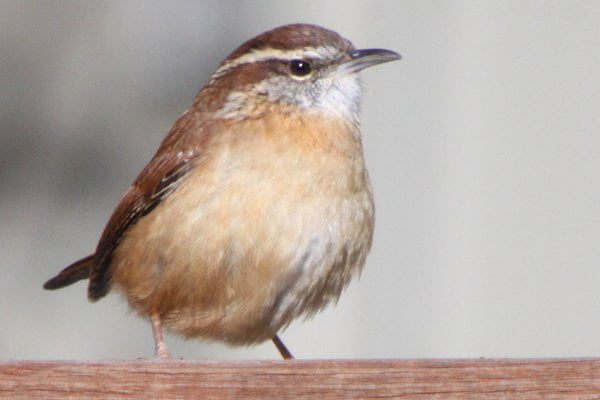 a Carolina Wren exactly where it should be, in North Carolina
The whole trip started because my Aunt Nancy and Uncle Karim, who live in the research triangle region of North Carolina, kidnapped my grandmother while they were visiting upstate New York over the Thanksgiving holiday and absconded with her to their stronghold in the confederacy.  Loyal grandson that I am, I volunteered to rescue her and escort her back to New York on an aircraft, an offer that was refused in favor of my mother's rescue attempt.  But, for some reason, my aunt and uncle liked the idea of me coming to visit and decided that I should spend some time with them so four days in North Carolina was my fate.  I can think of worse fates, though, after having experienced four straight days during which the thermometer did not rise over 40 degrees Fahrenheit, I believe I should have held out for a trip to Florida.
I digress from the point of this post which is, as the title says, about a Yankee (that would be me) birding North Carolina (that would be the southern state that is being dragged, kicking and screaming, into the modern era, perhaps slightly slower than Virginia but getting there nonetheless).  For the record I would like to state that some things, like pretty women with southern accents, grits, and low taxes are wonderful aspects of the south and while I will mock the south, much like I mock Staten Island, I do so out of love.  After all, the south isn't inherently bad and it is just the history of racism, lynchings, confederacy-glorification, and bible-thumping that I find objectionable.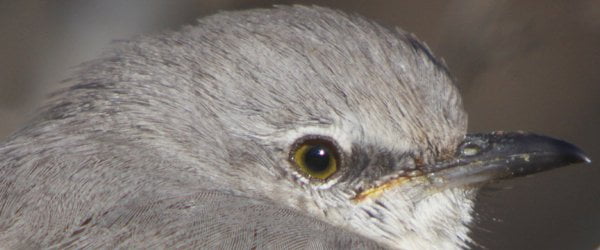 the quintessential southern bird, the Northern Mockingbird
Three birds were my special targets on my trip to the land of Robert E. Lee because I had never seen any of the three before.  Nate had sworn up, down, and sideways that two of them, the aforementioned Brown-headed Nuthatch, and the rare and endangered Red-cockaded Woodpecker, would be easier to find than a pickup truck with a gun-rack while saying that Bachmann's Sparrow was a long shot.  It turned out that he was correct about the nuthatch as I found one in my aunt and uncle's yard while I waited for Nate to pick me up and take me to Weymouth Woods, the destination Nate had selected as most likely to lead to a woodpecker sighting.
But, as usual, I am getting ahead of myself here.  This past Sunday, the day that I arrived in North Carolina, I was shocked and dismayed to see snow on the ground and to feel the cold air on my skin.  The weather was especially incongruous with the Killdeer I observed as the plane taxied to the terminal and the Black Vultures and Turkey Vultures I observed on the ride to my aunt and uncle's.  Aunt Nancy had taken the time to fill the feeders and the bounty she provided combined with the cold weather led to a horde of birds taking advantage of the free food and I got my first year bird of my visit in the form of a flock of Carolina Chickadees.  They were joined by many a Tufted Titmouse, the occasional Pine Warbler, Dark-eyed Juncos, House Finches, Northern Cardinals, and American Goldfinches.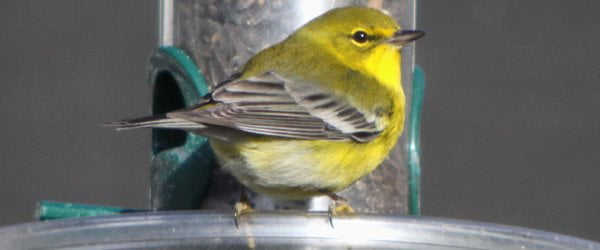 exquisite Pine Warbler on the feeder
Monday morning dawned cloudy and cold and as I waited for Nate to arrive I birded the stand of pines next to the house.  I eventually heard the funny honking that can only mean nuthatch and withing seconds I was staring at my first-ever Brown-headed Nuthatch, the 450th bird I had ever seen in the ABA!  I called Nate and let him know that I might not need him at all but he convinced me that a Red-cockaded Woodpecker was rather unlikely to show up in a random backyard so I didn't cancel my birding plans with him after all.  He picked me up and we were off to Weymouth Woods where we hoped to see the rare Red-cockaded Woodpecker. You'll have to come back later to find out if we were successful, that, or go check out Nate's description of the day…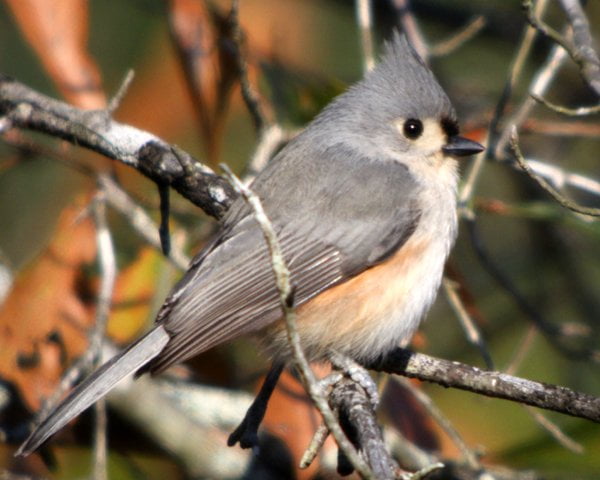 another common southern bird, the Tufted Titmouse
…