I am not an expert.  At anything.  But I have been bird blogging for over three years now and I would like to believe that I have learned a few tricks of the trade that are worth sharing.  This will neither be an exhaustive post covering every aspect of bird blogging nor a lecture from a bird-blogging ivory tower.  Instead, I look at this post as a jumping-off point and hope that other bird bloggers will share their tips in the comment section.
Have a Blogroll
It used to be that almost every single blog out there had a list of links to other blogs on the sidebar.  With the proliferation of different blogging platforms and designs the traditional blogroll has often fallen by the wayside.  This does not mean that a bird blogger should not have a blogroll.  In fact, I would argue that a blogroll is one of the fundamental necessities for a bird blogger.  A blogroll is not just a way to share new sites with your readers but a way to let other bloggers know that you are reading their blogs.  The blogger who does not have a blogroll risks appearing narcissistic, anti-social, and just plain rude.  Not only that, but if you aren't linking to other blogs why should they link to you?  Here at 10,000 Birds we have a robust blogroll and are constantly adjusting it.  Is a great birding blog missing from our blogroll?  Leave a note in the comments and we'll take a look and see if we'd like to link.
Use Words and Images
You can put both words and images onto your blog so why not do that?  A wall of type is often intimidating, looks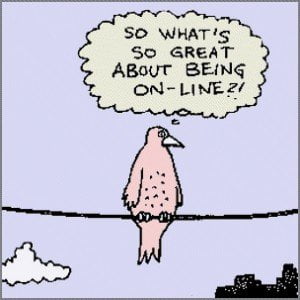 bland, and fails to take advantage of our medium's potential.  Posts that are just pictures may fail to engage the reader and are too easy to skip over.  Find a mixture of text and images that is comfortable for you.  Sure, there are some bird bloggers that can get away almost exclusively with text but they are the exception that proves the rule.  There is no excuse for not having images.  Digital cameras are cheap, it is easy to get images on the computer, and people like pictures.  On the other hand, if all you are going to post is pictures then it will be very difficult for anyone to interact with you other than to say "nice picture."  Unless you are an amazingly great photographer (and odds are you aren't) you will need something more than images.
Show Full Posts in Your RSS Feed
Nothing is more likely to make me not read a blog post than the full post not showing up in my google reader.  I read lots of blogs.  I am not going to click through every single blog I read because I like to do things other than just read blogs.  So I use a reader to bring all of the content I want to see to one spot.  If your full post doesn't show up in my feed I can almost guarantee I am not going to read it.  The people who use feed readers tend to be people who read lots of blogs and are often bloggers themselves.  Why force people who have taken the time to subscribe to your blog to click through each time they want to read one of your blog posts?  Especially when these are people who might decide to link to your blog post if they like it?  Maybe doing that will get you an occasional extra page view but you will be missing out on putting your content directly in front of your most important readers, your subscribers.  That is just plain dumb.
Take Part in the Community
There are a host of blog carnivals out there.  There is the Nature Blog Network and the Fat Birder top list.  There is Facebook, Twitter, and a host of other social media.  And those are just the online options.  Bird clubs, national organizations, and bird festivals are other ways to get linked to more birders and bird bloggers.  If you have met someone and birded with them they are likely to want to read what you have to say about the outing.  If they like what you wrote they might come back and read some more.  Birding and blogging in isolation makes it very difficult to build readership and makes it easy for your audience to stop reading.
Space Your Posts Out
I never understand why a blogger posts several posts in a single day or over a couple of days, usually after a trip somewhere, and then posts nothing for weeks.  Even if you want to write everything at once there is no reason you can't schedule the posts you write to go up once a day until you run out of material.  I love cookies but I don't want ten cookies in five minutes and then not have another cookie for a month!  Your blog posts are like cookies and unless you have a legion of cookie monsters as your subscribers you should ration your blog posts so readers stay satisfied without becoming gluttons.
Allow Comments (And Respond!)

If you are going to subject readers to your blogging the least you can do is take some return fire.  Comments help build community on your blog and make people feel like they aren't just receiving missives from on high.  Commenters can correct your mistakes, provide links to similar posts, or just make your head swell when they let you know they like something that you wrote.  A blog without comments is like beer without alcohol.  You can do it, but why?
If someone takes the time to comment you should respond.  After all, people who comment are the people who were moved enough by your writing that they actually felt that they needed to say something.  You want to encourage this behavior!  At the very least you should say thank you.
Give Credit Where Credit is Due
If you are sharing a link that you found via another blogger then link to them too.  If you are using an image from somewhere else then ask permission (unless blanket permission is given) and link to the source (for example, if you click the cartoon I used above it takes you to GraphicsHunt, where I found it).  If you are quoting something make sure you make that clear and link to the source, if possible.  Stealing the work of others is just not cool and you should not do it.  It is bad netiquette and it could land you in trouble.
Write about Cultural Intersections
That is, as a bird blogger, you should write, at least sometimes, about the places where the world of birds and birding intersects with another world, like the world of art.  Here at 10,000 Birds some of our most-visited posts continue to be where birds meet literature, sport, and tattoos.  Bird blogging is a small niche and the more you can do to expand the niche the more room you have to grow and the more interesting that your posts become.  Trip reports are great but one can only read so many before they all start to blend together.  Mix it up and you will see results!
I hope that the tips here have been helpful and that you can use them in your bird blogging.  Please feel free to add more in the comments or to disagree with the tips I provided.  Most importantly, keep blogging!