The view from most Bronx apartments usually lacks for interesting natural or architectural features. We've been lucky in that from our window we can see both a decent number of trees, including a magnificent tulip tree, and a cool bell tower of sorts. This tower is attached to a local home for the aged, one that recently closed down. A developer purchased the site and determined that the expansive building, replete with so many appealing architectural flourishes, needed to come down. Unfortunately, that was the death knell for our little bell tower and its stunning verdigris-anointed dome.
This cupola wasn't just important to the Core Team. This urban promontory with its 360-degree sight lines was the preferred perch for countless crows, pigeons, starlings, and more. In addition, many of the raptors on our Bronx backyard bird list also enjoyed posing imperiously atop the copper-green cupola. Our favorite backyard bird, the local American Kestrel, whose arrival coincides with the onset of winter, was spotted for the first time this season on the perch just three days ago. We love our cupola.
But now, it is no more…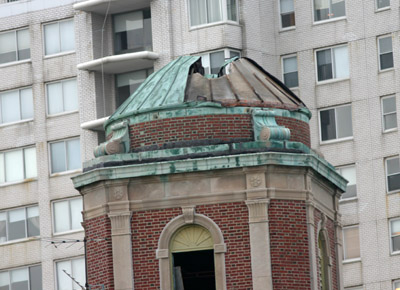 We knew this awful deconstruction was in the works, but didn't expect it to arrive so suddenly. I awoke this morning to the sight of the dome cracked open like an egg. The finial was already removed and the metal sheeting peeled away in places. The workmen are attacking this once-proud promontory with undisguised vandalistic glee. By tomorrow, there will be nothing left but an open hole.
At least we still have our tulip tree. That is, at least for now.