The Audubon's Warbler (Dendroica coronata auduboni) is the western edition of the Yellow-rumped Warbler (Dendroica coronata).  The Myrtle Warbler (Dendroica coronata coronata), the eastern subspecies, and Audubon's Warblers hybridize in the southern Canadian Rockies and on the basis of this evidence, as well as genetic similarities, these two species were combined into a single species in 1973 by the American Ornithologists' Union.  Together they are one of the most common wood warblers in North America.
As in most wood warblers, the male's plumage, seen below, is more distinct than the female's.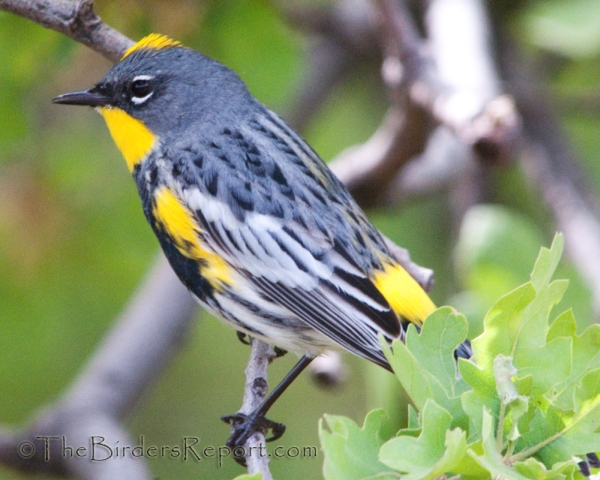 The female Audubon's Warbler is more brown and gray, the yellow crown, throat and side patch are paler and less extensive than on the male.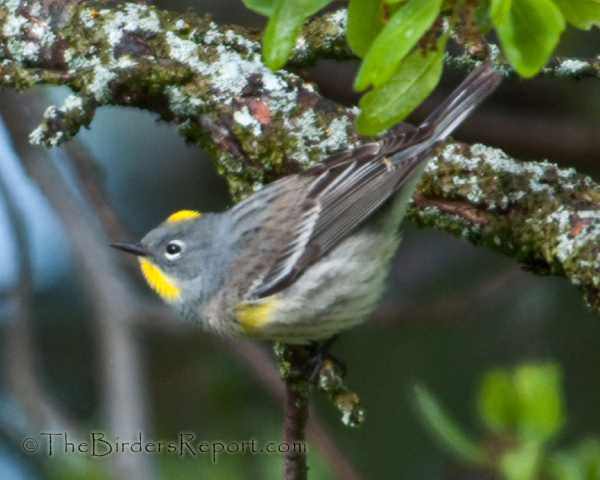 Like most wood warblers, the Yellow-rumped Warbler feeds primarily on insects during breeding season, adding fruit to their diet in the winter and during migration.
I found this beautiful male specimen a few weeks ago on Dye Creek Preserve, a 37,540 acre part of Nature Conservancy's Lassen Foothills Project.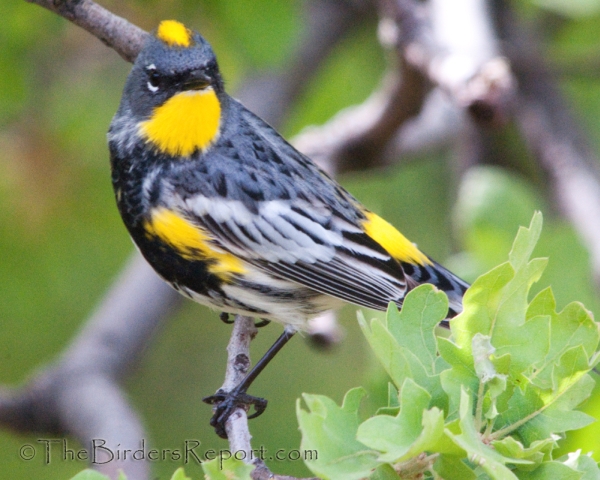 He was flycatching and gleaning larva from the oak trees.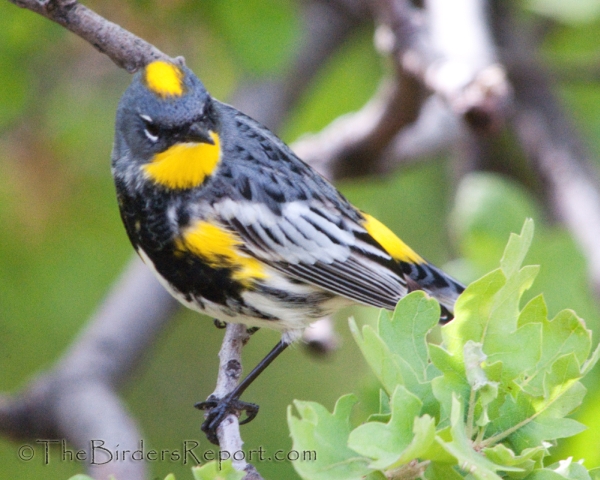 Here he is reaching for a a tasty treat, showing off his bright yellow rump and belly patch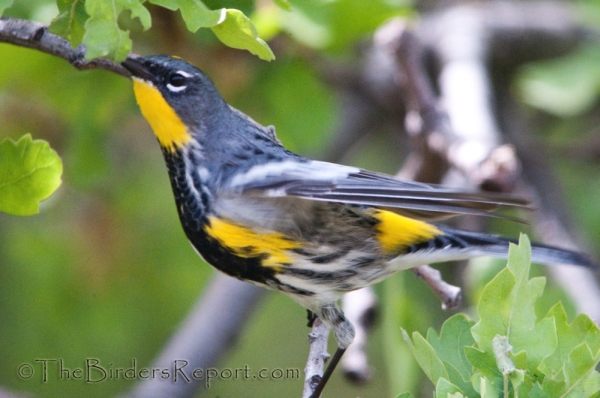 Got it!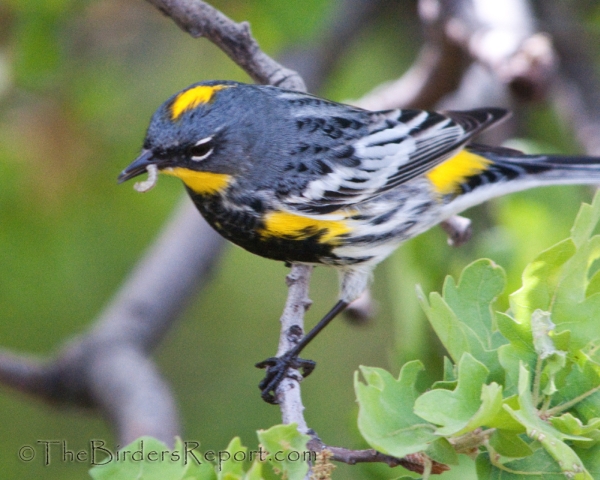 That was good.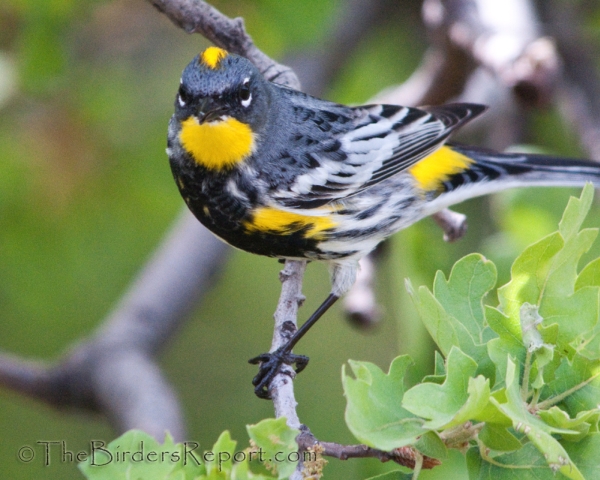 There must be more of these goodies in here somewhere.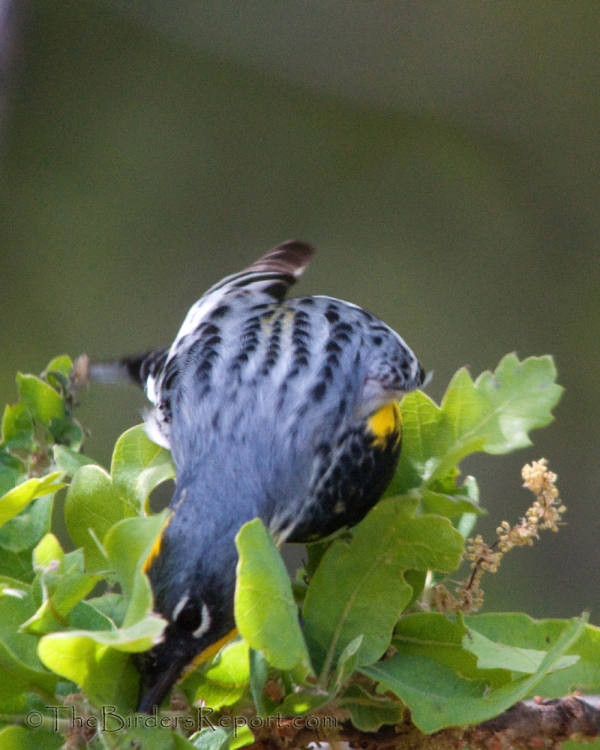 What are you looking at?  I found it!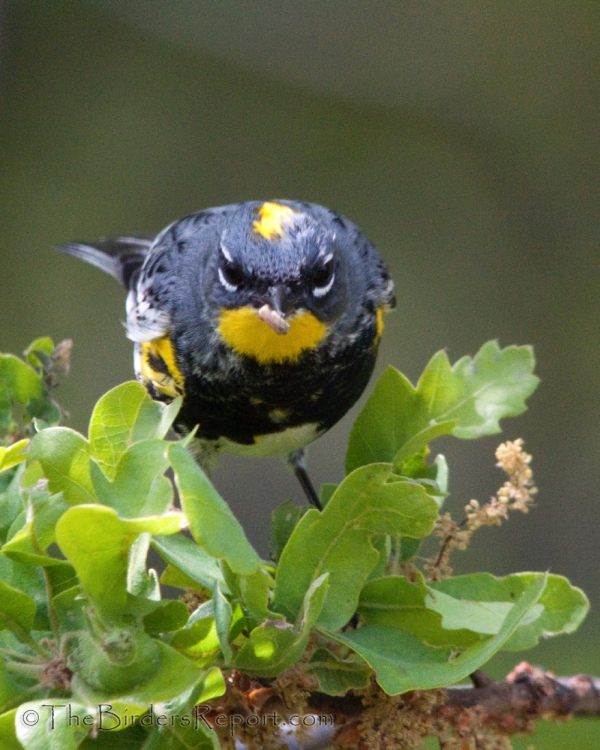 Down the hatch!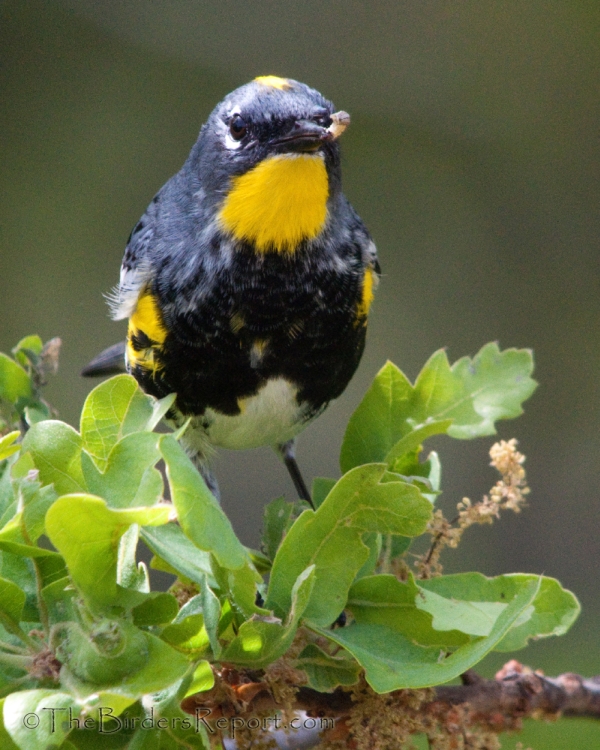 I'm pretty darn good at this, don't you think?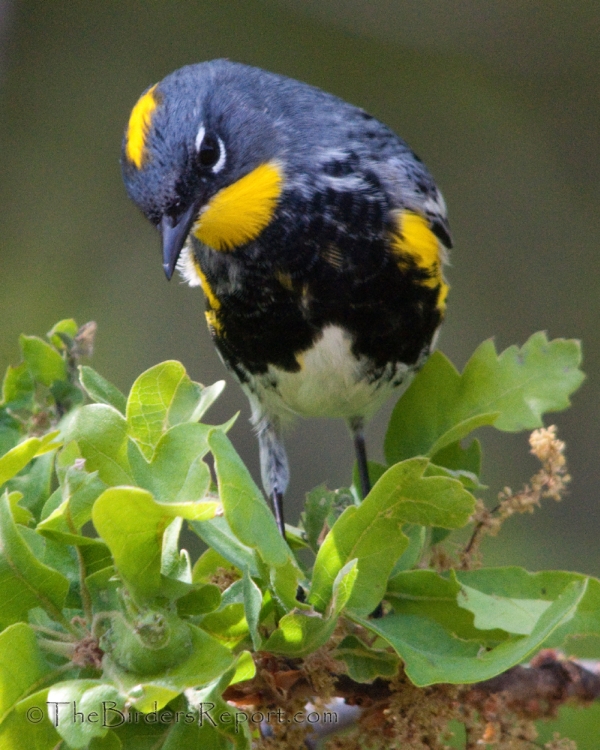 —————————————————————————————————————————————————————————————
This week, 8 May – 14 May 2011, is Wood-Warbler Week on 10,000 Birds!  Though wood-warblers, the mostly brightly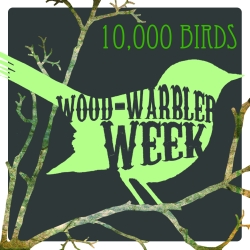 colored birds of the family Parulidae, are only found in the New World we felt that birders the world over would be pleased to see a plethora of posts about these striking and sought after species.  We are devoting a whole week to wood-warblers but are only just barely scratching the surface of possible topics involving this amazing family of birds.
Right now great flocks of wood-warblers are making their way north from the southern United States, Mexico, the Caribbean, Central and South America to breed across the United States and Canada.  Many other non-migratory wood-warbler species are living their lives across the neotropics, doing their best to survive and pass on their genes. Wood-Warbler Week is a celebration of all wood-warblers and we hope you join us in celebrating these absolutely wonderful birds.  Read about them here but also get out and experience them.  You won't regret it!
—————————————————————————————————————————————————————————————