As you all get ready for the onset of spring in the northern hemisphere we are heading into autumn. In the north of Australia we also have changing colours, but it is not the foliage that changes. Those of you that are familiar with leaves turning different shades of red  can imagine the same happening to shorebirds! The male Bar-tailed Godwit are the first to show us breeding plumage and then the Red Knot and Curlew Sandpipers have two beautiful reds-red wine rather than cranberry juice! They appear to all be intensely concentrating on feeding up before they make their long flights north. In coming weeks they will leave Roebuck Bay and most will stop 5 days later for the first time in Bohai Bay 6500kms to our north. This week has seen the first flocks of Eastern Curlew and Greater Sand Plover head out over Roebuck Bay on dusk. We really do feel for them as they head north and wish them all the best. This year will be tough on many birds as further mudflat destruction to construct factories in China means that they may not be able to feed in areas that they have known in the past.
Here is a little test-there are 6 species of shorebird in the photo-can you identify them?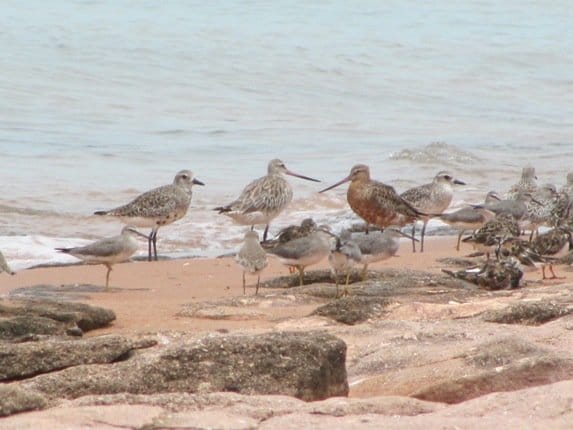 I am often amazed how tolerant the shorebirds are on big tides. The beaches of Roebuck Bay get so crowded with birds that some venture across to roost on the beach between town and the Port. Once migration is in full swing the flocks will be able to remain on the quieter beaches.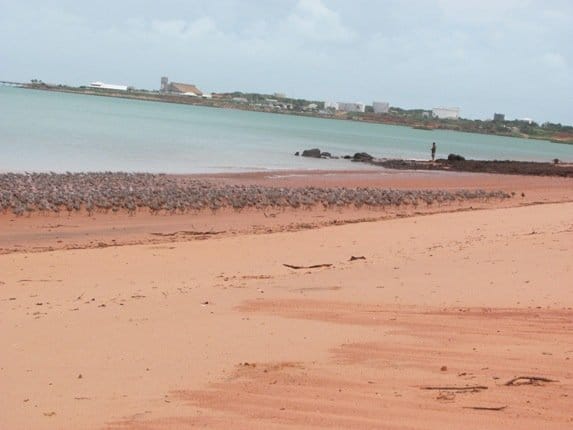 Fisherman and shorebirds close to the Port of Broome
Once the fisherman moved along the beach the shorebirds ran towards me and I had to make a quick decision-take photos or keep my eye in the telescope and record individual birds. Well, I took a few photos and then recorded individual birds. I discovered I had some birds individually marked in my photographs as well as ones that I had seen "by eye". We receive some beautiful photos from China of individually marked shorebirds on migration each year as they travel through the Flyway.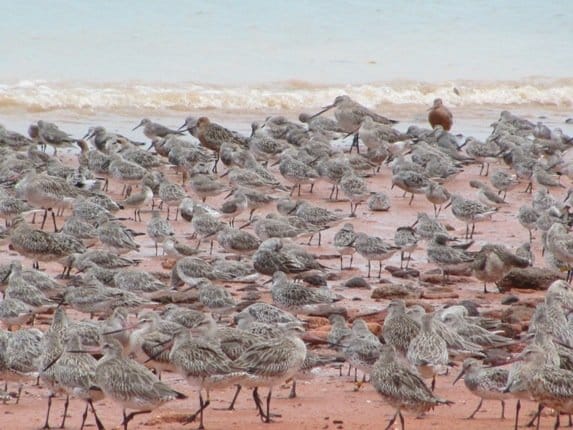 Breeding colour becomes rather obvious!
There has recently been an Expedition to Broome for volunteers to assist with the individual marking of shorebirds. The first Expedition was in 1981 and we have even caught a Bar-tailed Godwit in recent years from that very first catch. By collecting data and following individual birds it is possible to provide data to both governments and environmental groups to help protect the habitat both here and overseas into the future. One highlight was 276 White-winged Black Terns being individually marked in one catch as so little is known about their migration. I am currently busy entering data on a voluntary basis for about 3500 shorebirds, so everything is up to date when I get reports of these birds in China, Hong Kong, Taiwan and Korea in future weeks.
I really can not compete with Corey and all his great photos of ducks, so here is a photo of my favourite duck door stop!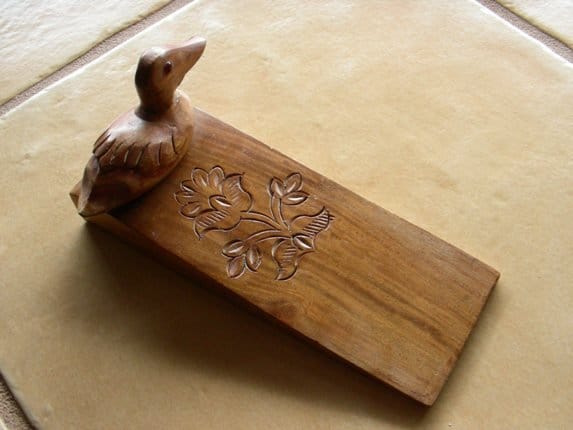 How did you go with the shorebird identification? There were 2 Grey Plovers (we only have females in Broome), 2 Bar-tailed Godwit (one male), 1 Greater Sand Plover (with it's back to you!), 6 Grey Tailed Tattler, 6 Ruddy Turnstones and 2 1/2 Great Knot!
Well done!