Time to face facts… if  you haven't bought holiday gifts yet for the birders in you life, you are out of luck. There's simply no way you can order a gift this weekend that will arrive before Christmas… or is there?
The thoughtful and generous artisans at Printfection have announced that anyone who chooses the Standard shipping option during checkout by Sunday, December 19 will receive a FREE upgrade (if needed) to ensure delivery by December 24. No coupon is needed but make sure to select Standard shipping. This means you can buy some awesome 10,000 Birds t-shirts (which are reputed to possess magical properties) for yourself and your whole family/birding chapter/company!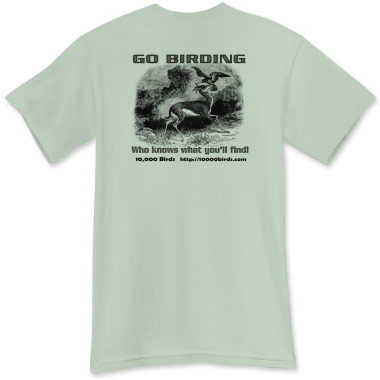 Birders also love books and plenty of them.  A lot of lovely books have entered our lives this year, and we'd be remiss if we didn't call your attention to them in no particular order:
GUIDES
NARRATIVE
CONSERVATION
NATURAL HISTORY
INSPIRATION
CHILDREN'S BOOKS
Sibley's Backyard Birds Poster is another terrific gift. If you really want to show some class, give some glass: high-end optics truly make the season bright. We're partial to just about everything from Swarovski, but respect the other leading optics manufacturers as well. The Atlas Intrepid ED 8×42 binoculars from Eagle Optics, for example, offer an excellent bargain.
If you haven't already selected several gifts from this list, may I suggest browsing the bounty offered by our sponsors? Click through the graphics on our sidebar and be assured that you will most definitely see what birders really want!