Jamaica Bay National Wildlife Refuge, March 2009
It was at about 1:30 AM on Saturday morning that I startled awake and found myself sitting in an empty subway car in an unfamiliar location.  I stepped out of the train and my foggy brain was just realizing that I was at the end of the E line at Jamaica Center when the doors behind me closed and the train left, heading back towards my stop that I had apparently slept through when the train first went past it.  That late at night the trains don't run as frequently so it was at least fifteen minutes before I caught the next train home, and well after 2 AM before I finally got to sleep.  Why does this matter?  Because I was planning to meet Carrie from Great Auk – or Greatest Auk?, John from A DC Birding Blog, and Patrick from The Hawk Owl's Nest at Jamaica Bay at 8 AM Saturday morning for some birding.  Needless to say, I was a bit groggy when I met up with them.
The Red-winged Blackbirds that were busy staking claims to breeding territory by singing from bushes, trees, and marsh plants were not groggy at all.  It was great to see them back, and so many of them, after a winter devoid of honk-a-rees.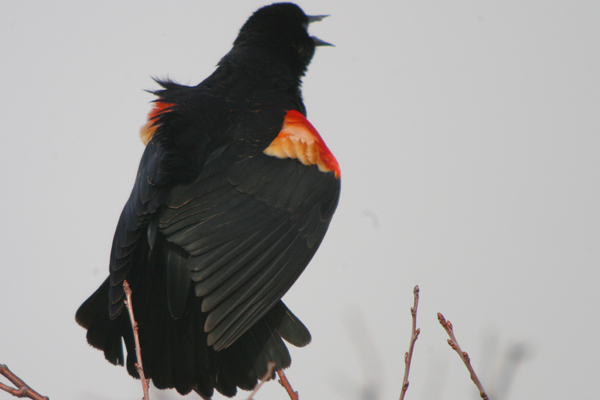 But Red-winged Blackbirds weren't the only birds that returned in numbers.  Another icterid, Common Grackles, were back as well, and we spotted a small party of them foraging in the marsh north of the West Pond.  Tree Swallows squabbled and hunted in the air overhead and spent time examining the numerous nest boxes erected for them.  Patrick spotted two American Oystercatchers way out on some marshy land in the bay, my first of the year.  While it seems likely that at least some Fish Crows wintered over, we heard some calling today, another first for of the year for me.  And though we were mostly focused like a laser on spotting birds coming back from their sojourn south, it was nice to get good looks at lots of Yellow-rumped Warblers, which were around in much higher numbers than any of my previous visits this winter.  Maybe their numbers are being augmented by birds that wintered a bit further south?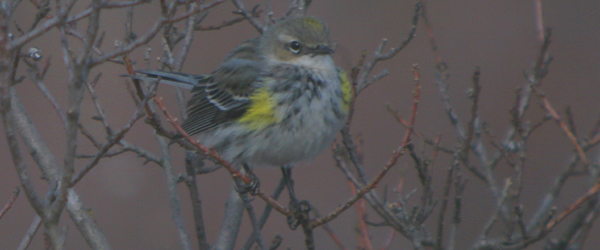 There were plenty of waterfowl around as well, including the trio of geese that spend every winter at Jamaica Bay, Snow Geese, Canada Geese, and Brant.  Dabbling ducks included Green-winged Teal, Northern Pintail, American Black Duck, and Mallard.  The diving contingent was headlined by some Horned Grebes, but Bufflehead, Common Goldeneye, Red-breasted Mergansers, Hooded Mergansers, scaup, and Ruddy Ducks were around as well.  I was entertained by trying to get shots of Snow Geese in flight with my digiscoping rig, not exactly an easy task, and was amazed when I got home and found the shot below.  It's not the best shot of a flying Snow Goose I've ever taken, but I think it's pretty darn good considering it was digiscoped.
It was easier to get a shot when they were landing: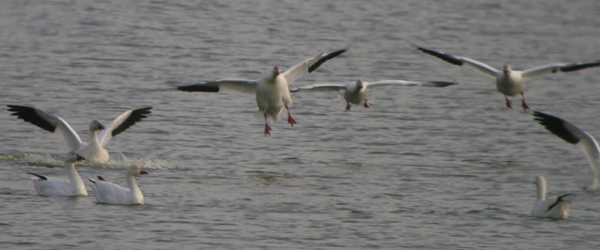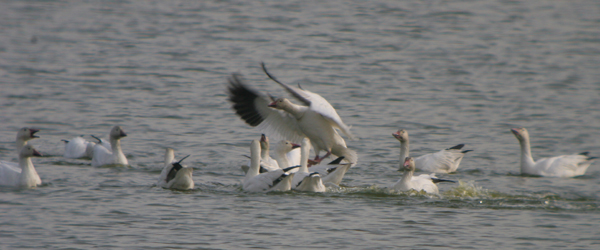 One of the best parts of being with three other bird bloggers is I got to regale them with tales of the trip to Honduras (though I'm not sure that they would agree with that).  By the end of our circumnavigation of the West Pond we had totalled 38 species, a decent haul for mid-March and I hadn't come close to exhausting my store of Honduras anecdotes.  But we weren't done yet!  We had some birdy places to visit further east, in Nassau County, and great birds were awaiting us…come back soon to find out what. (Or visit the other folks' blogs because, to be honest, I will be regaling you with at least one more Honduras tale before I finish the account of Saturday's birding.)  Hello?  Hello?  Man, you've all left to visit Patrick, Carrie, and John, haven't you?
…
This post was originally published on 15 March 2009, but we hate to keep posts this good buried in the archives!
………