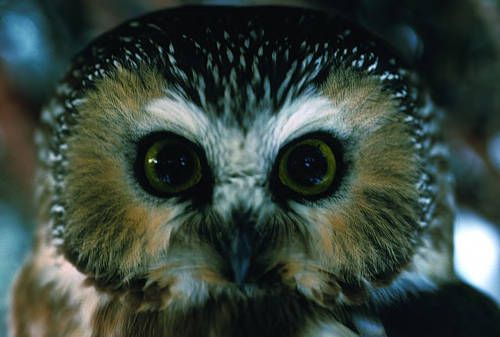 I was feeling fairly disheartened. My big year, after starting off with an incredible rarity, had fizzled. A literal wild goose chase had led to a cascading series of errors in which I missed nearly every bird I sought. I had racked up only twenty-odd species, all of which I'd have to be blindfolded to not see if I spent a year in New York City.
I was not tremendously optimistic as I returned to Forest Park for a second shot at the Northern Saw-whet Owl that our beloved host Corey had tipped me off to back at the beginning of January. But I was determined that the trip not be a total loss. So I brought along a new pair of Opticron Natura BGA binoculars. At least I could test them out.
The first thing I noticed was that these guys were light. So light that I checked my bag a few times to make sure I really still had them. The previous pair I'd checked out from Opticron were light as well, but they were the compact Travellers, and I wasn't particularly surprised by that. These, on the other hand, were full-on 8×42 Naturas. They were within an ounce of the weight of my Swarovski 8x32s, by my kitchen scale, and as I held them up to search the trees I noticed no arm strain or trembling – problems to which I am unfortunately prone.
Of course, one must ask – if these guys lacked the one of the primary disadvantage of most 8x42s, did they lack the advantages as well? It was an overcast day, the sun not much more than a yellow cue ball in the sky, so it was a good time to check out brightness. And the brightness was fantastic. I picked out a Red-tailed Hawk bearing a squirrel away to a perch to eat, and got a sharp, crisp view of the messy dismemberment despite the gloom.
Of course, no binocular can be all things at once. The field of view on the Naturas in my hands was only 6.2 degrees. If I'd been trying to pick out a jumpy little warbler instead of a sleeping owl, this might well have made a difference – I did notice that it took a bit more care than I was used to to transition from viewing a bird by eye to the binoculars, even with sitting birds.
On the whole, though, I had a lovely experience with the Naturas, and wouldn't hesitate to recommend them to anyone who is looking for binoculars long on brightness and short on neck pain. Did I have a lovely experience with the birds as well? Stay tuned…