The results of the Swarovski Optik Digiscoper of the Year 2011 have just been published and once again, they show just what is possible with a telescope and everything from a cheap compact camera to a semi-pro DSLR.
The winner this year was Tara Tanaka of the USA, with a stunning image of a Roseate Spoonbill (Platalea ajaja), showing action, movement, great lines, a bright colour palette, and a strong focal point – not to mention the great "wish I was there" feeling.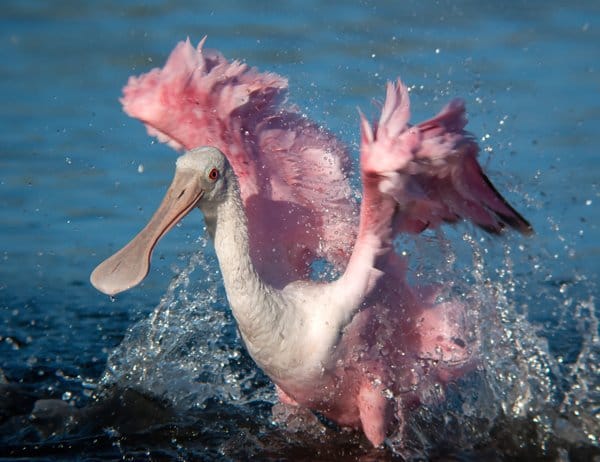 Tara Tanaka described the experience of digiscoping this spoonbill as such:
Tara Tanaka: Merritt Island NWR was the last stop on a 10-day Florida birding trip last winter. We got there mid-afternoon and I had a great time photographing Reddish Egrets and Tri-colored Herons feeding—my main reason for going there. As it got later the wind really picked up, to the point I could feel myself being pushed around by the wind on my baggy camo pants. I was taking photos of Roseate Spoonbills perched in small Mangroves, when one by one, more Spoonbills began arriving. When their designated bath time arrived, they spread out a bit with all of them facing perfectly into the late afternoon sun. By then I was on my knees to get out of the wind but couldn't get any lower because of the brushy edge. Soon they were all preening and bathing—most of them using just a little dribble of water that was the Spoonbill equivalent of a sponge bath—but two of them took bath time to a whole different level. The Spoonbill in the winning photo was forcefully driving its wings into the water as if it was trying to see how much water it could get into the air at one time. Shooting in continuous mode in RAW, I was getting about 3 quickshots and then about 1 shot per second. It was agonizing to hear theloud splashing during the blacked-out,full-second delays between brief flashes of a Spoonbill gone wild. It was by far the most exciting time I've ever had photographing a bird. (read more about Tara and her digiscoping in an interview here).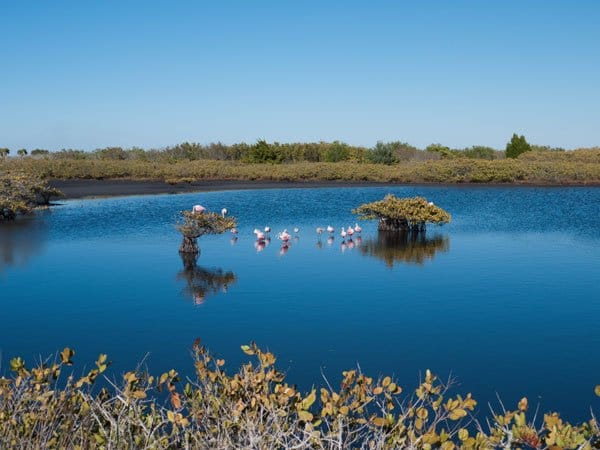 Roseate Spoonbills bathing by Tara Tanaka
I asked Clay Taylor – one of the Digiscoper of the Year judges and a very experienced digiscoper – for a few words on the winning images and which image particularly stood out to him:
 Clay Taylor: The Top 20 winning images of the 2011 Swarovski Optik Digiscoper of the Year were impossibly hard to pick, but it was a fun job, nevertheless. Suffice to say, any image reaching this level has to be perfectly exposed and impeccably focused, so the final determinants for attaining the award fall to composition (use the Rule of Thirds, etc.) and content (not just what the bird IS, but what it is DOING). Using a digiscoping setup at image magnifications much higher than what is available with a conventional telephoto lens adds new challenges, especially when the subject is in action. To me, achieving even an "acceptable" digiscoped image of a moving subject is VERY gratifying. The Top 3 winners all share that attribute, so evidently the Esteemed Judges and the public voters agree.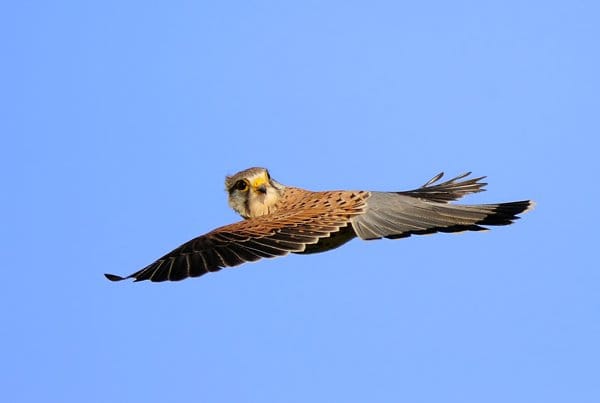 3rd place: Kestrel by Miguel Muñoz Herrero. Some wonderful example of a unique moment, frozen. This was naturally a favorite for many.
Clay Taylor: Asked to comment on one of the Top 20 images, I am drawn to a use of digiscoping that is more in line with the original "need" for maximum magnification – finding out more about the subject. Yueh Yun Lin's flying White-tailed Sea Eagle is a wonderful image, but the raptor enthusiast in me sees much more than great exposure and composition. Look closely at the bird's left wing feathers – emarginated primaries #5 and #6 (start counting from the outermost feather) are frayed and tattered, while #s 1 – 4 are fresher. Looking at the secondaries, they show two types of shapes – some rounded, some pointed or pyramidal in shape. A photo like this can now become a key to identifying this individual bird up until it starts to moult more feathers. A good reference guide to eagle moult sequence could also give you an idea as to the bird's age (I am pretty good at Bald Eagle moult sequences, but will pass on White-tailed Sea Eagles). A series of digiscoped photos of, say, wintering eagles may thus give a better idea of how many individuals are REALLY present, or track moult progress in birds on the breeding grounds. That alone would give me reason to return again and again to digiscope those same subjects. Of course, we are always looking to get that "Perfect" image, too.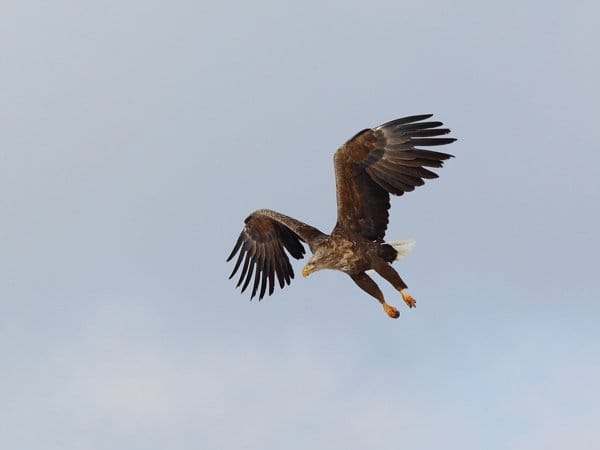 20th place: a stunning image of a flying White-tailed Eagle by Yueh Yun Lin
Clay Taylor: No matter why you are a digiscoper, it is fun to keep pushing the boundaries of image quality and image content, but sometimes those less-than-perfect images might tell a better story.
One of the surprises this year was an incredible image by Mario Cea in which he used an extensive array of flash units, and a remote sensor to trigger his digiscoping setup and capture some great shots of Little Owl (Athene noctua). This is the first time that I have seen such extensive use of flash, opening up a whole new world of creative nocturnal photography: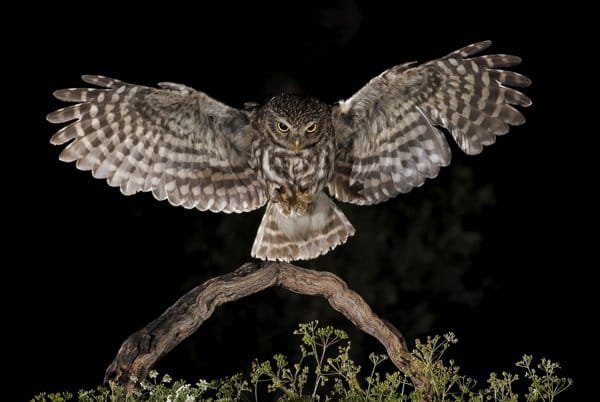 2nd place by Mario Cea: Little Owl digiscoped with multiple flash units
The idea to create the photo of the Little Owl was borne out "regular" high-speed telephoto photography where Mario thought that this might be possible to achieve using a digiscoping setup, multiple flash units, 40m of cable and an infra-red remote trigger. I am putting together a blog interview with Mario about how he took this photo and how he came up with the idea and am finding the exchange absolutely fascinating; how Mario (and many others) are exploring the bounds of what is possible with digiscoping.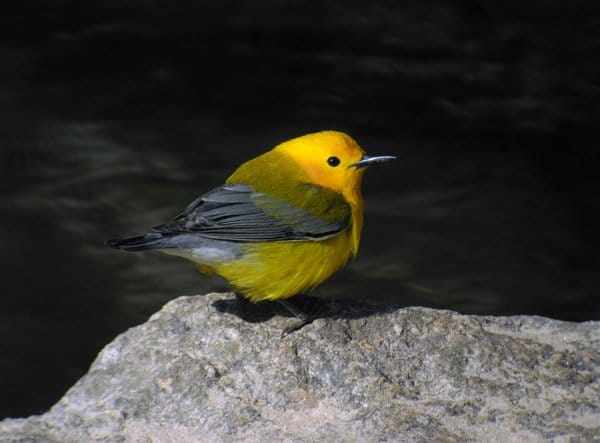 Mike McDowell, digiscoping expert and abundant source of digiscoping wisdom, had the following to say about how he came to take this wonderful image of a Prothonotary Warbler (Protonotaria citrea):
Mike McDowell: This particular Prothonotary Warbler had been present at Pheasant Branch Conservancy for a few days, but most of the time I go birding I don't carry my digiscoping rig with me. One day after work when the lighting was exceptional, I returned to the spot where the warbler had previously been seen. Though the photograph seems to reveal a stationary bird, it was hopping from one rock to another along the creek corridor. Just trying to follow it in the frame was difficult, let alone getting an image of it. Eventually, persistence and patience paid off. Anticipating the direction the bird was foraging, I went ahead a few rocks and waited for the warbler to hop to over to it. Success! It's one of the best images of a Prothontary Warbler I've ever taken. Though I was hoping the bird might stay to nest in the area, it moved on about a week later. This species prefers swampy habitat and I don't think the creek was appealing enough to keep it around.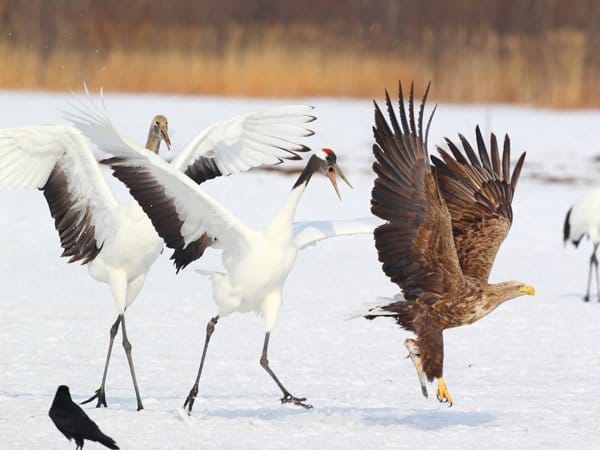 I found Chung Han Wu's action shot of the dancing cranes and White-tailed Sea Eagle to be one of my favourite in this year's digiscoping contest. He has managed to capture great action within a pleasing composition; but more than that, I find that with this image, it is almost impossible to anthropomorphize annoyed anger on to the cranes, and a cool "yup, I'll just be taking  this fish" on to the eagle.
Last year's winner, Oscar Gonzalez – one of the most talented digiscopers I know, consistently churning out award-winning digiscoping photos – "retired" from active participation in the Digiscoper of the Year (having won prizes in all 4 of the previous DOY annual competitions) joining the judges' panel instead. Thanks for your continued support, Oscar!
The 2012 Digiscoper of the Year competition will start in June, so there is plenty time to start looking for great digiscoping opportunities.
Happy digiscoping,
Dale