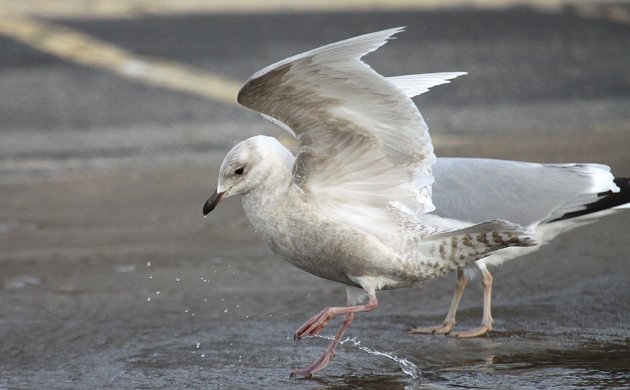 February is rather undistinguished in terms of weather, but accrues interest both for its distinctive duration and distracting pronunciation. What really makes February interesting, at least in the United States, is all those holidays. February boasts more special days than Delaware has tolls, which is saying a lot. This month really kicks off with a bang, when all eyes are on that groundhog nonsense and Corey's Facebook page (for portents of winter and birthday wishes, respectively.) And now that Super Bowl Sunday is little more than confetti on the floor of the Superdome, February has lost much of its luster. Don't you agree?
Obviously, I was mostly focused on Ravens this weekend, but was pleased to see American Goldfinches back at my feeder after a long absence.  Corey again had a host of good birds to choose from for his Best Bird of the Weekend after a full day of birding bequeathed to him for this birthday. Razorbill, Barrow's Goldeneye, Black-headed Gull, White-winged Crossbill, Ross's Goose, or any of twelve sparrow species could easily have been his Best Bird of the Weekend. But he chose one of the two Iceland Gulls he spotted in Montauk on the east end of Long Island. What's not to like about a young Iceland Gull, like the one pictured above?
How about you? What was your best bird of the weekend? Tell us in the comments section about the rarest, loveliest, or most fascinating bird you observed. If you've blogged about your weekend experience, you should include a link in your comment.