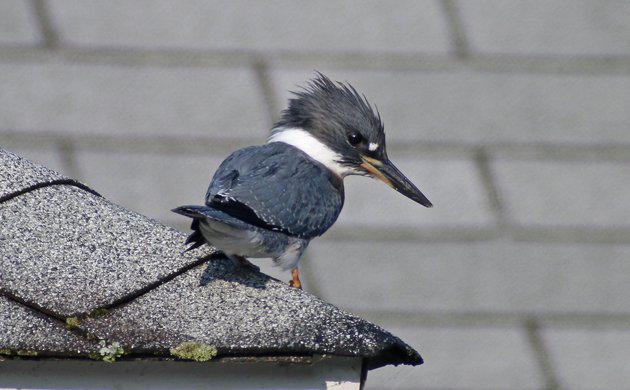 Some of us had a hot weekend. Some of us had a cold weekend. Some of us have been suffering through the wettest weekend of our lives. No matter how inclement your weekend was, just remember… it still beats Monday!
Ivy and I went up to Braddock Bay, where some raptors lurk even in fall. However, the bird I was most surprised by was a Warbling Vireo that perched out in the open long enough for my young daughter to get a decent look. Corey's Best Bird of the Weekend was not an easy choice. Not because he saw lots of really rare or unexpected species but because he saw quite a few common birds and sometimes it's difficult to decide which of the common species to choose from the flock. In this case, he chose a Belted Kingfisher at the Saugerties Reservoir which he digiscoped while he was back home visiting his folks. Kingfishers are always fun to watch!
How about you? What was your best bird of the weekend? Tell us in the comments section about the rarest, loveliest, or most fascinating bird you observed. If you've blogged about your weekend experience, you should include a link in your comment.