We may be a full month into 2011, but the year is still too new to judge. Otherwise, my prediction would be the coming of a new Ice Age, at least on the east coast of the U.S.! Not only has snow relentlessly blanketed the Northeast, but even the Sunshine State is feeling the chill. Fortunately, fine birds remain a fixture even in these bitter times.
Corey and I are both independently spoiled for choices this weekend. My best birds of the weekend were woodpeckers; a scan of central Florida specialties turned up a Red-cockaded Woodpecker in the early morning and Red-headed Woodpecker in late afternoon. Corey's is a toss-up between the best ever looks he ever had at Thick-billed Murre and his first-ever adult male King Eider.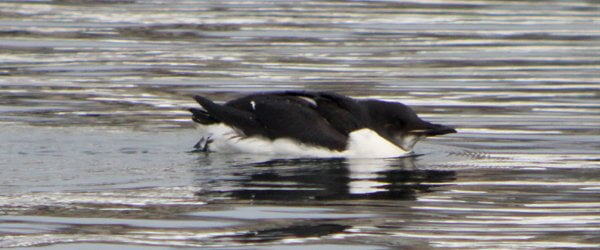 Thick-billed Murre
What was your best bird of the weekend? Tell us in the comments section about the rarest, loveliest, or most fascinating bird you observed. If you've blogged about your weekend experience, you should include a link in your comment.