For such a large country, the United States has a shockingly low number of endemic bird species, perhaps only 15 in the contiguous 48 states. Equally shocking is the idea that two of those species are scrub-jays! Most corvids are eminently adaptable. Certainly, jays like Blue, Gray, and Steller's rule their respective domains through teamwork, cunning, and sheer ornery resilience. The Western Scrub-Jay possesses a similar generalist sensibility. Our other scrub-jays are a little more challenged.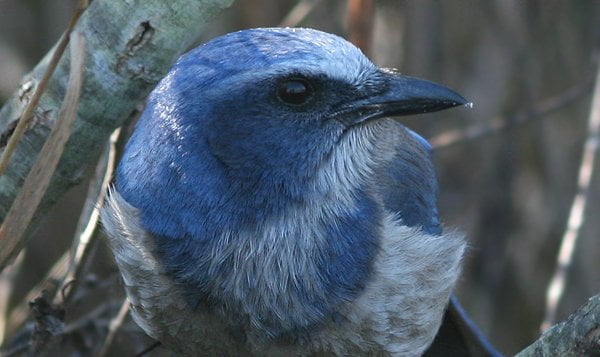 The range restriction of the Island Scrub-Jay makes sense, as the bird is entirely confined to Santa Cruz Island in California. The Florida Scrub-Jay, on the other hand, is isolated by islands of habitat. Florida scrub, characterized by low shrubs and dwarf oak trees, arises from well-drained, sandy soil subjected to regular fire. This arid ecosystem is itself endangered, so it's no wonder that the Florida Scrub-Jay is struggling.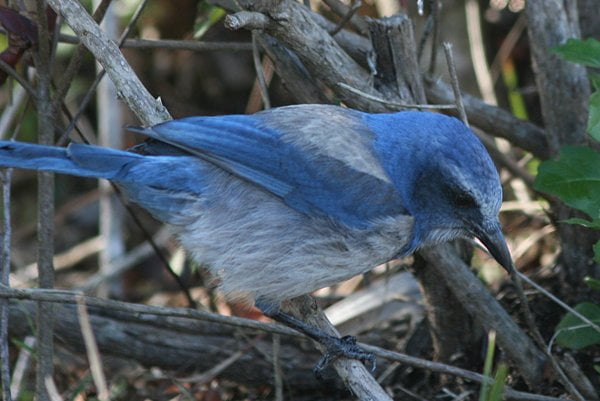 All scrub-jays are beautiful in their sleek aquamarine, blue-steel, and gunmetal gray plumage.  The Florida Scrub-Jay does its genus proud, with a long, lean profile and bright powder gray around its brows and throat. These generally confiding jays subsist on a wide range of foods, from invertebrates to cold-blooded critters to small mammals bolstered by lots of nuts and seeds. Scrub-jays have an affinity for the acorns of scrub specialty oaks like Chapman, Myrtle, and Sand Live Oaks. Indeed, the jays I encountered are usually found raiding a certain oak tree.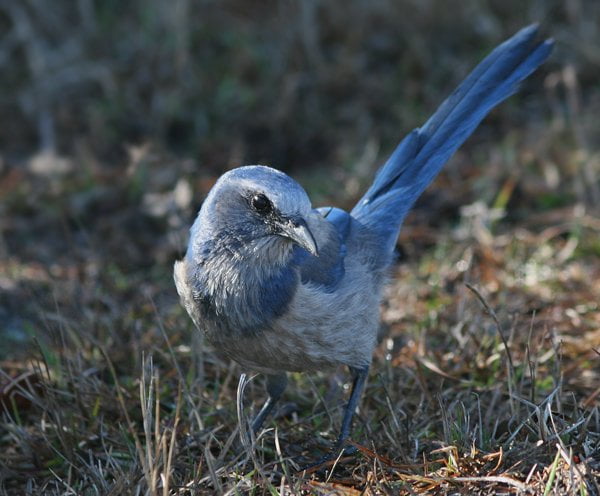 Scrub-jays were high on my list of desired birds at the most excellent Annual Space Coast Birding & Wildlife Festival. Fortunately, they were a cinch to find. Merritt Island National Wildlife Refuge is so solid for these coveted corvids that they even hold their own Florida Scrub-Jay Festival. If you can't schedule your trip for mid-February, do what I did and drive through the refuge to the entry to Playalinda Beach. Feel free to drive on through if you want to witness pristine Florida ocean front and possibly a whole lot more… Playalinda is infamous for its nude beach! Thanks to the awful cold, all I saw out there were terns, gulls, and gannets. But if you want the scrub-jays, stick around the ranger station. I needed mere minutes to enjoy extremely satisfying views of Florida's only endemic.