Happy Halloween! See how I assume you celebrate Halloween no matter where in the world you live? Must be the way you're dressed…
The best bird of my weekend was Tufted Titmouse, which has become more prominent here as we approach winter. I forgot how much bigger these birds are than the other species like chickadees they pal around with. Corey's Best Bird of the Weekend™ was one of the many American Pipits that were moving along the coast.  This particular pipit paused in its migration to forage with its flock mates and Corey caught it in the act of dispatching a particularly large grub. Yum!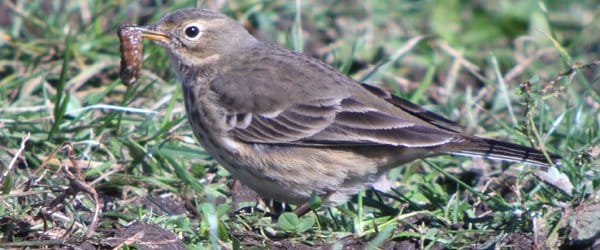 What was your best bird of the weekend? Tell us in the comments section about the rarest, loveliest, or most fascinating bird you observed. If you've blogged about your weekend experience, you should include a link in your comment.