"Seen anything good?"
-Our Ritual Greeting
It was after about fifteen minutes on the dike at Higbee Beach Wildlife Management Area with a pleasant couple from Maryland that I realized that we had managed to have quite a conversation that touched on a variety of topics but managed to not introduce ourselves.  We had discussed the birds, parenting, birds, hometowns, birds, weather, birds, and blogging. We had identified probably a score of species but had failed to identify ourselves.  And then I said "Oh, my name is Corey" and they said their names and we smiled awkwardly and kept birding.  It was nice to have names to attach to their faces, even if I have managed to forget their names now.
There are birders I must have seen in the field a dozen times and I have no idea of their names.  We have exchanged pleasantries and birding tips, puzzled over Empidonax identifications and chip notes, and pointed out raptors and wood-warblers.  But, somehow, we never got around to sharing our names. And I know that this is not something that happens just in New York City – it seems to be a universal problem in the birding world.  Is it because we spend so much brain power identifying birds that we forget to identify ourselves?  Is it that birders tend towards the socially awkward end of the personality scale?  Or do we just eschew people for birds?
Tangential to this issue is how we will take hundreds of pictures of a rarity but often forget to turn our lenses on each other.  I came back from the Midwest Birding Symposium with a scant few images of birders but literally almost a thousand shots of birds. And, arguably, meeting other birders is the main attraction of going such an event. Do our long lenses inhibit portraiture? Are humans too easy to photograph?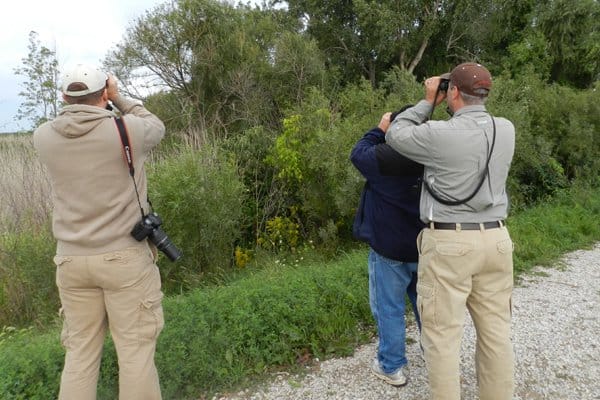 Me and two birders for whom I have names – Greg Miller and Christopher Ciccone. Photo by Susan Kailholz-Williams.
I don't know the answers to any of these questions but I do know my solution to this problem.  I am going to be more open in the field and make sure that I introduce myself to birders as often as I can.  Sure, sometimes I might still lead with "Seen anything good?" but after the answer I will do my best to make sure that we observe the most basic of human interactions and get names for each other's faces.
Am I crazy for even thinking this?  Is anyone else up for the challenge? We can call it the birder identification challenge and we can all agree to introduce ourselves instead of letting the names of the birds we are seeing stand in for our names.  How about it, birding world?
…