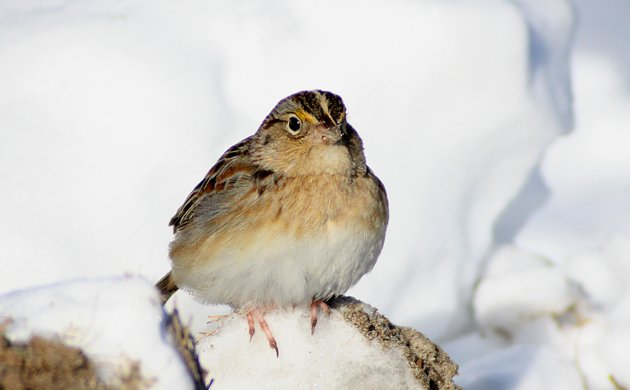 I don't know about you, but I'm exhausted. Must be from all that shoveling this weekend. But when life becomes most inconvenient, I become most impressed with those who blow past those inconveniences to pursue their passions. How did you pursue your (non-Valentine) passions this weekend?
The Best Bird of my weekend was a partially leucistic House Sparrow that added some flavor to an otherwise drab feeding flock. Corey's Best Bird of the Weekend looked particularly nice as he was watching it through his new toy, a Swarovski STX Modular Spotting Scope. The bird was a Grasshopper Sparrow and it looked particularly out of place at the West End of Jones Beach State Park foraging in what little open ground the snowplows had dug up in the aftermath of the blizzard that hit the northeastern United States at the beginning of the weekend. A February Grasshopper Sparrow in New York is, if not unprecedented, really, really unusual.
How about you? What was your best bird of the weekend? Tell us in the comments section about the rarest, loveliest, or most fascinating bird you observed. If you've blogged about your weekend experience, you should include a link in your comment.