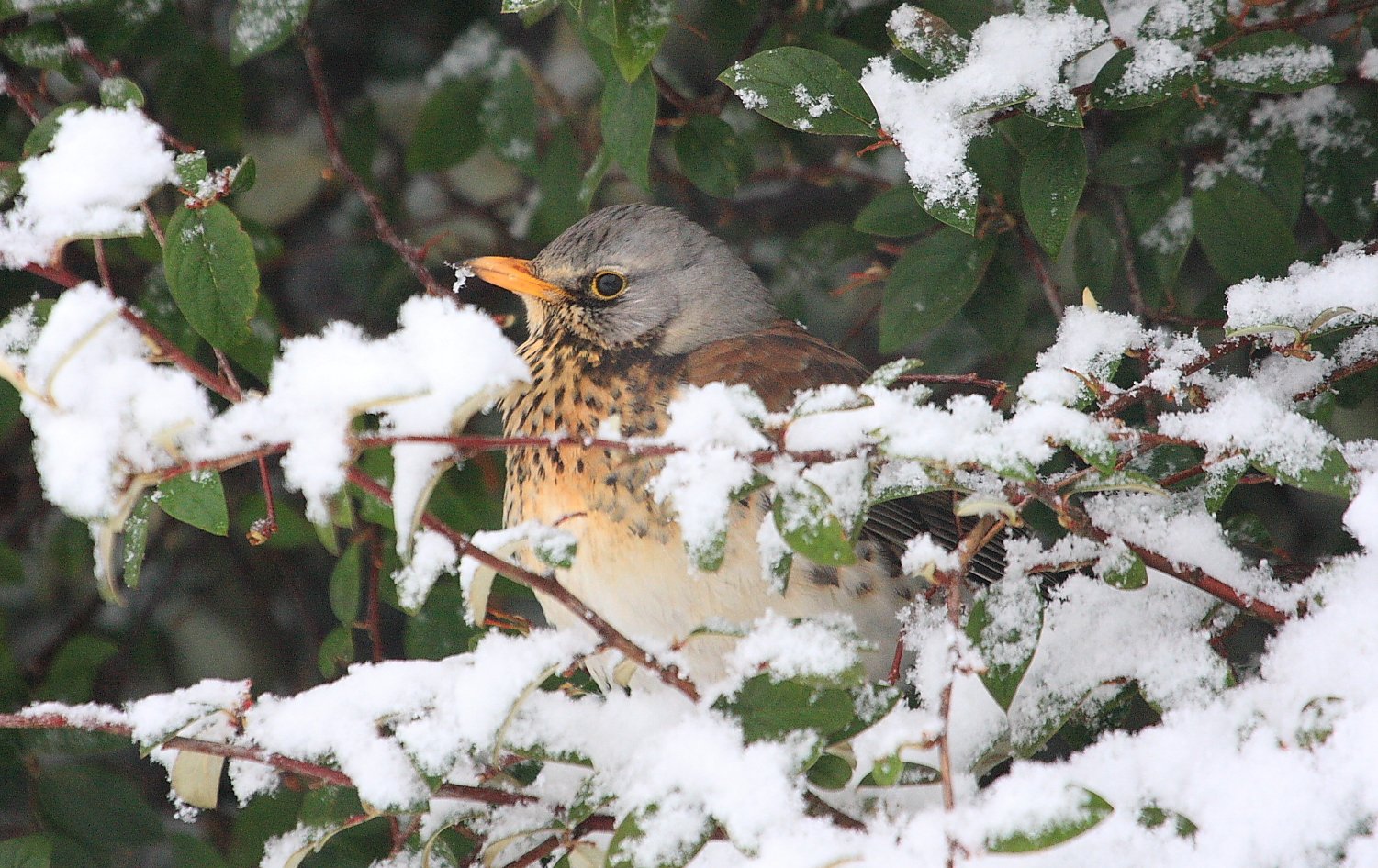 Being part of the magnificence that is 10,000 Birds and getting to virtually hang out with some of the other bloggers can be entertaining and fun but occasionally there are downsides. I'm not referring to the increasingly prima dona-like demands of Mike and Corey, despite the repeated requests I can't bring myself to address them as 'Oh Great Ones' if I have to send an email. No, the real downside is planning a post, say a post about a a particular species, maybe a thrush that you just happened to have taken a couple of half-decent images of recently. Making a few notes about how different they are depending upon the circumstances and season in which you catch up with them; contrasting the bomber-like squadrons appearing low overhead out of  Autumn fog at coastal headlands with the stunning beauty framed against a snowy background of the bird that chooses your garden feeding station to pitch into after a bout of cold weather. Doing all of that after checking carefully that nobody else has covered the species in 10,000 Birds long history and then, then, after casually logging on to catch up on your favourite blogs coming across this just days before you need to add your post or face a flogging for missing your deadline (again).
So here I am 'gazumped' the post I could have written cruelly ripped away by the hand of fate (and a birder called Jochen), if i was one of my short-sighted, narrow-minded, verging on xenophobic countrymen that want us to strike out on our own and disown Europe, leave behind that vast body of meaningless EU laws like, er, The EU Birds Directive that serves only to hinder the potential profits of legitimate British businesses then I would add this to my ever-increasing list of reasons to dump the continentals.
So as writing about the thrush would be a tad repetitive you'll have to make do with hearing about a day I spent with a Norwegian Architect instead. It's marginally better than it sounds as Tormod Admundsen is an Architect with a difference, he's a birder too, even better than that he's a birding Architect that specialises in designing bird-hides, shelters, nature trails, outdoor amphitheaters and much more. Along with partner Elin Taranger they run Biotope in Varanger, Arctic Norway and have been a key influence in the creation of Gullfest, an exciting trip combining Taiga Birding, dog -sledding (and I'm guessing lots of drinking).
Tormod has just spent two weeks on a round Britain tour with identification and inspiration guru Martin Garner visiting bird clubs and groups to promote Gullfest and Varanger as a birding destination. They've also managed to squeeze in some great birding and as they were up in my neck of the woods on the final leg of their tour I offered to do some birding with them locally. Tormod had brought the Arctic weather with him so in a howling gale and regular snow flurries we visited several sites catching up with some Whooper Swans, Willow Tits and Greenland White-fronted Geese before heading south to the city for some welcoming fish and chips and a visit to the Tyne Kittiwake colony.
Tormod was particularly interested in the Kittiwake colony as it is the furthest inland breeding site for Kittiwakes in the world with nests not only on the world famous Tyne Bridge but also on several nearby buildings. The colony arouses strong and often polarized views from those that see it as an asset to the city that should be celebrated to some in the council and business community that see it only in terms of noise and guano.  Tormod naturally saw the colony as an incredible opportunity, combined with some of the stunning architecture that lines the Quayside, to promote the city and it's attractions and was keen to explore ideas that could do this.
Using only his Iphone Tormod made a road movie of short clips from the two week long tour, so rather than write anymore I'll crawl off and push pins into my Jochen doll and leave you with the 'Pushing the Boundaries Tour'