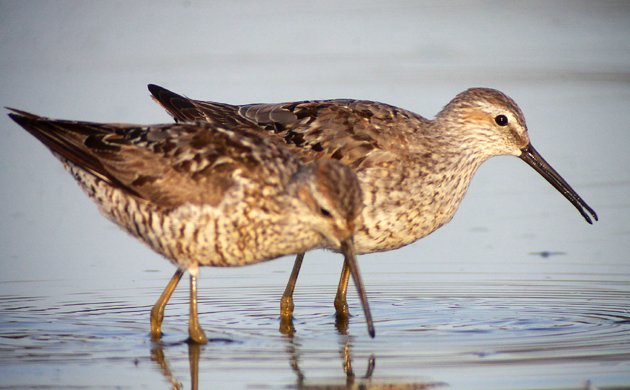 I'm wondering if Best Bird of the Weekend is too restrictive a way to consider the avians we encounter from Friday to Sunday. Of course we should seek reasons to celebrate every bird species we share our weekends with, but is the species that delights us most always the most memorable?
Corey had a Best Bird of the Weekend or rather a pair of birds, Stilt Sandpipers, that plopped down directly in front of him while he was digiscoping a juvenile Short-billed Dowitcher at the East Pond of Jamaica Bay Wildlife Refuge. He was very pleased to get such close looks at such a cool shorebird species with the sun low in the sky behind him.
I, on the other hand, saw nothing special enough to rise to the level of BBOTW. What really springs to mind is a Worst Bird of the Weekend award, which was won handily by the American Crow at dawn that heckled those of us camped out overnight at Frontier Field. That crow was the worst, narrowly edging out the Ring-billed Gulls complaining over anyone who tried to sleep past 6am!
How about you? What was your best (or worst) bird of the weekend? Tell us in the comments section about the rarest, loveliest, or most fascinating bird you observed. If you've blogged about your weekend experience, you should include a link in your comment.