Mention that you're interested in watching birds in Western New York, and someone will invariably ask you if you've been to Braddock Bay. The question makes sense, as Braddock Bay is synonymous with high quality ornithological research in New York west of Sapsucker Woods. Most locals have visited the Braddock Bay Raptor Research hawkwatch platform, although the smart ones only bother in spring when raptors actually use our flyway! BBRR also conducts owl banding operations from late March through early May in Owl Woods, where I spotted my first Saw-whet Owl! But the southern shores of Lake Ontario offer an abundance of avian riches; autumn winds may not entice birds of prey to migrate through the area, but songbirds aplenty are pleased to pass through. That's where the Braddock Bay Bird Observatory banding programs come in.
A lovely September weekend afforded me the opportunity to visit the BBBO banding station. My friend and colleague Dave Holtzman was bringing his Vertebrate Biology class up from SUNY Geneseo and thought I might add some entertainment educational value to the experience. The true professors, however, were the incredible volunteers staffing the station. While I didn't get everybody's names, I developed tremendous respect for the folks that went out the mist nets every 30 minutes to pluck the feathered fruits of the southern migration.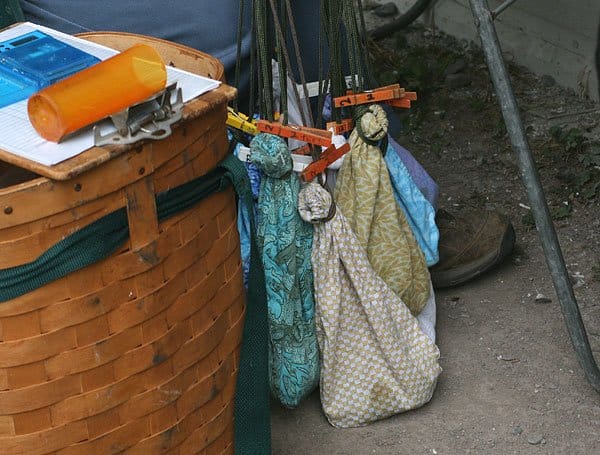 Bags o' birds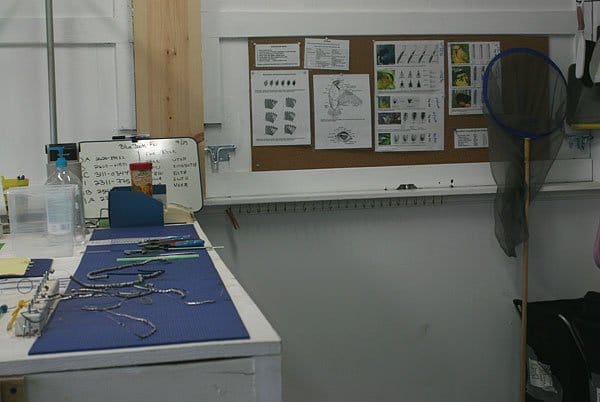 One of the banding stations
The master of ceremonies, with an emphasis on master, was Bob McKinney. At the tender age of 86, Bob handles his charges with the careful hands of an artisan and the keen eye of a naturalist. He was able to weigh, band, sex, age, and measure a warbler before I could decide whether we were looking at a Common Yellowthroat or Blackpoll. Wow! Even college students who had to meet a 7am bus to make the trip were dutifully impressed.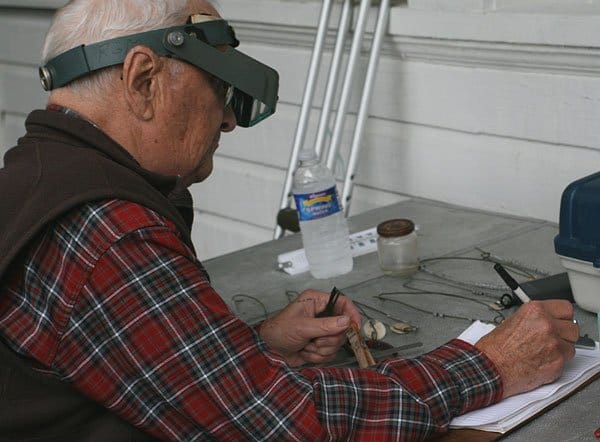 Bob McKinney… a Master Bander at work
The skilled staff processed a steady stream of songbirds throughout the morning. The dominant warbler for the last week had been Blackpoll Warbler, which we saw an abundance of.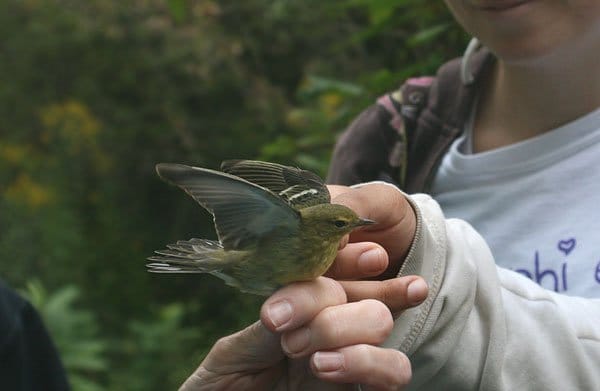 Blackpoll Warbler in hand
Other warblers to make the scene included yellowthroats and Black-throated Blues. You can tell the male below is young by the greenish wash of its wings and back.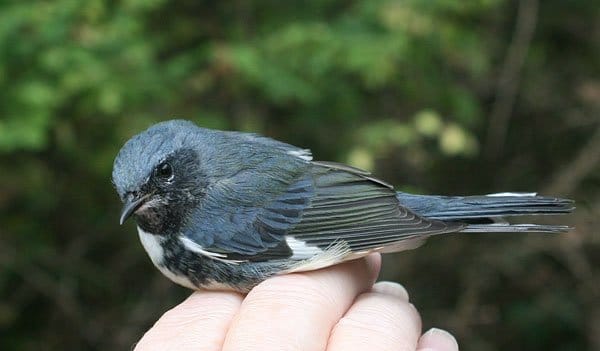 Of course, more than just warblers were snared in the mist nets.  The catch of the day also included Ruby-crowned Kinglet, Winter Wren, Gray Catbird, and both Swainson's and Gray-cheeked Thrush.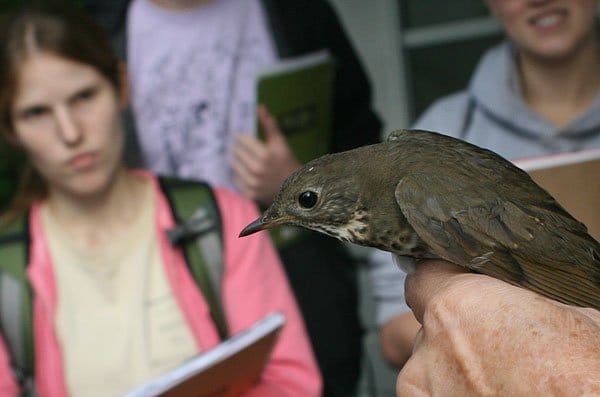 Gray-cheeked Thrush
After a couple of hours, we all moved on to the hawkwatch platform. Too bad no hawks chose to follow. Our gorgeous morning ended, as so many moments in this area do, with an American Crow complaining at some unseen irritant.  But I had a blast and know the students did as well. If you can find a banding station in your area, be it songbird, shorebird, or raptor, do yourself a favor and drop in to watch the action. Expert banding is seriously cool. If you're not convinced, check out this gallery of the banding I witnessed shot by none other than the bander's daughter, Laurie Dirkx.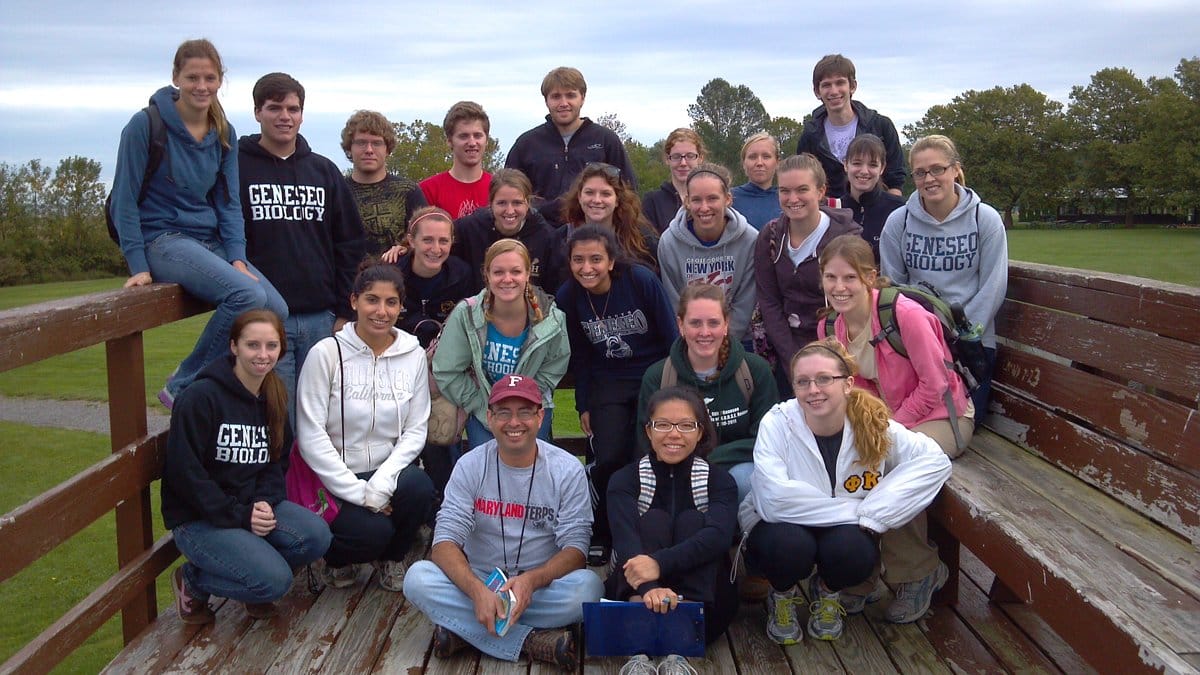 SUNY Geneseo Vertebrate Biology class with Professor Dave Holtzman