As I mentioned earlier, my favorite part of Cape May Autumn Weekend was undoubtedly meeting so many fantastic birders. I suspect this would have been the case even if the weather wasn't so rotten! The Birds and Beers soirée on Friday night was quite possibly the social event of the season or more likely just a really good time. Before I get into the messy details, though, I'd like to give credit to two inspired bird bloggers who made the whole event happen.
The concept of a bird blogger convocation was initially promoted by John Riutta, the Born Again Bird Watcher. He contacted a number of us months ago, initiating a positive discussion on logistics and the merits of different festivals. Now that I've met John, I understand why he was the right person to light this spark; as his writing suggests, the avian enthusiast from Oregon has some unique insights into birding as an American industry. The whole concept, as enticing as it was, might have remained forever in the planning stage if the ebullient Birdchick hadn't taken the reins. Sharon Stiteler made the necessary calls and contacts to turn the first ever Bird Blogger's Conference (apparently, four bloggers chasing a Bicknell's Thrush didn't count) into a reality. Then, in a stroke of genius, she arranged for us all to meet in a bar! Can I tell you, Birdchick is as brilliant and boisterous as you'd expect. This was our first meeting offline and not only is she an indefatigable ambassador for both birding and blogging, but she's a lot of fun to hang out with.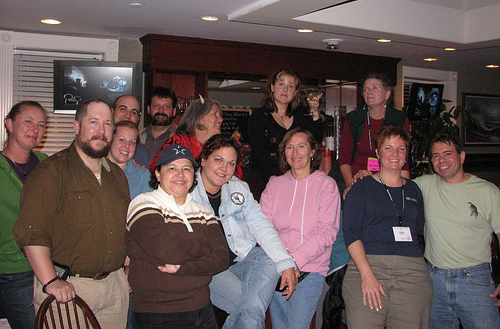 So, there we were coming together for Birds and Beers. John and Sharon and I were there, as were Patrick and Beth. The only other bird bloggers in attendance that I'd met in person were Laura of Somewhere in NJ and the delightful Amy of WildBird on the Fly. It's always a pleasure to get together with Amy, and I'm not just saying that because I never would have found my car without her. New friends and drinking companions from the exclusive corridors of bird bloggery included Jeff and Liz Gordon of Jeff Gyr Blog and Blue Lizard Birding Blog respectively, Sheri Williamson of Birders on the Border and Life, Birds, and Everything, Delia of Beginning to Bird, and the Susans of both Susan Gets Native and Lake Life. And this blowout wasn't a blogger-only affair. I'm sure I'll miss a few people but I do remember talking with friends (Hi Taryn!) from Houghton Mifflin and Princeton Press as well as Paul Guris from See Life Pelagic and Lisa White, editor of Good Birders Don't Wear White.
I'm not going to assume that a good time was had by all, but reports seem to confirm a uniformly high level of enjoyment. I especially appreciated having a chance to speak with both Jeff and Liz, two extremely engaging, not to mention entertaining individuals. Having Sheri, the hummingbird queen herself, belt out her bird-themed lyrics to famous songs was also a blast. As it was, Sheri, Sharon, Amy and I closed the bar, not such a big deal in Cape May in October, without a substantial group discussion about blogging. We got a bit closer to that topic the next day at Sharon's Bird Blogging workshop.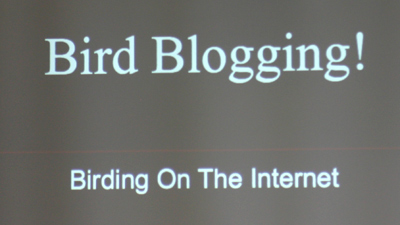 Sharon delivered a rousing dissertation on bird blogs to an audience made up of no more than 50% bloggers. Though this was my first birding carnival, I had the sense that this workshop was historic – if you're reading this, you're fully aware of the cornucopia of quality content served up daily on nature blogs but, believe it or not, plenty of people are still completely ignorant of all the good stuff available. Birdchick promoted not just our blogs but also the virtues of becoming a blog writer as well as a reader and in so doing spread critical awareness to a receptive crowd. Am I the only one who thinks that blogs and blogging should become a frequent workshop topic at future birding festivals?