The Core Team was in the air at 7:15 AM Eastern and in Los Angeles by 10:15 AM Pacific Standard Time.  We were in for a long day.  Since I was the best man in our good friend Jason's wedding, we had no choice but to hit the ground running.  During our whirlwind tour of tux fittings and car loading, we had a chance to observe some of the native birds.  It seems like New York and Los Angeles share many of the same common species.  However, their starlings look a bit sleeker, their crows act a bit cockier, and their Red-tailed Hawks sport much brighter plumage.  Apparently, everyone there is ready for their close-up.
There was a party that night to toast the bride and groom.  April's parents have a beautiful home in Topanga Canyon with a tiki-styled pool house built right out of a cliff overlooking the valley.  Thankfully, they had a few hummingbird feeders as well.  Our first California life bird was a female Anna's Hummingbird.  This little lady was very aggressive and defended her territory from a few unidentified upstarts.  Wouldn't you know it, we forgot our camera.  It doesn't matter though, because we could hardly keep our eyes open.
Next came Jason and April's big day.  Our responsibility was to help Jay get through it.  After a morning of ceremony and reception set-up, we had a couple of hours to kill.  Jay was curious about this birding fever that has so violently afflicted us, and being a brave and curious soul, he offered to take us to the Sepulveda Basin Wildlife Refuge, which was right next to the location of the wedding ceremony.  Attention birders:  if you ever find yourself in the Van Nuys area, this is the place!  What a superior ecosystem.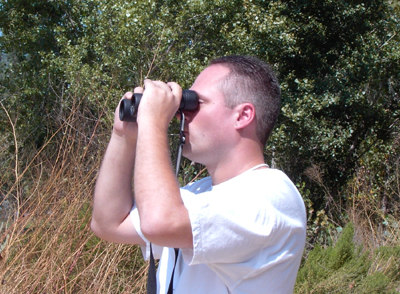 Jay…birding on his wedding day
This section of Balboa Park is a stunning example of what the San Fernando Valley would look like if it hadn't been irrigated, landscaped, and developed beyond recognition.  Despite the desert environment, this dry-land flood control basin supports an astonishingly rich array of birds.  Within minutes of arriving, we spotted a Say's Phoebe, which was new for us.  A few minutes later, we spotted an unfamiliar raptor.  Full of hope, we were sure it was either a Prairie or an Aplomado Falcon.  It was neither.  A helpful couple of birders identified it as an American Kestrel in dull plumage, also new to us.  Let that be a reminder to you all — we really have no idea what we're doing out there.
Further evidence of our deficient bird identification skills came in the form of our next life bird.  We spotted a lovely White-crowned Sparrow hopping in a nearby tree.  This species was already on our list as one so ubiquitous that we did not even need to reference the first place we saw it.  What a mistake.  As soon as we spotted this sparrow, we both realized that we had never laid eyes on it before in our lives!
A trip to the small lake in the refuge rewarded us with our fourth and fifth lifers.  Paddling around like huge white ducks were a number of American White Pelican.  These huge beauties shared the pond with Cattle Egret, Black-crowned Night-Heron, Mallards, and American Coot.  One incredibly brazen immature night-heron jumped out of the reeds and stood in the water no more than five feet away from us.  This was our first inkling that California waders are by no means shy. Our fifth new bird of the day was a Brown-crested Flycatcher, or at least I think it was. We also got our first North American views of the mighty White-tailed Kite and the saucy Black Phoebe.  There were plenty of other birds that we couldn't identify.  But there was no time to dawdle; Jay was getting married in five hours!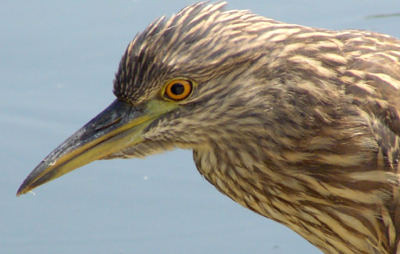 Black-crowned Night-Heron (immature)
The ceremony was held at the Japanese Gardens in Balboa Park, alluringly close to Sepulveda Basin.  The Japanese Gardens are actually part of the Donald C. Tillman Water Reclamation Plant.  Would that every wastewater treatment facility was so serene.  The gardens and associated structures (pagoda, teahouse, etc.) are magnificent.  Even better, the resident birds are completely fearless.  Great Blue Heron, Green Heron, Black-crowned Night-Heron, and Snowy Egret moved about the gardens freely.  There were also plenty of Black Phoebes, American Coots, and Mallards.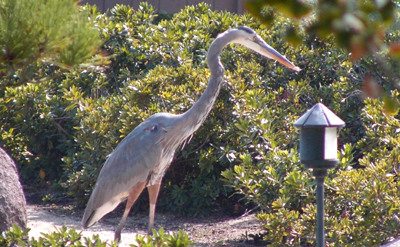 Giants walk the earth
Thankfully, we had ample time before the ceremony to drink in the abundant avifauna.  The ceremony itself was exquisite, as was the reception.  A good time was had by all!