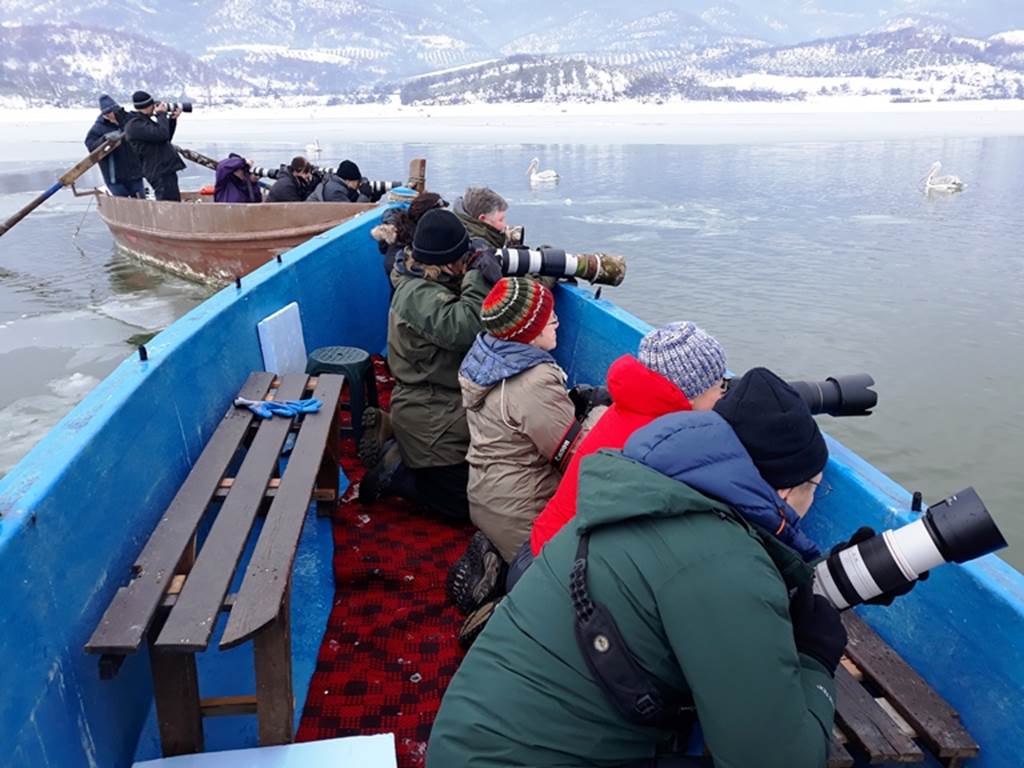 10,000 Birds is running a series of articles by and about tour guides, tour companies, eco-lodges, and other birding travel organizations. We want to help the birding tourism industry come back strong from the COVID pandemic. Please consider using the services described in this post or any of the other posts we are sharing this February.
My name is Nikos Gallios. I was born and bred by the banks of the Lake Kerkini National Park in the north of Greece, one hour from the country's second largest city Thessaloniki. In 2008, with my family decided to build the Limneo Lodge, a small accommodation with only 9 rooms.
In the next year I visited the British Birdfair for the first time, which turned out to be the experience that changed my life. From that year onward my work became dedicated to the protection of the area, as well as promotion of local ecotourism possibilities. Another concern of mine is the involvement of the locals as a part of sustainable tourism initiatives.
Since then, the majority of my guests became birders and wildlife photographers. About the same time, I made another dream come true, and started offering wildlife watching and photography boat tours at the lake.
With more than 312 so far recorded bird species, Lake Kerkini National Park offers great birding year-round. In spring, a huge heronry of 10 species (including Spoonbill, Glossy Ibis, Squacco, Purple, and Night Heron, Pygmy Cormorant, etc.) and up to 9000 pairs forms in the north of the lake. Next to them, Whiskered and Black Terns nest on floating leaves of White Water-lilies. Other important breeding species include Black and White Stork, Lesser Spotted, White-tailed, and Booted Eagle. Also Dalmatian and Great White Pelicans are resident species, breeding successfully on artificial platforms (close to 300 pairs).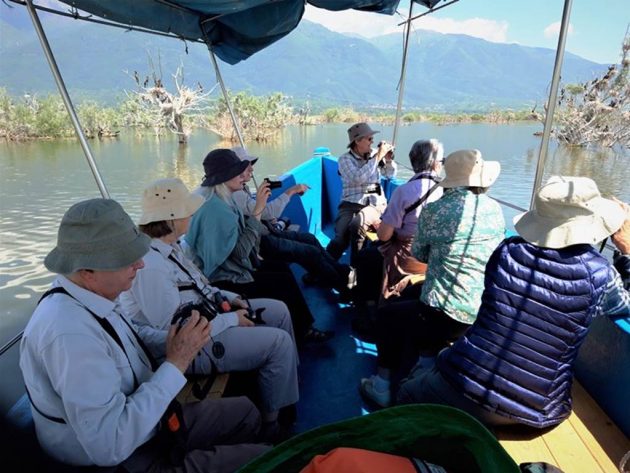 Many thousands of waterbirds overwinter at the lake, among them rare Lesser White-fronted Goose every winter from October to March. This is the most important wintering areas for them, attracting the entire Scandinavian population (c. 140 birds). Overwintering raptors include Greater Spotted, Golden, and Imperial Eagles. Greater Flamingos stay at the lake in their thousands. Kerkini is one of the most important wintering areas throughout Europe. Also, there are more than 44 species of mammals: Otter, Wildcat, Grey Wolf, Beech Martens, Wild Boar, and Golden Jackal.
The maximum length of the Lake Kerkini Lake 10.5 mi (17 km) from north to south, but a drivable circular birding route around it has 70 km and takes most of a day. The bird-richest north-eastern sector of the lake is reachable in less than 15 minutes drive from the Limneo Lodge. In a spring week it is possible to observe more than 150 species — Black-headed and Rock Buntings, Isabelline Wheatear, Calandra Lark, Tawny Pipit, Rock Nuthatch, Sombre Tit, Masked and Woodchat Shrikes; Grey-headed and Syrian Woodpeckers among them.
After so many years of almost daily presence at the lake, both by boat and car, I realized that the presence of visitors in the area prevents poaching and other wrong-doings. In 2020, due to Covid19, your presence was missing. So when all is over you are welcome to enjoy the nature of Lake Kerkini and help the local community. Ecotourism – birding, butterflying, botanising is the strongest development incentive in the national park.
Leave the organization to us and be sure that we will do everything possible for you to have a great time. If you are interested in more detailed information, please contact us at info AT limneokerkini DOT gr
Also, find out more in Dragan's posts here at 10,000 Birds: https://www.10000birds.com/tag/kerkini-lake
Best regards from Kerkini lake!