The Terminalia species of tree is well known for its medicinal benefits in the north of Australia. Terminalia ferdinandiana is the most well-known of the species and the berries contain more vitamin C than other plants. The tree is also known as Gubinge or Kakadu Plum. We have chosen to grow a Terminalia petiolaris in our garden instead. It is an excellent shaped tree and requires little pruning and is a great source of food for the local bird-life. It is also known as the Billygoat Plum, Blackberry tree or Marool.
The header photo shows the Billygoat Plum tree with the water feature below just after one of our recent tropical downpours. When we receive several millimetres of rain in several minutes the ground soon floods. It is currently covered in berries. The green berries are attractive to the Great Bowerbirds that frequent our garden. The tree has featured in many of my posts over the years and has been in our garden since 2000.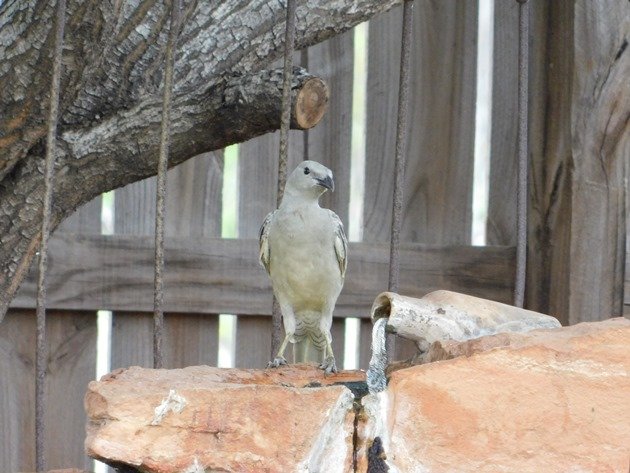 Great Bowerbird below the Billygoat Plum
The berries are currently changing colour and this week the Red-collared Lorikeets have been taking advantage of them. The darker red coloured berries are the preferred colour. We have made sure there are plenty of native plants in our garden that offer different food throughout the year. Most importantly we provide water for the birds.
Red-collared Lorikeet feeding
Olive-backed Orioles have also been attracted to the garden to feed on the Billygoat plums. They were being very selective as to which were the perfect colour.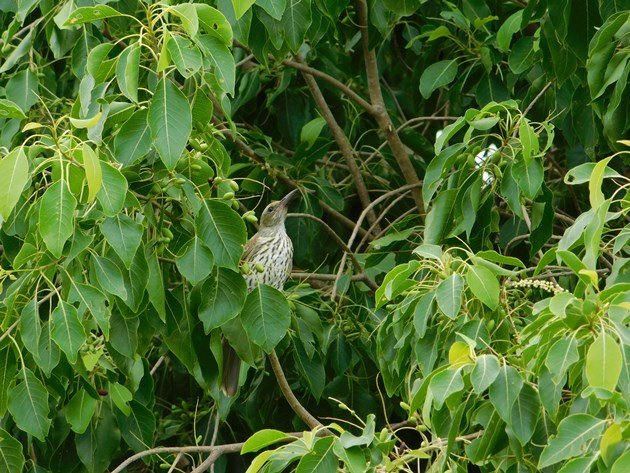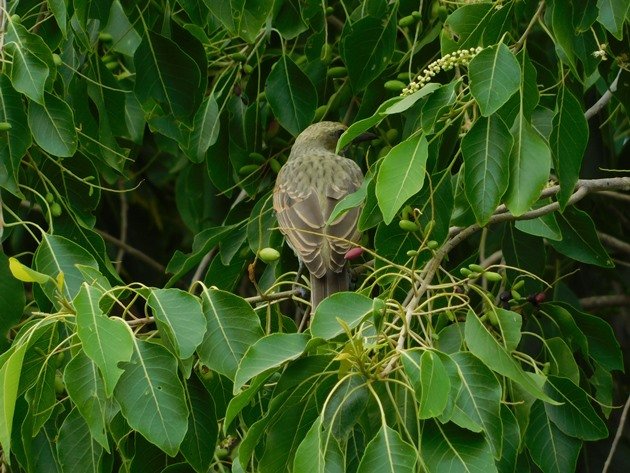 Olive-backed Orioles feeding
We have also had a visitor that has been trying to be elusive in the Billygoat plum tree. However, it has been crashing around the canopy and the Little Friarbirds do not like its presence. The Pheasant Coucal was trying to move around the canopy of the Billygoat plum and was collecting large insects to eat. Its patterned feathers gave it away and they do not fly very well in dense foliage. The birds more or less crash around the canopy.
Pheasant Coucal feathers in the canopy
Years ago we would get a pair of Pheasant Coucal come into the garden at this time of year, but that has not happened recently. The Pheasant Coucal was getting hassled too much by the Little Friarbirds and dropped to the ground. It ran across to the other smaller Billygoat plum tree and made its way to the top of that one instead. They are very much like an Australian version of a Roadrunner!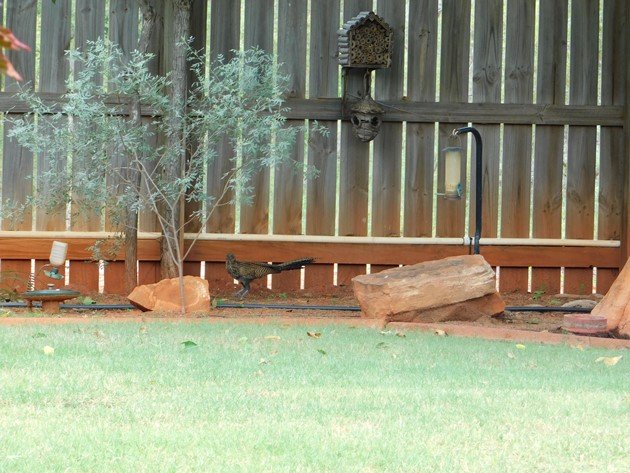 Pheasant Coucal on the run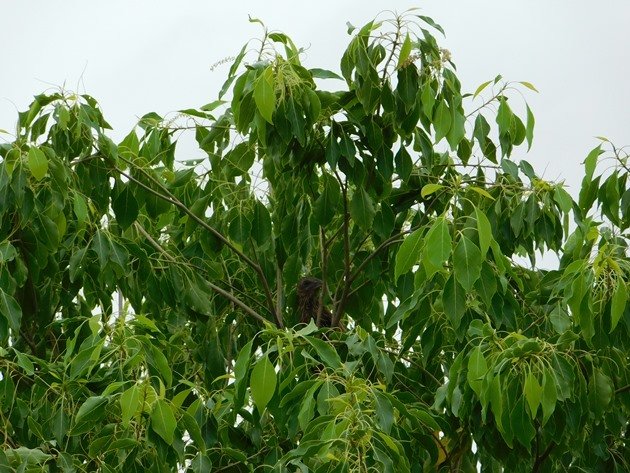 Pheasant Coucal at the top of the second Billygoat plum tree
The benefit of the Billygoat plum tree in our garden is the joy we get from the birds that come to it. It provides protection, shade, insects, flowers and currently berries.