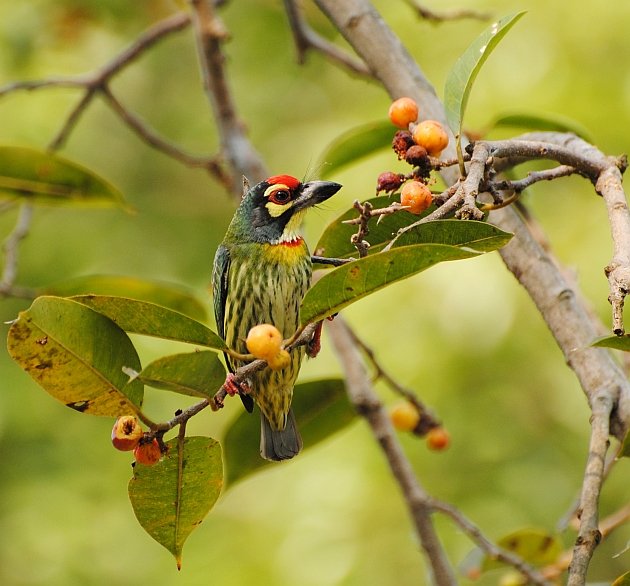 When going on an overseas birding trip, many serious birders want to leave the city as soon possible in search of endemic or rare species in remote wilderness. On the other hand, I find urban birding fascinating, especially in overseas locations. Why do I like urban birding? For one, it offers an opportunity to ease into a generally (or totally) unfamiliar avifauna. Second, urban parks can be reliable sites for some species that are generally rare or hard to see elsewhere. Finally, a part of me is always curious about what it is like to be a birder in Sydney or Cape Town or Rio de Janeiro. What are their birds? What are the birds that are part of their birding 'reality' that they often take for granted? With that said, if you find yourself in Bangkok, Thailand for a day, there are many urban parks that offer great urban birding. I recommend a morning of birding at Suan Luang Park, an urban oasis and a great way to start (or end) a trip to this amazing country.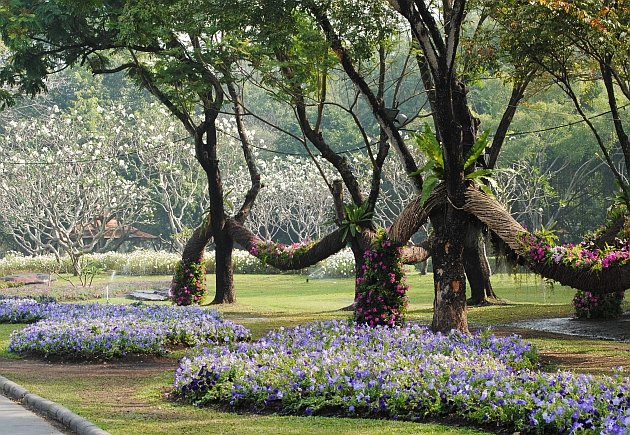 Suan Luang Park features beautiful manicured gardens as well as untamed brushy thickets.
With its wide paved walkways, lush flowerbeds and neatly trimmed lawns, Suan Luang Park would seem an unlikely place for a quality birding experience but appearances can be deceiving. While Common Myna, Eurasian Tree Sparrow and Zebra Dove are indeed quite common as they are everywhere else in Bangkok, large, mature fig trees dot the southern spur of the park which attract a wide variety of charismatic and less common birds. It is hard for a birder from the Americas not to be excited about the prospect of colorful Pink-necked Pigeons swarming around a fruiting tree like lime-green waxwings or delicately colorful Small Minivets flitting about in the foliage of the same tree! These same trees often hold two birds that form the core of Suan Luang's dawn chorus: the all-black Asian Koel and the clown-like Coppersmith Barbet (the bird in the featured image at the top). Birders in Bangkok are lucky to have such a colorful and charismatic bird as the Coppersmith Barbet as a common garden bird.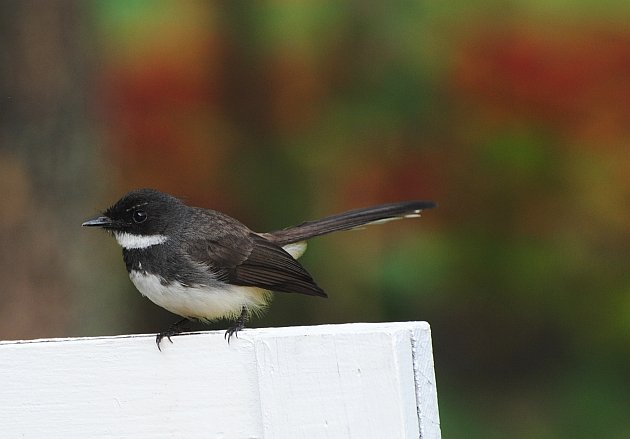 Malaysian Pied-Fantail is a common and conspicuous bird in the lowlands of Thailand.
However, the fun and easy birding does not stop at the fruiting trees. A small pond a little further down that same spur is a great place to just hang out for a couple hours in the morning. Golden-naped Oriole, Blue-tailed Bee-eater, and Ashy Drongo regularly put on appearances, sallying out for insects from snags or making a commotion by chasing each other. Black Drongo and White-throated Kingfisher do much the same but seem to prefer hanging out on the wires. Yellow Bittern, White-breasted Waterhen and Common Kingfisher tend to be a little less conspicuous, lurking through the dense emergent aquatic vegetation or perched on tiny branches that barely poke out of the water. Malaysian Pied-Fantail is another common and cheerful park denizen with their simple songs and frequent tail wagging. As the image above demonstrates, they are totally unafraid of people here. Oriental Magpie-Robin, the Asian equivalent of an American Robin or Northern Mockingbird, is ubiquitous.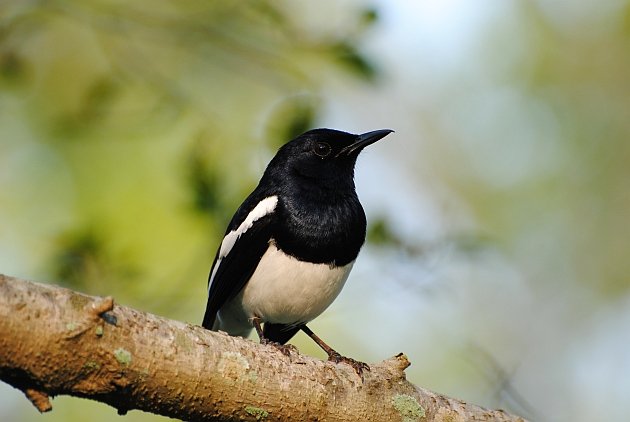 Oriental Magpie-Robins are lot like American Robins in behavior, even though they are not that closely related.
Suan Luang Park is great for finding migrants and wintering birds as well, showing that the allocation of moderately sized parks in the middle of large cities serves an important role for migratory birds. Small canopy flocks usually include plainly attired Asian Brown Flycatcher and Yellow-browed Warbler while dense thickets can yield Dusky Warbler. A grassy field at the southern end of Suan Luang Park always seems to have a large flock of Oriental Pipit that is worth a check for something different such as Eastern Yellow Wagtail. It's great to get your birding done early in Bangkok, as the heat quickly picks up after 1030AM while bird activity exponentially drops at around this time. Even with just a few hours in the morning, I easily saw between 45-50 species per visit. This park is definitely worth a stop if you are a birder who happens to be in Bangkok.
The following is a list of regular species at Suan Luang Park in Bangkok, Thailand:
Asian Openbill
Yellow Bittern
Little Egret
Black-crowned Night-Heron
White-breasted Waterhen
Rock Pigeon
Red Collared-Dove
Zebra Dove
Pink-necked Pigeon
Plaintive Cuckoo
Asian Koel
Germain's Swiftlet
Asian Palm-Swift
Common Kingfisher (winter)
White-throated Kingfisher
Blue-tailed Bee-eater
Coppersmith Barbet
Common Iora
Small Minivet
Black-naped Oriole
Black Drongo
Ashy Drongo
Malaysian Pied-Fantail
Large-billed Crow
Barn Swallow (winter)
Yellow-vented Bulbul
Streak-eared Bulbul
Dusky Warbler (winter)
Yellow-browed Warbler (winter)
Common Tailorbird
Plain Prinia
Asian Brown Flycatcher (winter)
Oriental Magpie-Robin
Taiga Flycatcher (winter)
Common Myna
Scarlet-backed Flowerpecker
Plain-throated Sunbird
Olive-backed Sunbird
Eastern Yellow Wagtail (winter)
Oriental Pipit
Eurasian Tree Sparrow