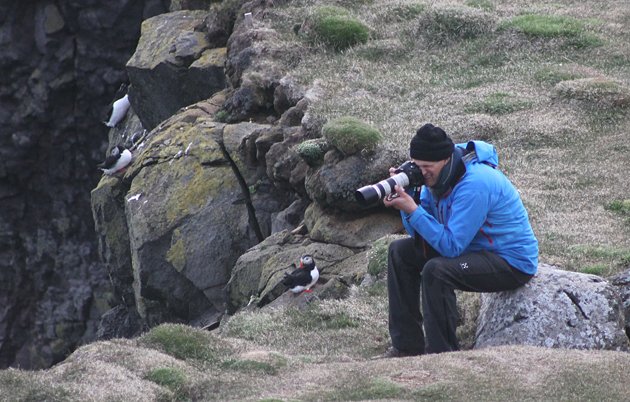 Joseph Chiera is a Masters student in Animal Behavior and Conservation at Hunter College in NYC and a "somewhat newbie" to birding. After taking an ornithology course last year, he was hooked and spends most of his free time birding or reading birding blogs. Between finishing one graduate program and begining another, he embarked on a whirlwind tour of Europe. Of course, birding was on the itinerary! Here's his first stop:
Before starting graduate school at the end of June, I planned a whirlwind trip this spring, visiting the major cities in Northern Europe. The main focus was relaxation and excitement, as I certainly won't be traveling for at least the next two years. And since my traveling companion has little interest in birding, this trip focuses on the birds in and around the major cities along our route. Still, I am thrilled to have the opportunity to discover the birds along the way while adding new ticks to the Life List.
There are many reasons to travel this route in late May/early June. Being technically outside the summer tourism season, one can enjoy the somewhat less expensive travel and hotel costs, less crowded venues, great weather and nearly endless daylight—and of course many birds migrating and beginning the breeding/nesting season!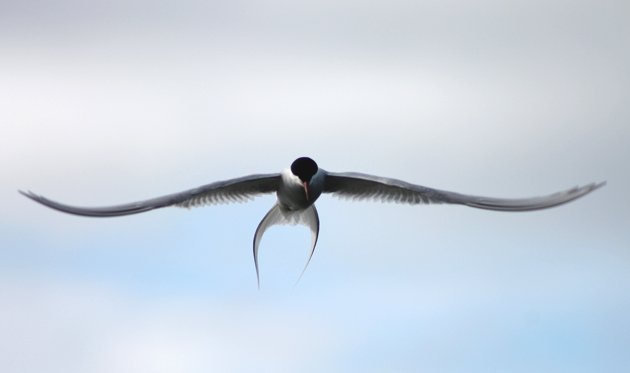 Before leaving I purchased the Princeton Field Guide Birds of Europe, which I have studied and used extensively during the trip. Because I am relatively new to birding, this resource proved to be invaluable. Even though I picked up several books along the way, I always returned to this guide for its detailed descriptions and drawings in order to compare its information with other sources. Its only downside is that it may be a little too big to carry around in the field. The other handy resources that I packed were my Nikon Action 8×40 binoculars and Canon Rebel T3 camera with a 75-300mm lens.
We boarded the 8:40 pm red-eye from JFK to Reykjavik on May 28; the intention was to sleep on the plane but with the excitement of travel and possibilities swirling around my head I didn't sleep a wink (*tip – Iceland Air offers free stopovers for up to seven days as you travel from the US to Europe! Their fares are also quite reasonable—especially if you book in advance). Immediately upon arrival, we loaded our rental car and began the nearly 8-hour drive to the Western Fjords, aiming for the Latrabjarg Bird Cliffs. Despite the earlier disclaimer about this not being a "birding" trip, I insisted that we add this to the itinerary. These cliffs are a birder's dream destination, and with the promise of seeing millions of breeding seabirds in Europe's largest bird cliff–all within close range–I knew it would be worth it.
From Reykjavik, there are two options for getting to the bird cliffs. You can drive to the ferry at Stykkisholumur where Seatours can ferry your car across where you continue your drive (which may be the better option during the summer months). However, service is limited during the off-season so we elected to take the longer, yet more scenic route. Finally, we arrived at the Hotel Latrabjarg to check in. We went to settle into our room, and since I had about an hour to kill before dinner, I took a quick walk around the property. I was pleasantly surprised by my sightings of several European Golden Plover, Eurasian Oystercatchers, White Wagtail, and a Common Snipe. I had been here less than an hour and already had four birds to my Life List!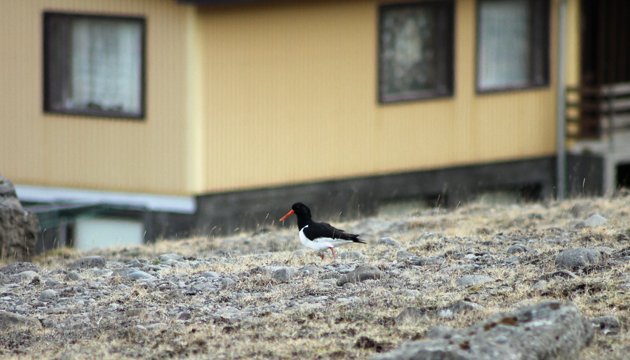 Supper provided by the hotel was delicious–Red Trout with rice and cauliflower, finished off with Swiss Chocolate cake; all was prepared in house. A great meal but I was eager to get to the bird cliffs. The hotel owner told us that visiting them in the evening had the best showing of puffins as they returned to the cliffs from the sea. There were three other small groups staying there and after dinner we all drove 40 minutes to the cliffs. Needless to say, we were not disappointed when we arrived.
It's a short walk from the parking area up the hill, and almost immediately you can hear the calls and screams from the birds ahead (we were warned about the strong odor that comes with the guano but, visiting so early in the season, it was barely noticeable). I can hardly begin to describe the surreal experience that unfolded before me. Hundreds of birds all huddled closely together, dangling from the jagged ledges, seemingly separated by species in separate levels along the cliff.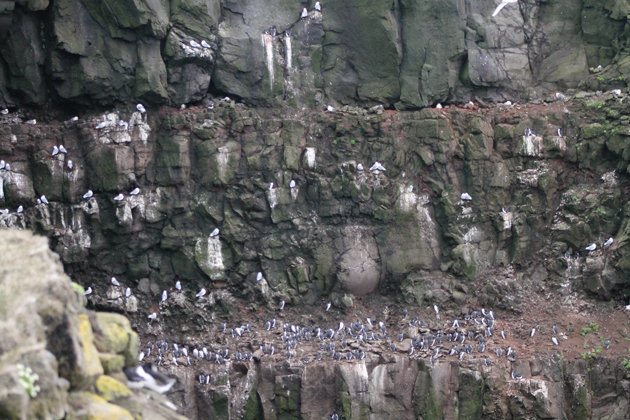 The cliffs are a newbie photographer's dream. You can get extremely close to the birds that seem completely unfazed by you. (Warning! – looking through your lens while walking on this uneven landscape can be dangerous, so watch your step!). With caution and patience you can walk on your knees, inching closer to get some really great shots.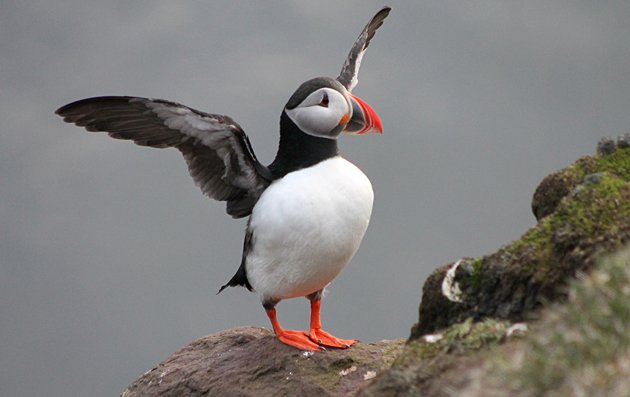 Thankfully the Puffins and Razorbills (arguably the most photogenic species) perch on the uppermost ledges, making them readily available for close-ups.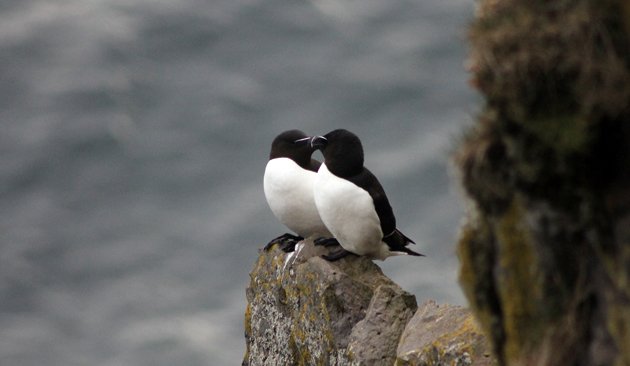 We spent a few hours there fully enraptured: enjoying the breathtaking endless ocean views and finding peace in what feels like the edge of the world. It is truly a magical place, an experience like none other. We got great views of Atlantic Puffin, Common Murre (Common Guillemot), Thick-billed Murre (Brünnich's Guillemot), and Black-legged Kittiwake. As you can see in the photos, it was still light outside well into the evening. In fact I don't think the sun ever set while we were in Iceland. We left early the next day following the same winding roads to Reykjavik. The group we were with mentioned that they had seen Minke Whales just off the coast of the fjords the day before, but we missed out on our drive back south. Still, there are plenty of other birds and animals to see along the way, including Glaucous and other gulls, geese, herds of sheep and Icelandic horses. Not many cars pass through so watch out for them hanging around on the pavement.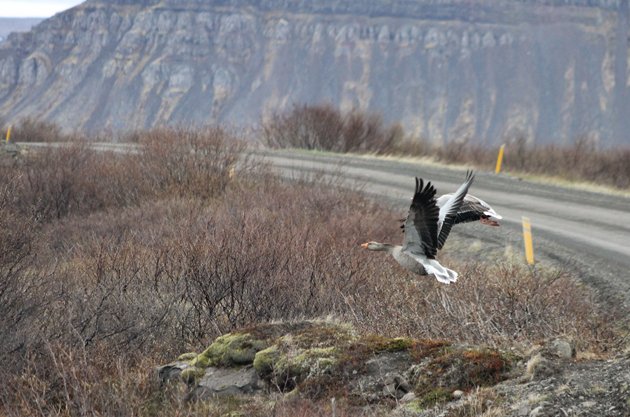 We saw the sights of Reykjavik and drove the Golden Circle route to see the major sites including Thingvellir National Park, Gullfoss waterfall, and the geysers. These were amazing natural areas and must-see attractions in Iceland; however, the birds were surprisingly absent except for a few gulls–probably due to the sporadic showers throughout the day. In Reykjavik, there is a harbor where you can observe many gulls, terns and other waterfowl, but your time is better spent walking around the "Lakes" to the west of Old Town. In the northeast corner you will find a feeding frenzy where visitors enjoy tossing bread the waterfowl (which affords more great opportunities for close shots of gulls, mallards and even Whooper Swan).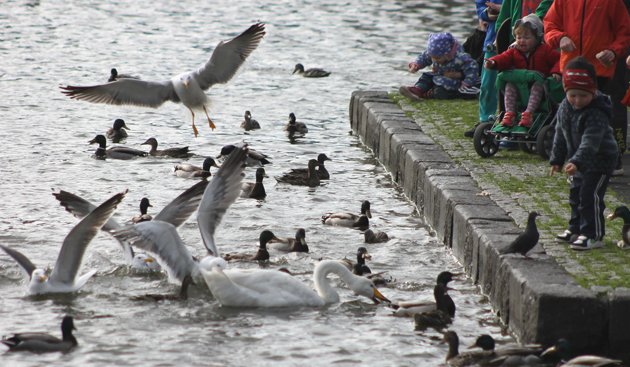 But better than this, you can enjoy aerial views of the Arctic Terns that nest on the small island in the middle, especially in the southern part of the lakes. This species amazes me as these little birds migrate between the north and south poles–the longest distance of any other animal! There were hundreds of them here, hovering in the air and mating. Another fantastic reason to come to Iceland during this time!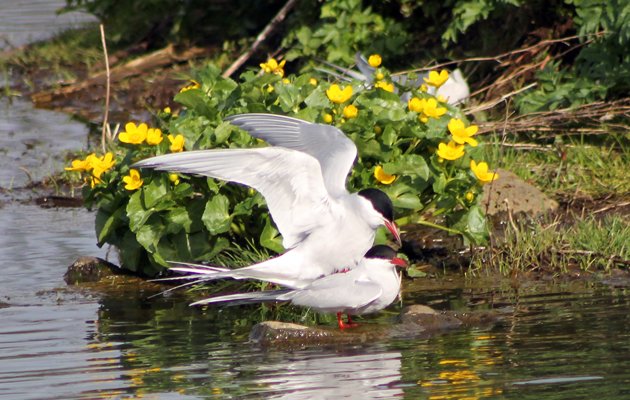 You can walk farther south, crossing the highway over a pedestrian bridge to a smaller reserve area. There you will find more breeding terns, gulls and dozens of Graylag Geese. The entryway into the nesting area was blocked off, but if you don't mind the landmines of goose droppings you can walk around the perimeter and still get excellent views. The geese weren't crazy about me getting too close, but we all kept a respectful distance from each other.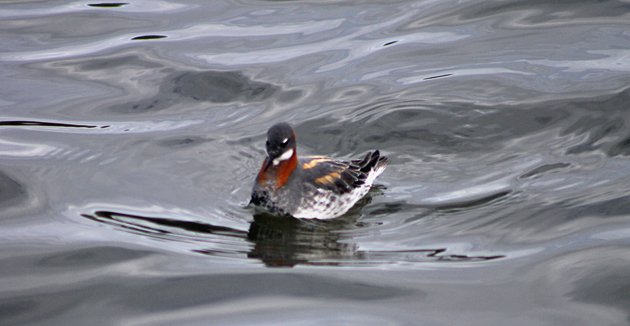 The other highlights in this area included Red-necked Phalarope and Common Redpolls. Sadly, I missed out on seeing White-tailed Eagles and Harlequin Ducks. We may have passed them on the drive, but there were so many birds along the way it was impossible to stop for all of them. Still, it was a truly memorable experience, and this gives me a reason to return. There are also many other great birding sites on the island, and a ring road that can take you around the country to see all of them.
Tips: The weather is fickle and unpredictable; forget the umbrella, as the wind gusts will destroy it. Opt for an impermeable raincoat and shoes instead. Fortunately, if you happen to experience rain, the clouds will likely part at any given moment and the sun will be out again. Patience, thus, is key. Also, a visit to the Blue Lagoon is a must. It was a very relaxing experience unlike any other; it is conveniently located between Reykjavik and the airport.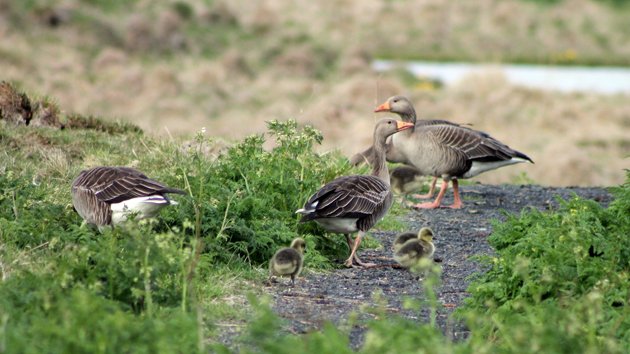 While in town, I picked up Johann Hilmarsson's Icelandic Bird Guide from the bookshop. Its layout is intuitive, grouping birds into six categories by habitat and habits; it covers all 77 known regular breeders with additional information on other known visitors (376 total). Detailed photographs, range maps around Iceland and duration and nesting period diagrams made the 5,799 Krona (roughly $48 USD) well worth it.
Because I am somewhat still a novice, there were a few other birds that I saw and heard but was not able to identify with certainty. Thus, the following totals are limited to those species I was able to photograph and ID using the field guides.
Total Species: 37
Added to Life List: +27
All photos © Joseph Chiera