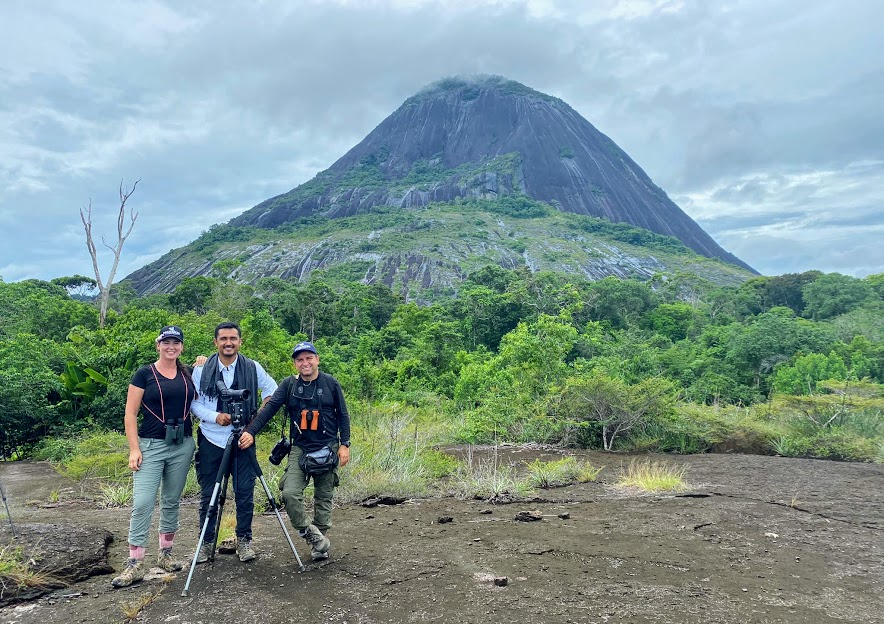 Technically, we were in the Orinoco River Basin of wider Amazonia. Yet, unlike the black shoe-sucking mud of Amazon further south, this is Amazonia of white, sandy beaches (!) and no mud at riverbanks. The late November to early December was the beginning of a dry season and no one wore rubber boots, all birding was done in lightweight hiking shoes.

Inirida
When José Arcadio I was not involved with some new invention, he built bird cages to fill Macondo, a fictional town created by Gabriel García Márquez, with bird songs, which incidentally enabled the gypsies [read: birders] to find the town. In Inírida – on older maps Puerto Inírida, there is no need for cages, you can hear birds all the time!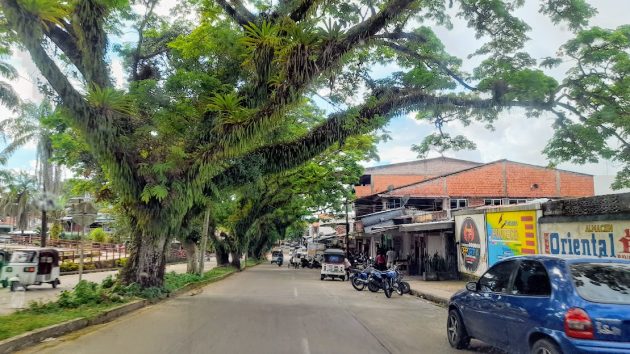 "Inírida is, basically, an island in the middle of the great Ramsar wetland of the River Star (Estrella Fluvial) of the Orinoco", explains Luis Eduardo Ureña, commercial director and founder of Manakin Nature Tours. "A place without land access routes and only with the possibility of getting there by air or river, in a trip of 4 or 5 days by boat."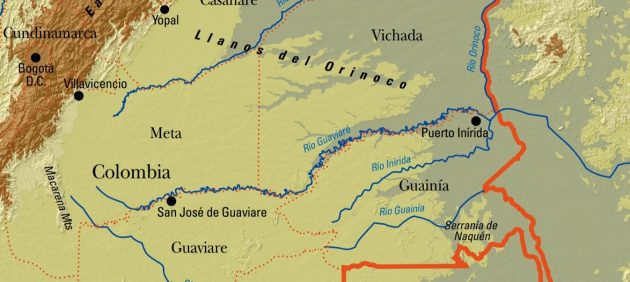 Inírida is the capital city of the department of Guainía in the east of Colombia, mere 25 km (15 mi) from the border with Venezuela. Founded in 1963, the municipal population of mostly indigenous people has reached 31,000 by 2018, of which about 11,000 in the town itself.

Getting there and away
The local César Gaviria Trujillo Airport, named in honour of a former Colombian president, is serviced by Aerolinea SATENA, which has three flights a week to and from Bogotá (the flight lasts about an hour and a half). Yet, out of the 6 days planned in Inirida, we stayed only 5: Satena had an incident of a vulture crashing into an engine in Villavicencio and had to do maintenance on the plane, consequently they rescheduled our flight.

Accommodation
Less than 5 minutes from the airport lies the Fuente del Guania Hotel de Lujo, a comfortable place in the deep shade of tall tree-crowns (sometimes visited by macaws, Amazonian Umbrellabird, Lettered and Ivory-billed Aracari, etc.). The owner has two adorable Border Collies and a pure-white cat called Alaska.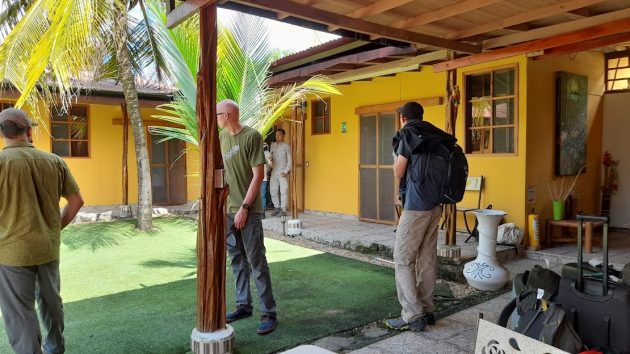 You will love the softness of their beds and the breakfast area in the front yard (at 5 am, when we ate, the temperature was pleasantly cool 24 ºC / 75 ºF), but do not expect hot showers. Tap water is not as cold as in Europe (and, I presume, North America), but to be called lukewarm it should be warmer.

Food
We had breakfast in the hotel (tropical fruit, omelette, natural juices and Colombian coffee), and almost all other meals in a small, family run Moro's Restaurant, fully booked for our group, so in the times of Covid we enjoyed a certain level of isolation. The food was tasty and hearty.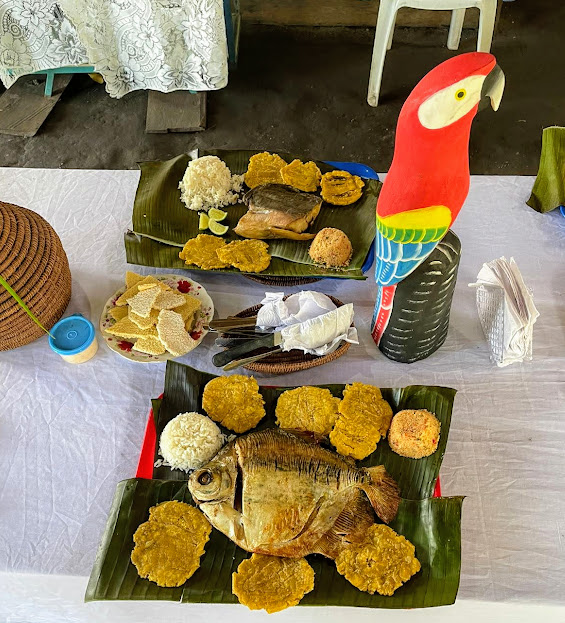 Pescado moqueado, a fish cooked by steam from a clay stove, at the Sabanitas Community. Photo by Juan Carlos. 

On hot days, I particularly enjoyed various soups, e.g. ajicero, which is a thick fish soup cooked with different types of peppers, and fishes. In general, local, river fish was unbeatable. There is a thing with small restaurants in small towns: they fully depend on locals and to stay in business must keep the food quality at its highest.

Water
Tap water is not drinkable, although we brush our teeth with it (contrary to the famous British birder Bill Oddie's advice "drink and clean your teeth in beer only").

Do bring your own wide-mouthed water bottle. There were two refilling stations at the hotel, and Manakin Nature Tours provided large plastic bags of water (kept in a cooler box) in the van or in the boat, but you need your own bottle when separated from the vehicle on a bird walk.

Birds
The local birdlist has reached 462 species, and some 30 more are expected. Just think of the still Unnamed Antshrike (either related to Chestnut-backed Antshrike, or, given the morphological differences, a new species: Inirida Antshrike). Also, Inírida is the only accessible place where the extremely range-restricted Orinoco Softtail may be found.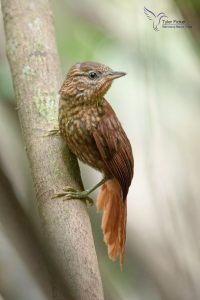 The immature Orinoco Softail, by Tyler Ficker

The most intriguing aspect of local birding is the mixture of the more widespread birds of Amazonian origins and those more localised bird species of Guianan origins. The second group is often confined to the white sandy soil habitats characteristically drained by blackwater rivers and includes Little Nighthawk, Blackish Nightjar, Green-tailed Goldenthroat, Orinoco Piculet, Green-tailed Jacamar, Brown Jacamar, Bronzy Jacamar, Orinoco Softtail, Blackish-gray Antshrike, Pearly Antshrike, Cherrie's Antwren, Imeri Warbling-Antbird, Yapacana Antbird, Rufous-crowned Elaenia, Capuchinbird (the only place to find it in the whole of Colombia), Purple-breasted Cotinga (scarce), Pompadour Cotinga, Yellow-crowned Manakin, Saffron-crested Tyrant-Manakin, Black Manakin, Azure-naped Jay (scarce), Brown-headed Greenlet, Red-shouldered Tanager, Rose-breasted Chat, Yellow-green Grosbeak, White-naped Seedeater and Plumbeous Euphonia.

Other birds of interest include Slate-coloured Hawk, Great-billed Hermit, White-eared Jacamar, Golden-spangled Piculet, Amazonian Streaked Antwren, Duida Woodcreeper, Yellow-crowned Elaenia, Sulphur-rumped Flycatcher, Amazonian Umbrellabird, Varzea Schiffornis, Amazonian Grosbeak, Masked Cardinal, Yellow-bellied Dacnis and Velvet-fronted Grackle.

Field guides
As far as I have noticed, the entire group (including me) was using the latest Lynx edition of Hilty's Birds of Colombia. Yet, our local guide Daniel Camilo preferred some older but more portable edition.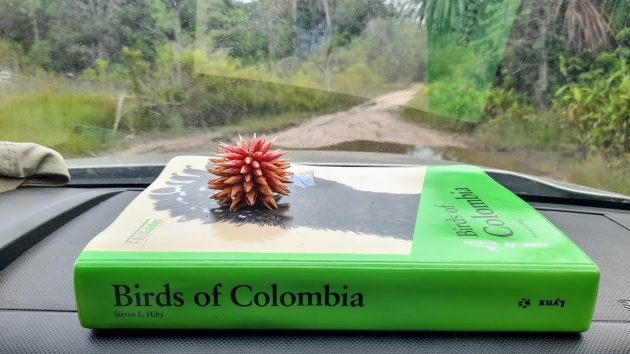 There is a Colombian birds app (not sure of the exact name), but it wasn't met with much approval, and even those who bought it were using (free) Merlin app much more. Merlin pulls the data out of eBird and was particularly useful in narrowing down the number of species to consider.

Weather
At this time we were lucky with the rain, and had a few short showers only, mostly during the night. Inirida has a unimodal rainfall system, with the highest precipitation during May-July and the lowest during the December-February period.

While the temperatures are pretty much the same year-round, (slightly) lower temperatures are experienced during the months of June to July and (slightly) higher from January to March. The minimum average temperature is 22.3 ºC (72.1 ºF) and the maximum average is 33.2 ºC (91.8 ºF).

When to visit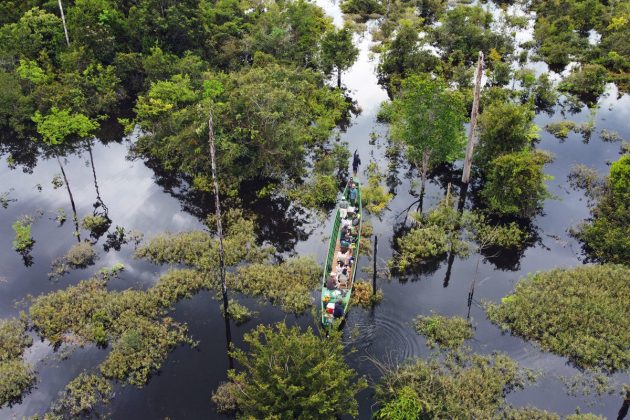 Photo Manakin Nature Tours
The drier months of late November to mid-March are considered the best season. But, as usual, I have some "but" waiting, August now seems like the best timing from my point of view: the maximum precipitation ends almost two months earlier, but varzea forest is still under 5 metres (16 ft) of water, and instead of walking those forest trails, they can be explored by a longboat (yet there's twice as much rain compared with November, mozzies too). Still, you would be at the tree-canopy height. Would you rather go in dry, or during the rainy season?

Health
We were rather lucky with biting bugs, mosquitoes and chiggers. Yes, there were some mozzies in the forest (none in the open) and some people got a bite or two, yet most (including me) got none. The same with chiggers in grasslands, a few people got bitten but the most were not.

Prior to the trip I got inoculated against the yellow fever and renewed my tetanus vaccine (it is only recommended and not mandatory, but it makes sense). Malaria is another thing to keep in mind (avoid bites by using bug repellent and by wearing long-sleeved shirts and long pants, especially in the rainforest).

Regarding the Covid, the usual measures were in place, and no one got it, at least no US, Canada, or French participants who did the mandatory testing at the end of the tour, as required by their home countries. I didn't get it either.

But travelling in the time of Covid puts you in strange situations. E.g., on the plane, everyone wore surgical masks all the time, although some wore it beneath their nose. Then lunch was served, and all of us took off our masks at the same time…

Safety
We had no issues whatsoever and felt perfectly safe all the time.

Disabled travellers
I use crutches, and will look back at those few complicated moments. Basically, the only situations where I had to be careful and think twice about how to perform my next move was getting in or out of a boat. The harbour has no dock, but a concrete slope and the skipper would usually land the boat bow on it. Most of the time it wasn't too hard (and with practice became even easy).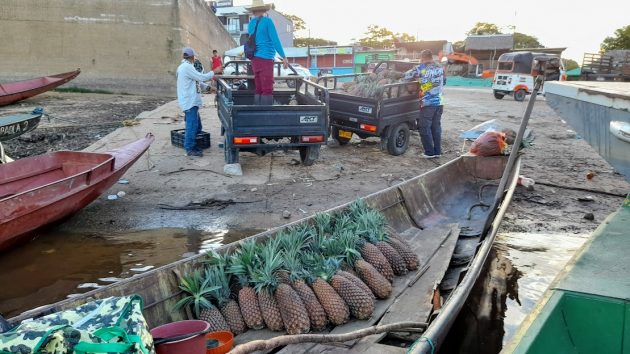 Once we returned to the harbour after dark and couldn't land by that slope (all boats were already tied there), so it was over the nearest ferry and then down the car-ramp, which was a bit unpleasant but my guide Edson Moroni and the other tour participants were at my side and everything went well.
At the Fuente del Guania Hotel, in my room it was not possible to enter the shower in a wheelchair (fortunately, I didn't need it), maybe it is possible in some rooms? 

Shopping
Our usual routes through Inirida were from the hotel to the Moro's Restaurant and to the harbour, so shopping for presents is left for the last day and the small curio shop at the airport. I particularly liked the canoe models and the brightly painted wooden macaws (for some reason, those flat ones, to be mounted on a wall, were only sold in pairs).

Acknowledgements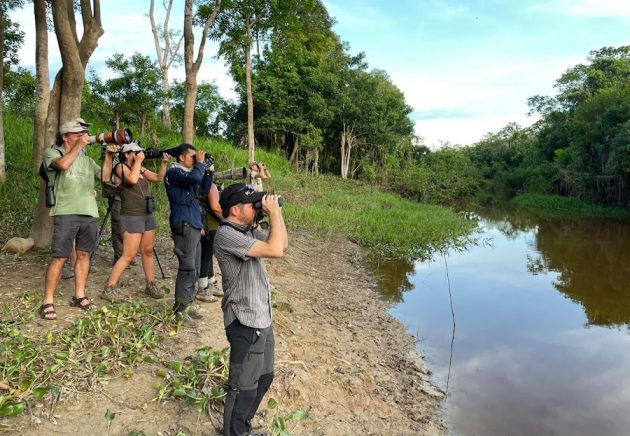 Photo Manakin Nature Tours
For being invited to the Escape to the Orinoco River Basin FAM trip, I would like to thank the organisers: Luis Eduardo Ureña of Manakin Nature Tours, who masterfully kept everything under control, day and night, our local guide Daniel Camilo, and the sponsors, ProColombia, Spirit Airlines, Air Europa, Aerolinea SATENA, Fuente del Guania Hotel de Lujo in Inirida, and Bogota Hilton Garden Inn.

Whenever the group went for a bird walk and I stayed behind due to using crutches, I had another guide with me (which enabled me to spot 57% of all the birds seen). A special thank you goes to my guide, always smiling or laughing Edson Moroni. Don't we all need a lot of laughs after two years of pandemic? If we are laughing in Amazonia – even better.
Part 1 of the tour, or a forest so young that birds still have no names
Part 2 of the tour, or river dolphins and hoatzins
Cover photo: Cerros de Mavecure, by Manakin Nature Tours