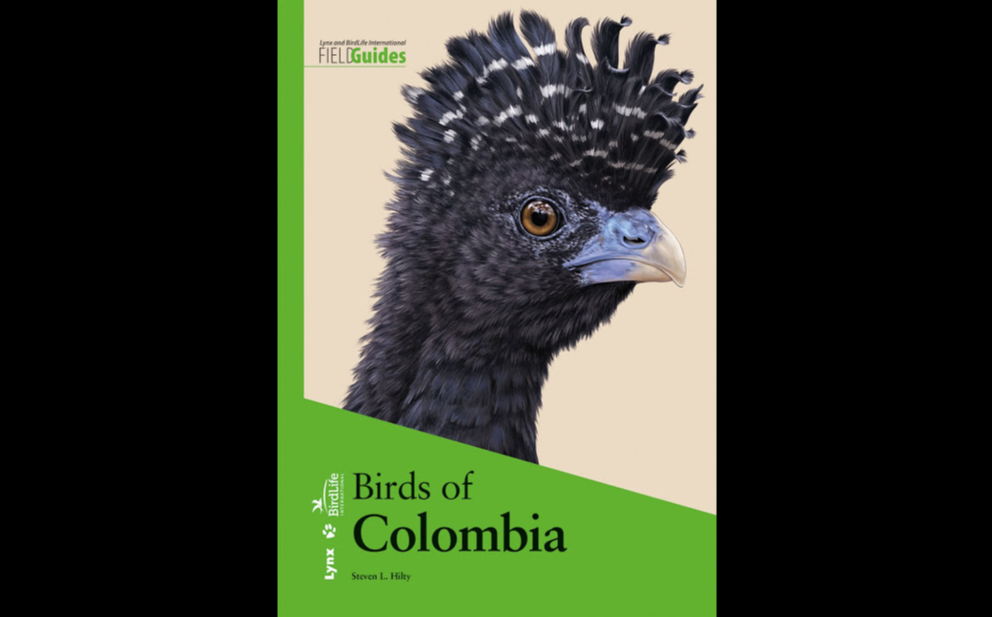 Birds of Colombia (Lynx and BirdLife International Field Guides) by Steven L. Hilty


"Sadly, a few specimens, salvaged from these shipments, were so rare that they have never been found in the wild", an unexpected sentence in Steven Hilty's introduction to the Birds of Colombia touched a sentiment deep inside me. Hilty referred to huge shipments of exotic birds and feathers in Victorian-era fashion, more than 5 million specimens per year from Colombia alone. Having that in mind, it is no small miracle that Colombia still has 1965 bird species left to be covered by this guide – more than any other country in the world. Among them are 94 endemics and 101 near-endemics, 4 introduced species and only 42 vagrants.

If all the separately depicted subspecies groups – seemingly monophyletic groups of taxa (sometimes single subspecies) that at present appear to sit between the species and subspecies level and, with better evidence, are likely to be awarded species rank – are accounted for, the number of possible species of Colombia already covered by this field guide goes to over 2000, almost one-fifth of the world's birds.


Birds of Colombia (Lynx, 2021) starts with a physical geography map of the country. Further on, the Introduction deals with history of ornithological research in Colombia (including those aforementioned shipments), climate, topographic regions (7, from the Caribbean to white-sand soils), vegetation zones (11, from desert scrub to paramo) and habitats (29, from terra firme forest to ranchland and cultivated areas). The Introduction continues with bird conservation, from the first incentives to Fundacion ProAves and Asociacion Calidris (the BirdLife Colombia). "Using the Field Guide" discusses systematics and taxonomy (which mainly follows the HBW and BirdLife International Illustrated Checklist of the Birds of the World with updates largely to follow the most recent molecular data adopted by eBird/Clements), terminology, map key, etc.

Textual descriptions are as short as can be (Have you ever seen a text edged around an illustration in a bird guide? Neither have I.) but do cover English, Spanish and scientific species names, conservation status, offer rather detailed habitat description, behaviour, age, sex and geographical variation, voice, and confusion species, as well as QR codes (linked to each species eBird page where you can see distribution maps, loads of photographs and listen to calls).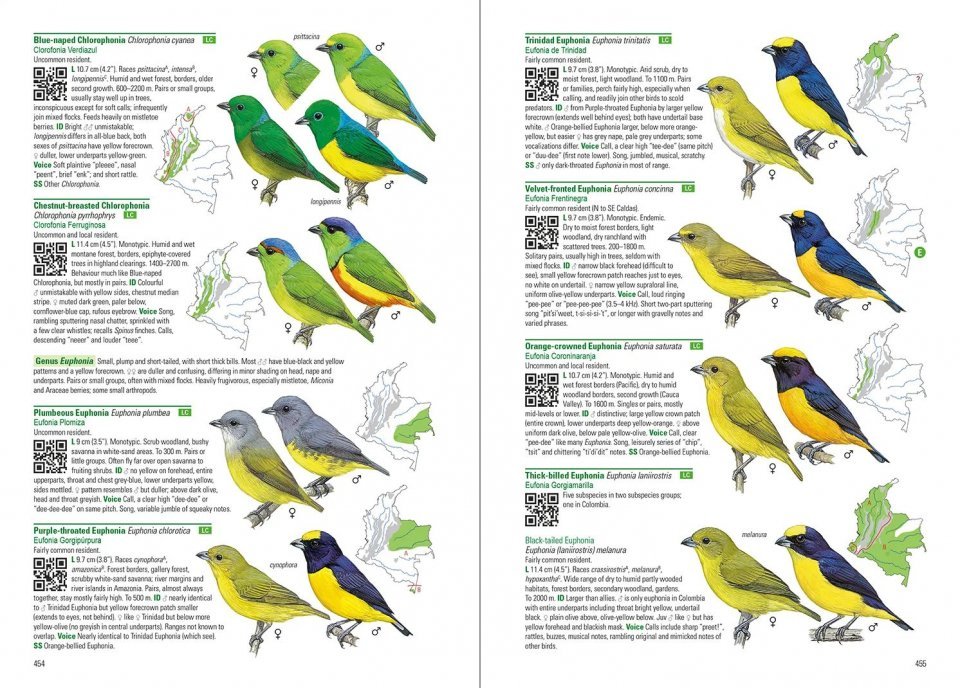 The field guide draws on Lynx's vast HBW image bank. Colour plates were painted by 30 different artists (smooth digital art, differences in style mostly unnoticeable) usually showing 4 species per page (with the description and range map next to the illustration, on the same and not the opposite page), covering all species and distinctive subspecies (well-marked subspecies groups receive full accounts), birds in flight (mostly reserved for larger non-passerines), males, females (where sufficiently different to be recognized under field conditions), juveniles (rarely, mostly in case of raptors, some waders and boreal migrants) and non-breeding plumages, in more than 3600 illustrations.
Over 2000 full-colour distribution maps for all regularly occurring species are seamlessly blended next to bird illustrations. The base layer shows major rivers and, in pale grey, the three ranges of the Andes. Also, the distributions of subspecies breeding in the region are clearly mapped. There is a discrepancy regarding the Glossy Ibis map, showing its range in blue, reserved for winter/non-breeding visitors (but the range is, likely, correct), while the abundance status in the text calls it a "fairly common resident" (which should have been shown in green).

"Birds of Colombia" ends with References, English and Scientific Index, Spanish Index and the Quick Index. Then you get four blank pages, titled "Notes". In the back, the endpaper has the same physical geography map of Colombia, but this time marked with 65 nature reserves and national parks.
Also, with each copy of the book you get a voucher with a Lynx Edicions website page link and a code to download the .pdf Colombia checklist that follows the same taxonomy as your field guide (and you wouldn't want it any other way).

The author, Steve Hilty, received his PhD in Zoology from the University of Arizona and is currently a Research Associate in Ornithology at the Biodiversity Institute & Natural History Museum of the University of Kansas. He is a renowned bird expert and author, having co-authored A Guide to the Birds of Colombia and authored Birds of Venezuela and Birds of Tropical America: A Watcher's Introduction to Behavior, Breeding, and Diversity. Hilty has worked as a bird guide for Victor Emanuel Nature Tours (VENT) since 1983, leading tours throughout North and South America, and co-leading trips to India, the Orient and Australasia. Currently his tour schedule is filled with trips to different areas of Colombia.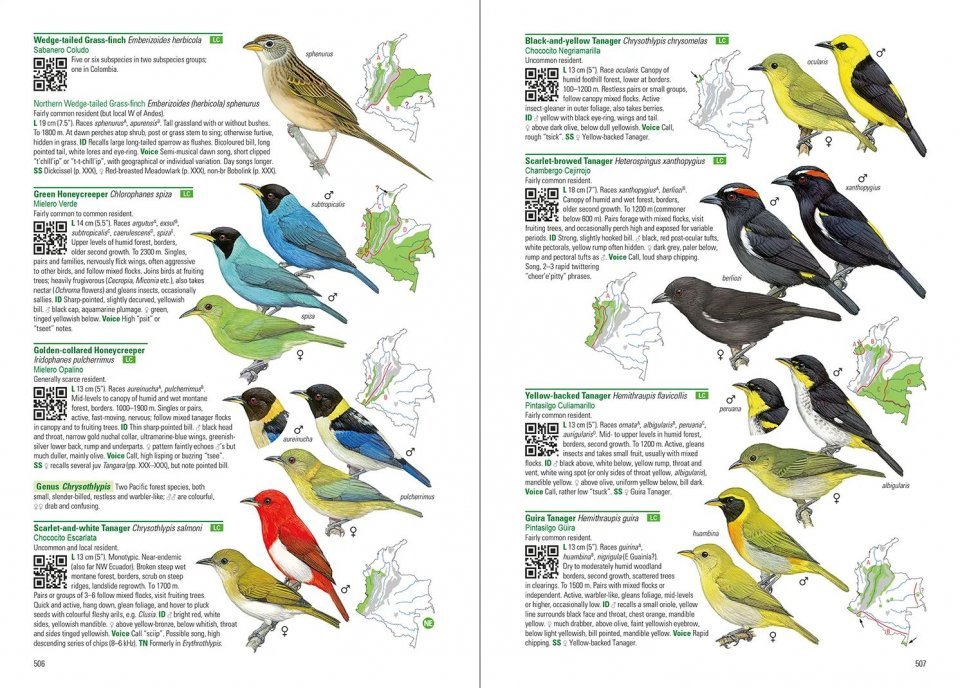 My impression? I love Hilty's new book, it is a very impressive work. Since my reaction to it is so strongly positive, I discussed it with friends. One, an international birder, loves the artwork but finds the format a bit too big. The other one, working as an international bird tour guide specialising in South America, loves the content, but thinks the book could have been lighter.

Considering that its thousands of highly-realistic illustrations and maps are neatly packed into 608 pages weighing 1.2 kg (2.6 lbs), which are meant to be carried into the field, the question is, could the book have possibly been lighter? And the answer is 'yes', but at the cost of the size of illustrations and maps, which would have to be smaller and fine details less noticeable.

My conclusion? Colombia is one of those countries my dreams are made of, and Hilty's Birds of Colombia is a stunning book with beautiful artwork, authoritative, if concise texts and easy to navigate maps. Highly recommended.

Birds of Colombia (Lynx and BirdLife International Field Guides)
by Steven L. Hilty
Weight 1.2 kg
Dimensions 16 × 23 cm
Pages 608
ISBN 978-84-16728-24-4 Flexi-cover
978-84-16728-23-7 Hardcover
Published in March 2021
Published by Lynx Edicions