Despite being debased and reduced to a mere gastronomic buzzword by American chains of Italian-esque eateries, the offerings of dubious submarine sandwich shops, and bastardized and slapped onto corporate supermarket products labels, the word "Tuscan" can still denote genuine gastronomic excellence in a country of proud regional food traditions. La cocina toscana is famed for dishes with stark peasant origins – clever creations like ribollita, pappa al pomodoro, and panzanella, all delicious and ingenious uses of stale bread – but even its most magnificent fare is produced with a characteristic austerity in the kitchen. No dish is more representative of this Tuscan spirit of celebrating luxurious ingredients with culinary restraint than bistecca alla Fiorentina, perhaps the region's most iconic food: a humongous cut of aged Chianina beef – an Italian breed that's the world's largest – grilled over oak or olive wood embers al sangue (still retaining a bit of blood), with nothing more than salt to season it lest the flavor of the prized beef be masked by any distractions.
Bistecca alla fiorentina is so beloved in Tuscany that in 1953, Florentine publisher Corrado Tedeschi  founded the Partito Nettista Italiano as a joke political party. Better known as the Partito della Bistecca (the "Steak Party"), Tedeschi's platform in the Italian general election of 1953 included – among other intentionally frivolous proposals – the guarantee of a steak every day to each citizen. Their motto was "Better a steak today than an empire tomorrow" and it was a promise seductive enough to earn them 0.02 percent of the vote in the national election that year. Bologna La Grassa may revel in the indulgence of its Parma ham, lasagne, and rich, fatty ragùs, and Venice may boast the bounty of the sea, but the rugged, hilly homeland of the ancient Etruscans is undoubtedly cattle country.
Of course, a land of beefeaters needs butchers. Given its veneration of Chianina beef, it's hardly surprising that Tuscany has brought forth the world's first celebrity butcher. Dario Cecchini is a proud Tuscan, a colorful eighth-generation butcher, fond of reciting the poetry of Dante by heart and a tireless champion of both his ancient trade and the fare of his homeland. This theatrical personality was first introduced to a wider audience in Bill Buford's excellent 2006 culinary memoir Heat, which depicts Cecchini as uncompromising – and perhaps a bit mad – genius of butchery, but one with the utmost reverence for his craft and the respectful use of the animals we eat.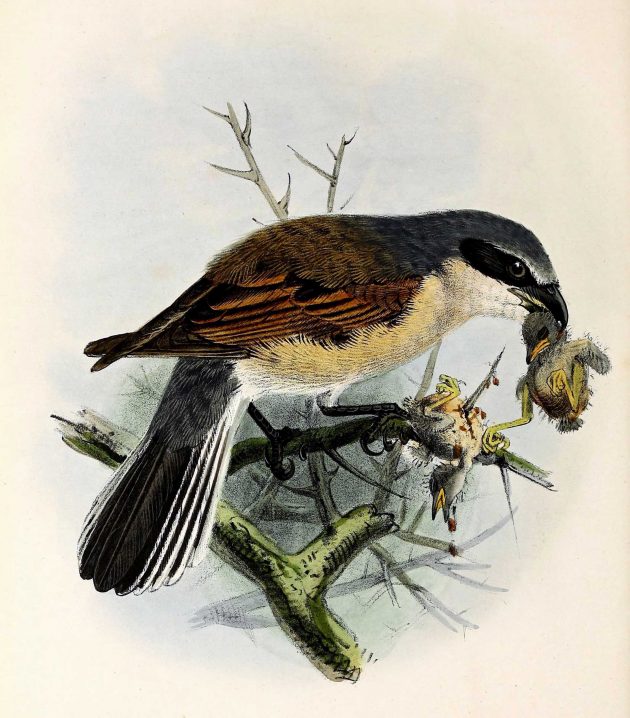 An avian butcher at work: Red-backed Shrike (Lanius collurio) depicted by Dutch bird illustrator J.G. Keulemans (1842 – 1912) in Onze vogels in huis en tuin ("Our Birds in Home and Garden").
Butchers like Cecchini may belong to one of the oldest of humankind's professions, but birds have been at it much longer than we. Shrikes were practicing their own form of butchery – that is, their particular practice of impaling their kills from thorns and barbed wire for later eating – long before we began domesticating and slaughtering livestock on our own. In fact, the family name Lanius derives from a Latin word for "butcher", though the "butcherbird" was a butcher long before humans even developed the language to describe these activities. Who knows – perhaps early humans got the idea of cutting and hanging meat by watching these shrikes at work in their arboreal abbatoirs?
Like other members of this killer songbird family, the Red-backed Shrike (Lanius collurio) featured on the 2019 Chianti Classico from Castellare di Castellina is a known butcher. We've featured bottles from this winery before at Birds and Booze, as Castellare di Castellina adorns its attractive labels with a different bird illustration for each vintage. Like previous wines we've tasted from Castellare di Castellina, the 2019 chianti classico is predictably excellent, a bright, exuberant example offering aromas of cedar, eucalyptus, and redcurrant. The palate is a juicy mix of ripe black cherry and tangy raspberry, baking spices, and pipe tobacco, framed by a light, energetic acidity and polished tannins.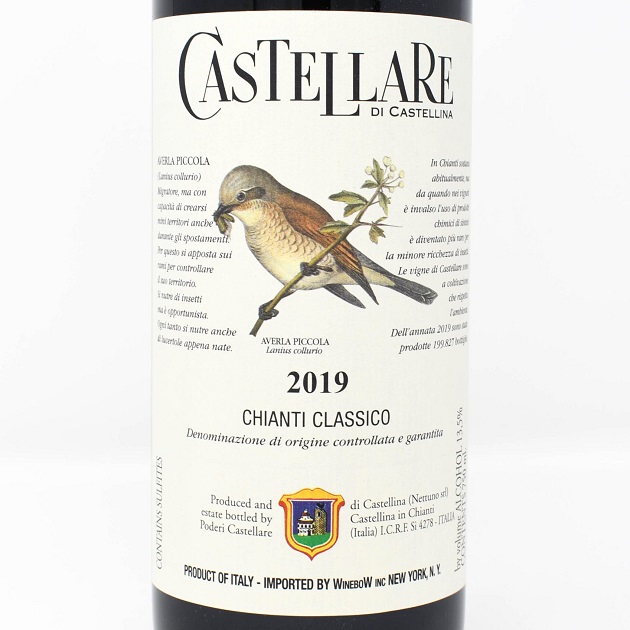 Chianti classico is reckoned to be an ideal partner for Florentine steak, but it's also just a great food-friendly wine in general. But I must admit, I enjoyed my bottle with a meal that required no butchery whatsoever, either by bird or man – a nice vegetarian mushroom ragù with pasta.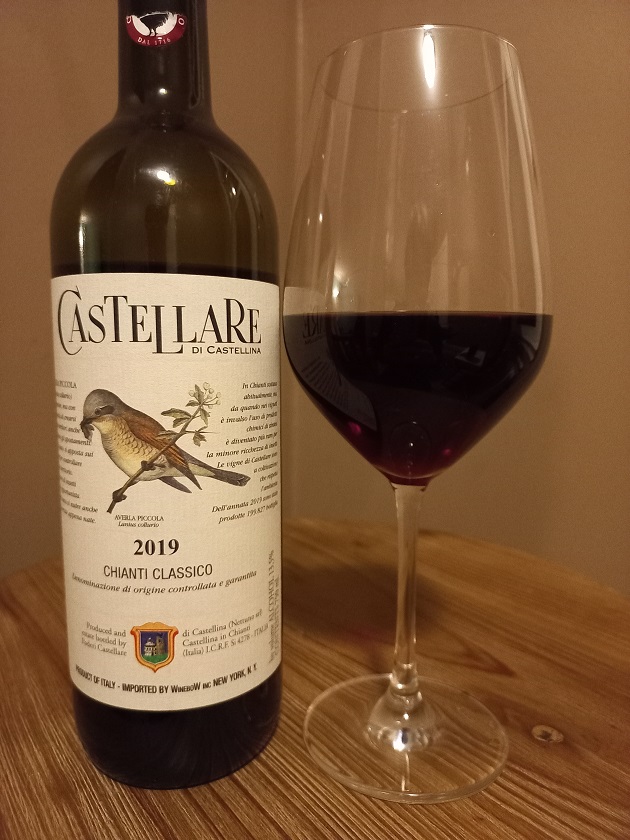 Good birding and happy drinking!
---
Castellare di Castellina: Chianti Classico (2019)

Four out of five feathers (Excellent)