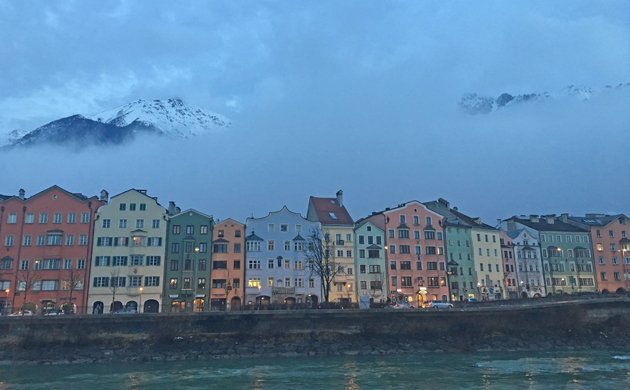 Before my trip to Austria that bridged January and February, I had never really had that country high on my list of places I wanted to go. What I knew of Austria was very little: The Sound of Music, mountains and skiing, Vienna, Hitler's birthplace, Krampus, good beer, and often confused with Australia. Other than the beer and Vienna there is very little there to draw my interest. But when Swarovski Optik reaches out and offers a trip to Austria you take it even if it is in the depths of winter. And am I ever glad I did!
For the first couple of days in Austria we were based right in the heart of Innsbruck, next to the old city. The narrow, winding streets of this pedestrian area are charming and full of great shops to explore. Or, at least, that is what I was led to believe but I didn't do much exploring there. I preferred exploring the banks of the River Inn, which bisects the city and a bridge over which served to provide Innsbruck its name centuries ago. I spent an hour or so one afternoon exploring along the river and a couple of hours the next morning doing the same, as well as a too brief visit to the Innsbrucker Hofgarten.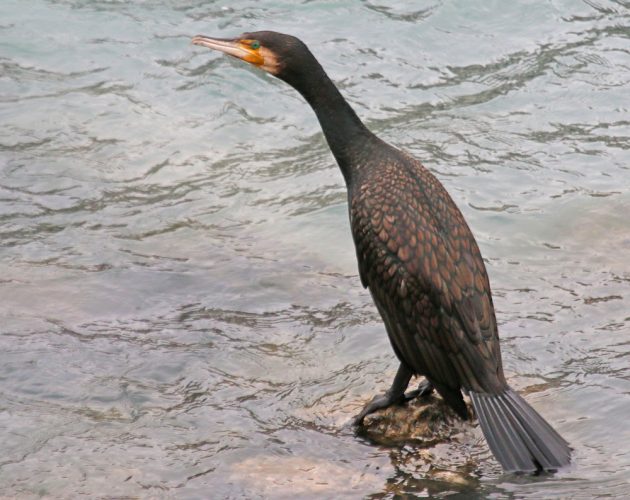 Great Cormorants are not a bird Americans get excited about in Europe seeing as we have them in the United States but I will say that they were much more willing to be closely approached than in the U.S. and not as tied to salt water.
Both sides of the river have a nice, paved, walking and bike path, at least between 171 and footbridge that crosses the river by the hofgarten. The north side of the river was pleasant in that suet balls hung here and there from bushes and trees and seed was scattered for the birds in several places. The river itself was open and Mallards were the most common species to be seen with Great Cormorants and Common Mergansers (in Europe, Goosanders) the next most likely two. Gray Herons were here and there and two Eurasian Coots were the only two I would see in Innsbruck. But the best birds on the river, at least to me who had never seen them before, were the White-throated Dippers, a long-awaited lifer and a charming representative of their type. Watching them fly out into the middle of the river and plop down only to forage their way downstream in the current was very entertaining and I could have watched them all day long.
White-throated Dipper perched on the starling of a footbridge over the River Inn.
I think this dipper looks remarkably alcid-like. And it's not much smaller than an auklet.
The second morning's exploration was with Bill Thompson III, Clay Taylor, and Terry Townshend. Our original plan had been to take a cable car up into the mountains to look for high elevation birds like chough, snowfinch, and ptarmigan. Sadly, the mountains were socked in with fog as you can see in the picture at the top of this post and going up there would have been relatively pointless. But if you're in Innsbruck on a clear winter day you can easily go up into the mountains and look for good birds: the cable car costs in the neighborhood of thirty Euros but that is a bargain to get up high quickly and easily.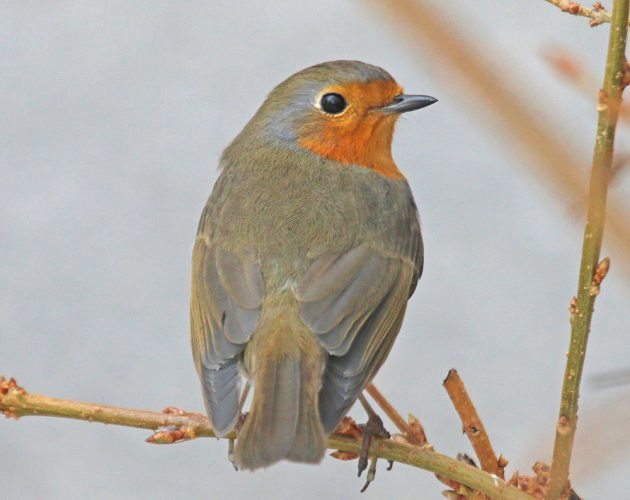 European Robins are wonderful little birds. No wonder the British named everything after them.
Instead of the mountains we did another walk along the river and into Innsbrucker Hofgarten. With more time on our hands we explored more turf and with more eyes we saw more birds. Perhaps most exciting was a Northern Goshawk that we spotted hunting along the river a couple of times. If not for the pigeons exploding into flight from fright and the Carrion Crows harassing it we probably never would have managed to see the accipiter. Most interesting was the pair of dippers that we discovered were already building a nest up a small tributary stream that flows into the River Inn. We could watch them below us, through a grate, as they carried their nesting material upstream onto the bank of the subterranean stream.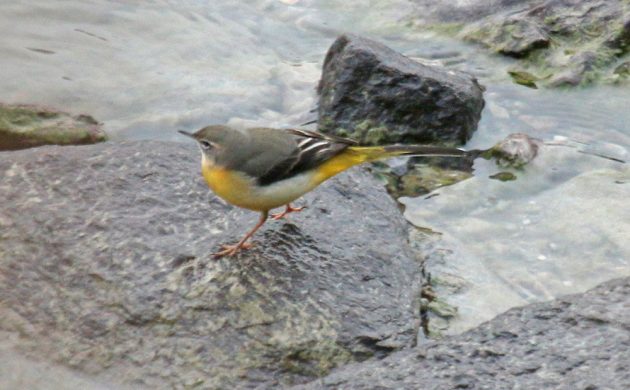 Gray Wagtails are an awesome bird to watch bobbing along the edge of the river.
My second ever Gray Wagtail was a cool find and we rarely escaped the sound of Greenfinches and Common Chaffinches. Eurasian Blackbirds were by far the most common thrush though we did see the occasional Mistle Thrush. A big flock of European Goldfinches brightened the dimly lit morning and a pair of Eurasian Treecreepers (that we tried to make into Short-toed Treecreepers if you believe in such things) were a nice observation for we American birders.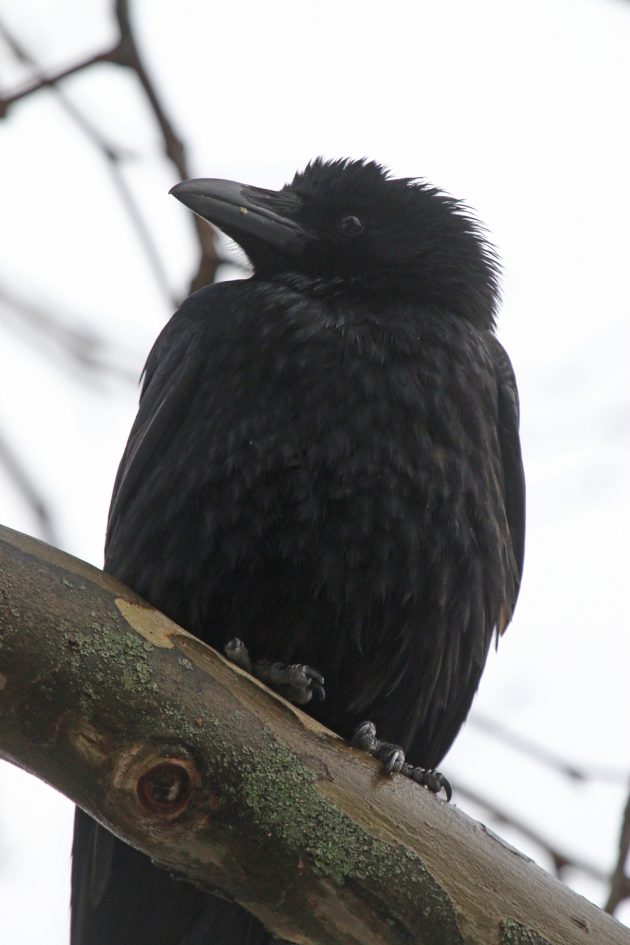 Carrion Crows are everywhere in Innsbruck in winter!
As for the birds that make adolescent boys laugh (ok, adult boys too…heck, who doesn't laugh at tits?) Great Tits and Blue Tits were the prevalent tit all along the river but Coal Tits were around too if you kept paying attention. We had a single, heard-only, Eurasian Wren and one Great Spotted Woodpecker.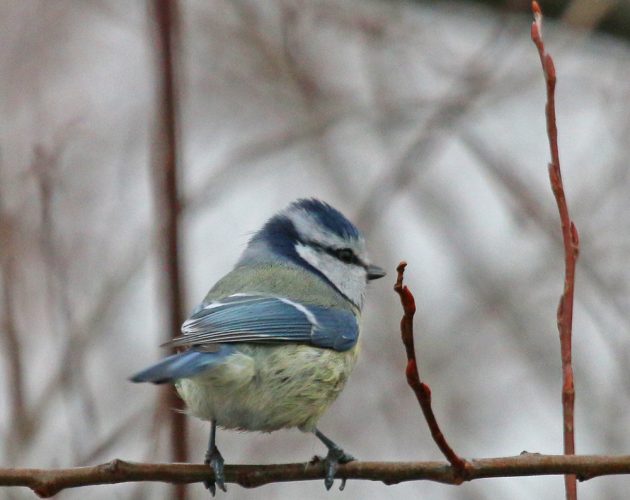 Heh heh heh, Blue Tit, heh heh heh.
In the Innsbrucker Hofgarten we were pleased to find a well-stocked feeding station and host of birds, most of them repeats from along the river. New to our list for the day was Eurasian Nuthatch, Short-toed Treecreeper (allegedly), Goldcrest, and Hawfinch. I would have loved to have spent more time trying for good shots of the feeder birds but we had obligations to fulfill and couldn't spend all day just looking at birds.
Disgusting photo of the grosbeak of Europe, the Hawfinch.
If you go to Innsbruck in winter hope for better weather than we had. Apparently you are much more likely to encounter blue skies and frigid cold unlike the warm, gray, foggy days we encountered. If you are so lucky as to see blue sky and the sun take advantage of the mountains on either side of the Inn Valley and get up high for alpine birds! But if you are stuck in the valley because of weather like we were don't despair, as you just saw there are plenty of birds to keep you entertained.