After leaving Big Almaty Lake, the site of our Ibisbill dip, we continued uphill to the Tien Shan Astronomical Observatory where lunch was distributed and everyone wandered off in ones and twos and small groups to eat and bird where they wanted for the next hour or so.  I wandered off with Thomas Griesohn-Pflieger, editor of Vögel (if you want you can amuse yourself with the horrible translation from Google here).  While we enjoyed our filling lunches we enjoyed the cool breeze, cool because it was blowing across snow that was still waist deep, as we discovered to our dismay when we tried walking across it.  We also had fun trying to get our binoculars on a little bird that appeared briefly in front of us before disappearing over the hillside: Thomas managed to see it and was I ever disappointed to have missed a White-browed Tit-Warbler, a bird I had desperately wanted to see since I saw a gorgeous picture of it in The Birds of Kazakhstan.  Despite my dip I was happy to be in gorgeous mountains in good company.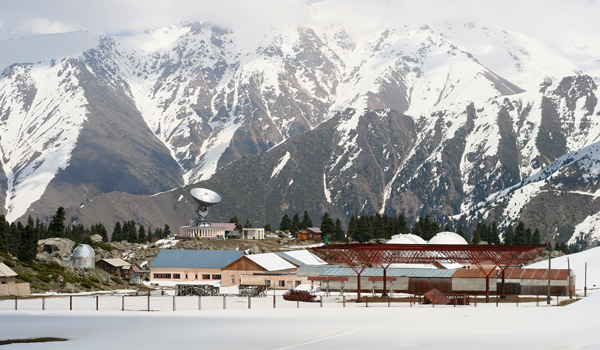 And a displaying Northern Wheatear, pictured below, though it was a bird that I had already seen, made up to some degree for my missing the tit-warbler.  Of course, the Evermann's Redstart that was pointed out to me at great range was a nice consolation prize as well…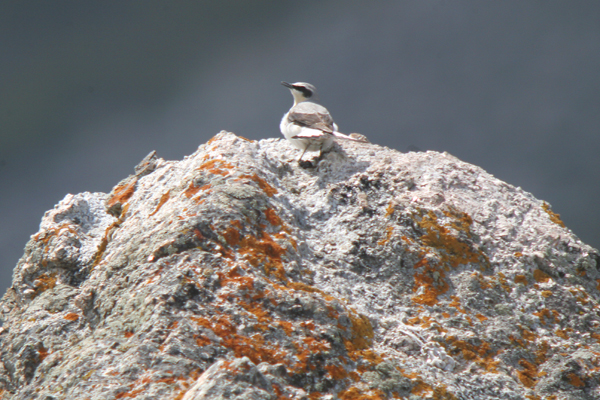 All too soon we were summoned back to the vans to start heading down and out of the mountains: we did make several stops along the way though, and I got another shot of Big Almaty Lake that I rather like (if you look on the far side of the lake you can see the trail where we were walking earlier in the day).
Of course, because the four vans were loaded with a horde o' birders we kept demanding stops so that we could get out and look at or for birds.  Eventually, once we got to where the road just went through switchback after switchback back and forth across and down the valley we all just piled out and started walking, cutting across the switchbacks and staying well ahead of the slowly-following vans.  We saw some good (and cooperative) birds this way, including this Eurasian Magpie in some slanted light: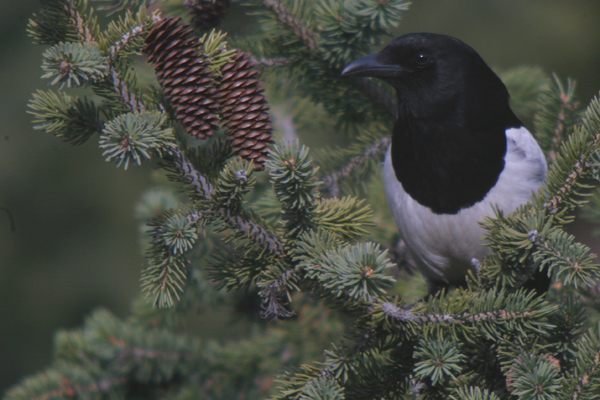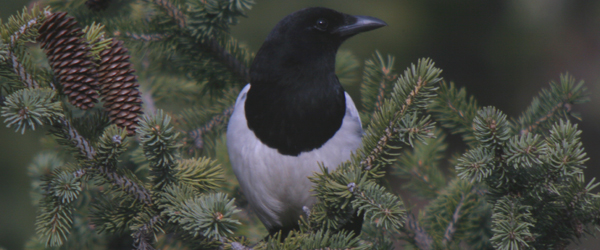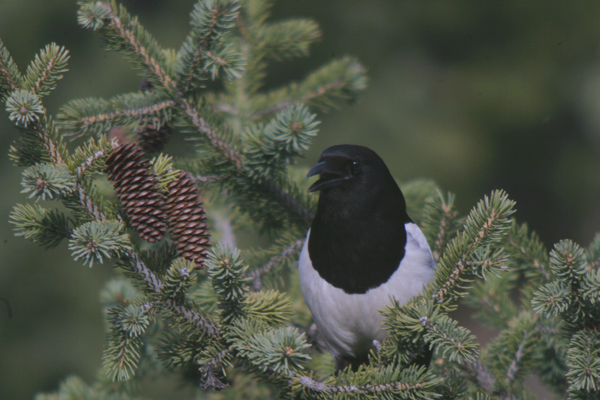 Of course, the Eurasian Magpie wasn't the only bird that let me get some shots in good light.  The Mistle Thrush and Ruddy Shelducks below both posed nicely as well.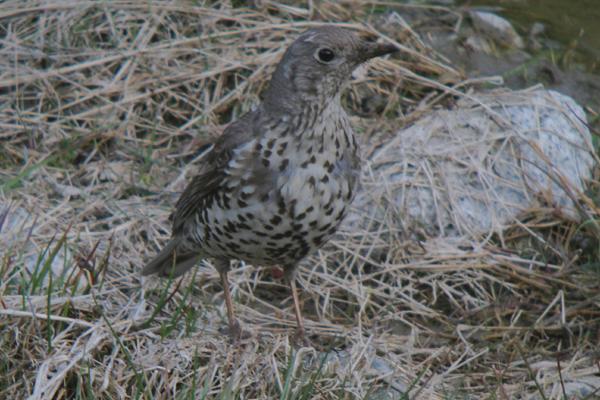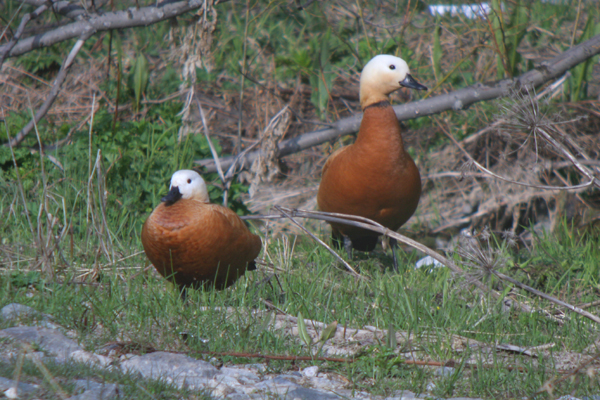 Eventually Dale and I found a nice spot where several species were regularly showing to feed, including Coal and Sombre Tits, Short-toed Treecreeper, and a Blue-capped Redstart.  Unfortunately, by that point the light had faded so it was difficult to get much of a shot but I did my best on the redstart, resulting in this…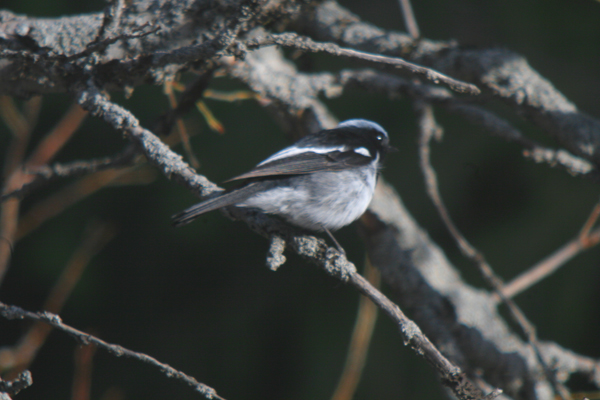 There was one more great bird awaiting us on the way down the mountain, and, sure enough, we got decent looks at the Blue Whistling-thrush at our quick stop for it.  And what was left of the sun hitting the mountains behind us was just ridiculously nice.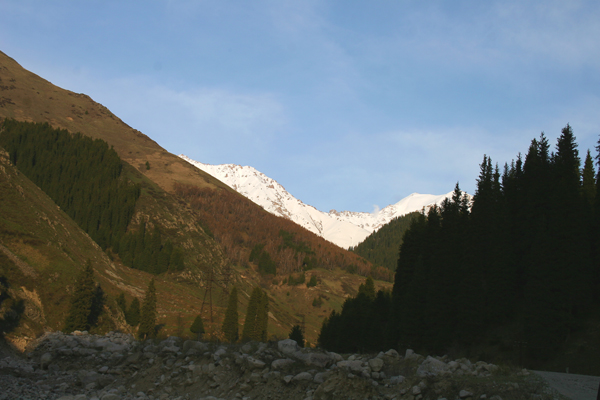 Dinner that night, where we ate traditional Kazakhstani food like horse meat (tough and yummy), was a fun affair, though a bit of a bummer because most of the folks on the tour were heading back to Europe and only a fortunate few had a fourth day in Kazakhstan.  Of course, the appearance of a buxom blond, despite her rather disturbing appearance, cheered us all up a great deal…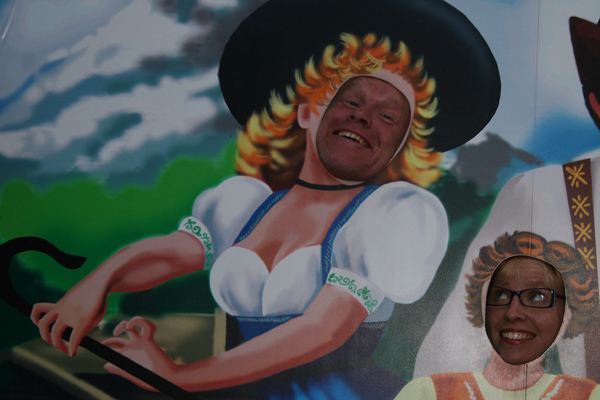 Mike and Sharon hadn't even started drinking…yet
During dinner, which was under a pavilion in the fresh air, we were serenaded by the captive peacocks and a not captive Eurasian Scops Owl.  Not only that but a Great Tit joined us for dinner, snagging insects attracted to the light overhead!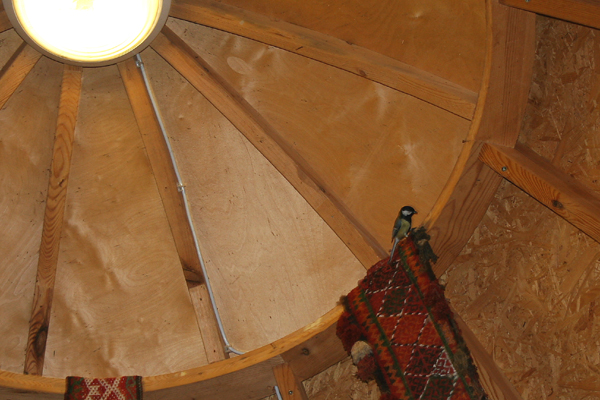 While we would miss our fellow travelers those of us who were staying couldn't wat for our long drive east towards China the next morning.  The birds of the desert and semi-desert beckoned and we were eager for yet another new ecosystem…come back soon to see how it went!
________________________________________________________________________________________________
My trip to Kazakhstan was made possible by the wonderful folks at Swarovski Optik who sponsored the trip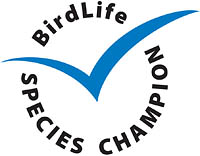 not only to draw attention to their marvelous optics but to the fact that Swarovski Optik is, with the RSPB, the Species Champion for the Sociable Lapwing, a critically endangered species that breeds almost entirely in Kazakhstan. We here at 10,000 Birds, the only blog designated a Species Champion by BirdLife International, salute Swarovski Optik's commitment to conservation.
To learn more about 10,000 Birds' commitment to conservation through BirdLife International's Species Champion program and what it means to us at 10,000 Birds (or to donate to the program through 10,000 Birds) just click on the nice Species Champion logo to the right.