Upon our arrival at Kieshofer Moor, where we hoped to find Middle Spotted and Black Woodpeckers, Jochen had to head home, leaving Hendrik and I on our own, but not before Jochen went over the map with us to show us the best spots to look. It was a great pleasure to meet Jochen in person and an even greater pleasure to see so many lifers in one day! Unfortunately, his help with the map didn't matter at Kieshofer Moor as the bird life was noticeably lacking by our mid afternoon exploration of the forest and wetland.
Not that we didn't try. And sure, we saw several each of the by-now-ho-hum Great and Blue Tits. A Eurasian Nuthatch, my second Short-toed Treecreeper, the best looks I would get at a Winter Wren in Germany, and European Siskins rounded out our sightings. Nary a woodpecker crossed our path. Speaking of the path, it was pretty nice, though the fact that the preserve was bordered by a highway kind of destroyed any chance of blocking out the modern world.
What the birds lacked in abundance was made up for by amphibians. Well, two species of amphibian anyway, a frog and a newt. The frog was a European Common Frog, or European Common Brown Frog (Rana temporaria). I prefer the first name (without the "brown") as the frogs we saw ranged from brown to green, and they come in an even more diverse palette than that. Either way, we saw a lot of them.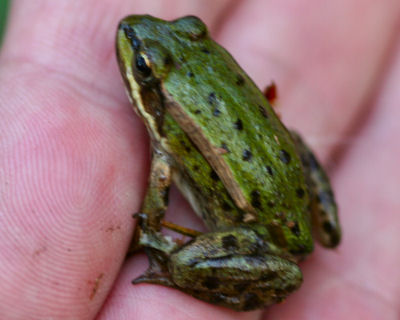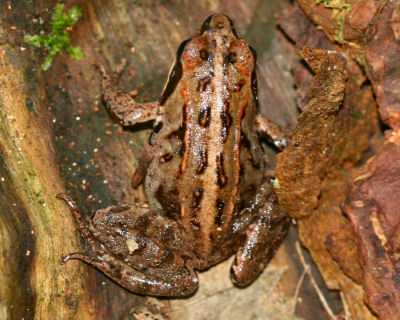 The newt we found, the Common Newt or Smooth Newt (Triturus vulgaris), is the most common, and often the only, newt in most of Europe.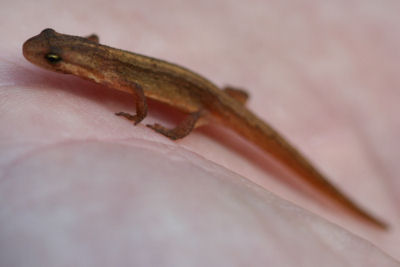 After our outing at the Kieshofer Moor we both wanted to keep birding but weren't sure where to go. Hendrik suggested a return to Karrendorfer Wiesen where we had birded with great success the day before to see if we could get looks at Bearded Reedlings, which we had only heard the day before, and to try to track down a Common Kingfisher, which was regular there according to Hendrik, though we had missed it on our previous visit. I was game so we cruised over to the now-familiar preserve and got to birding.
When we arrived at the pond where the Common Kingfisher was supposed to be we didn't see anything at first. Then a small bird flew with stiff, shallow wing beats, like a Spotted Sandpiper, away from us, and when I got it in my bins its back was blue! A kingfisher! It even obliged by perching on a dead snag and letting me get the scope on it to admire its pink belly and electric blue back. What a bird! It was such a good bird, in fact, that I couldn't stop looking at it. When I finally yielded the scope to Hendrik the bird flew as soon as he got his eye on it. I'm just glad Hendrik sees them pretty darn often or he might have thrown me in the pond!
We continued our birding, stopping to scan the bay but not seeing anything different from the day before. We also continuously listened and looked for those elusive Bearded Reedlings, and, though we heard them on several occasions, had no luck seeing them. We did not, however, have a hard time finding cows.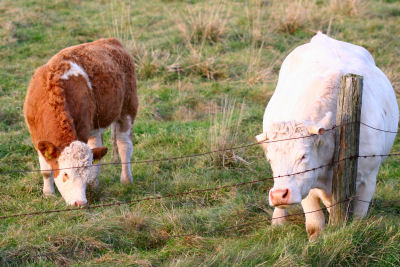 the cows didn't see any Bearded Reedlings either
When we reached the mudflats Hendrik scoped for shorebirds while I focused on the other side of the trail, looking down a channel in the reeds hoping to see some Bearded Reedlings crossing it. I failed in that endeavor but did get great looks at a Water Rail! And got Hendrik on it! It sure made me happy as now I don't have to worry about whether or not I could count the lousy look I might have had of one the day before. And, while I was happy to have seen a Water Rail I must admit that if I had seen the same bird on Long Island I would have assumed it was a Clapper Rail and if it was in upstate New York I would have thought it was a Virginia Rail.
We didn't see anything else that we hadn't seen the day before, though Hendrik did find a couple of Ruff that were much closer and I enjoyed great looks at birds that I will only see in the U.S. with great luck or by twitching them.
After that we had a great dinner (schnitzel and beer is a great combination) and an early bedtime, as we were birding again in the morning!