This post is rather belated and the birding that will be described actually occurred last weekend.  I'm not sure how I managed to not write about this particular birding outing yet as it had all the hallmarks of a successful trip.  Anyway, last Sunday morning was sunny and not cold or windy so it was pretty much the best kind of day one can ask for in mid-March.  I was getting worried about finding a couple of species for my Anti-Global Warming Big Year so reports of both Red-breasted Nuthatches and Golden-crowned Kinglets in Prospect Park, Brooklyn, made me want to take the loooong subway ride there.
Now, those of you familiar with the avifauna of the northeastern  United States are probably scratching your heads and thinking that both of the aforementioned birds are rather common and wondering why I am worried about missing them.  And, to be honest, I wasn't too worried about picking up the kinglet somewhere this year via mass transit but the nuthatch, well, they had a big irruption this past winter and who knows if they will come back in any numbers this coming winter.  New York City isn't exactly a spot where one expects to see them in any numbers so I figured I might as well track one down now, when I had good intelligence on it, rather than leaving it to luck later in the year.
To get to Prospect Park I just had to walk the half block to the F train and ride it to Brooklyn.  Unfortunately, to get the Brooklyn, the F train takes a detour through Manhattan.  This is one of my pet peeves about the New York City transit system: it is all based around Manhattan and the connections between the outer boroughs are quite neglected (you'll remember that for me to get to Van Cortlandt Park in the Bronx, a twenty-minute car ride from Queens, took me almost an hour-and-a-half by train).  Regardless of my whining the train ride was quite nice actually, with a good book and the prospect (ha, get it?) of good birds and good company at the end of the ride.
The good birds I've already mentioned but the good company would be Pam, the non-birding birder, who has already seen an Ash-throated Flycatcher in New York.  We met up when I got off the train and headed into the park, where we quickly encountered some Ring-necked Ducks and a pair of Buffleheads on what I believe the Brooklyn birders refer to as the upper pool.  Not knowing Prospect Park too well, having only visited it once before, I didn't know my way around too well.  Pam knew the park better, but not from a birder's perspective, so finding our way to the birds I was looking for wasn't exactly easy.  We did manage to see a bunch of common birds, including a ton of American Robins, a wintering Yellow-bellied Sapsucker and my first of the year Mourning Cloak butterfly.  Then we ran into another birder who volunteered to lead us to the feeders where the nuthatch had been regularly reported.
The feeders were busy, with Downy-Woodpeckers, Dark-eyed Juncos, White-breasted Nuthatches, and other normal feeder birds taking advantage of birders' generosity.  After about five minutes of waiting the Red-breasted Nuthatch put in an appearance.  One target bird down, one to go.  Then we were momentarily distracted from the kinglet quest by the trilling song of a Pine Warbler, which, despite our best efforts, managed to avoid our gaze.  After finding and enjoying the leaf-kicking exploits of a Fox Sparrow, Pam and I parted ways with the birder whose name I can't remember.  We headed for the bathrooms and he headed off in search of the now distantly singing Pine Warbler.
Bathroom break completed, we also decided that seeing a Pine Warbler would be good.  Well, I decided and Pam, left without much choice, agreed.  We followed the song along the lullwater, pausing to admire an Eastern Phoebe and some Cedar Waxwings having more success flycatching than the fisherman they were flying over were having fishcatching.  We were also pleased to see turtles out on logs suncatching.
But we were even more pleased (well, I was, Pam was a bit more blase) when we finally tracked down the singing male Pine Warbler, which alternated its songs with a bit of its own flycatching.  We admired him for awhile, and also the Ruddy Ducks and American Coots on the water, then made our way down to the south of the lake to check out the ducks, geese and gulls there.  En route we spotted some Pied-billed Grebes, always worth watching, and Pam seemed to find them much more interesting than the Pine Warbler.
The main attraction at the south end of the lake was the pair of Northern Pintails that have decided that handouts are better than working for their food.  The female spent the winter and the male showed up more recently, most likely more attracted by the female's presence than the food provided by park patrons.  Nonetheless he seems to have come to appreciate the fact that free food is, well, free, and both swam close to shore, perfect for pictures.

After watching the ducks, geese and gulls and eating the jelly donuts I had picked up from a local shop when I got off the subway we headed up one of Prospect Park's hills where I was pleased to find a Golden-crowned Kinglet foraging high up in the bare branches of the canopy.  Pam didn't quite believe that I could be sure of my ID of a bird so high up so I spished a bit and it came down for much better looks.  Satisfied with the day's birding we headed out of the park, Pam for the short walk home, me for the looong train ride back to Queens.
Once I got home and counted up the day list I was pleasantly surprised that we had managed to spot exactly 40 species, a pretty good tally for an urban park in mid-March!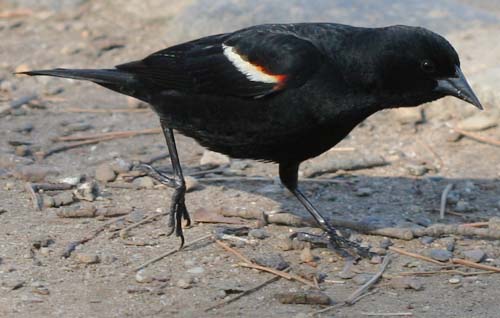 And, no, Pam isn't quite a birder yet but she is getting there…