After having a blast touring the Swarovski headquarters and trying my hand at digiscoping last Thursday, we bird bloggers visiting New England for the Swarovski bird blogging summit headed to the beach on Friday.  No, we weren't going to improve our suntans and our swimming strokes: we were going for the birds!  And we had high hopes of seeing shorebirds and terns and gulls and whatever else would stay still long enough for us to focus the optics Swarovski kindly let us borrow for the trip.  Our high hopes were easily met, and, in some ways, exceeded!
In particular, I wanted to see Roseate and Arctic Terns, both of which managed to avoid my gaze last year during my New York State Big Year (for that matter they have always managed to dodge me).  Several other bird bloggers really wanted to see them as well, to say nothing of Piping Plovers, Least Terns, Hudsonian Godwits, and everything else!
The boat ride from Chatham south to the mud flats, saltmarshes, and sand dunes was a nature-rich experience, with terns galore flying by, a single Common Eider swimming in the bay, and a couple of Gray Seals being the highlights.  We also saw scads of Great Black-backed Gulls that had recently finished their breeding in the large colony there.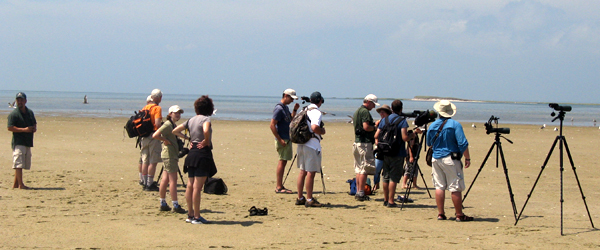 looking for birds on Cape Cod
Once we disembarked everyone spread out a bit and pointed the high-powered optics we brought with us at whatever birds caught our fancy.  And there were plenty of birds to choose from, with twenty-one species of shorebird seen throughout the day, to say nothing of six species of tern and five species of gull (including Lesser Black-backed Gull).  Sharon of Birdchick and Eddie of Birdfreak were quite taken with the Piping Plovers, a bird that rarely (if ever) makes it to Illinois or Minnesota.  Of the shorebirds I was most taken with the numerous Hudsonian Godwits, a bird that I had only previously encountered once, last summer, when a couple showed up at Jamaica Bay's East Pond.  Below is one of my poor attempts at digiscoping one.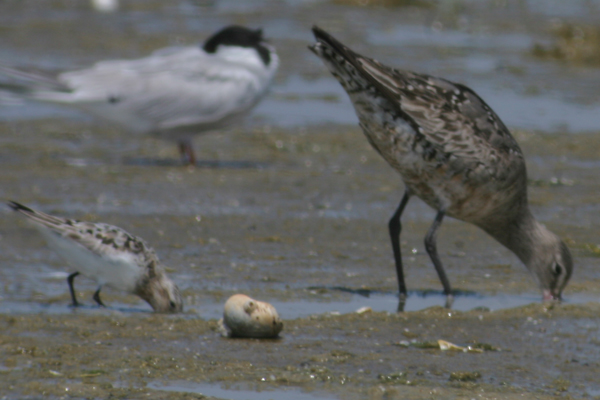 Hudsonian Godwit with Sanderling and Common Tern
John of Born Again Bird Watcher liked the godwits too: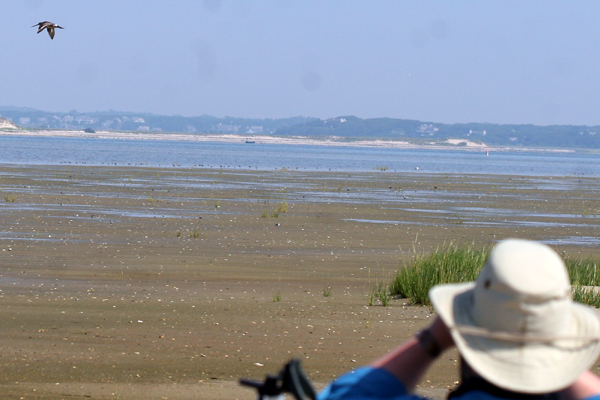 John watching a godwit fly by
The sheer number of shorebirds was pretty astounding, with hundreds, if not thousands, of Short-billed Dowitchers, Semipalmated and Least Sandpipers, Semipalmated Plovers and lots of Willets.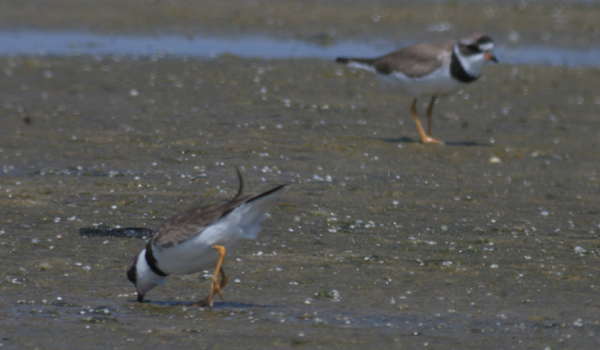 digiscoped Semipalmated Plovers
Of course, I constantly kept an eye out for Roseate and Arctic Terns, and had at least one identifiable Roseate Tern fly past, but it didn't give me the kind of looks I wanted for a lifer.  I needn't have worried.  Later in the day two were found in a tern roost surrounded by Common Terns.  The pale coloration of the rosies let them stand out like sore thumbs.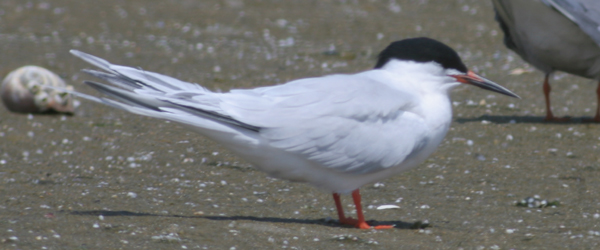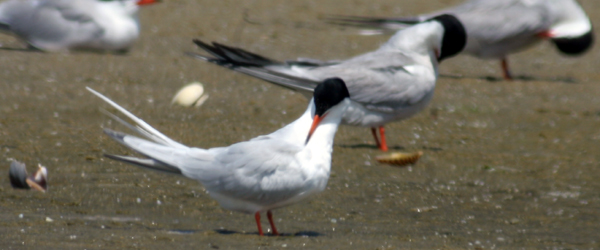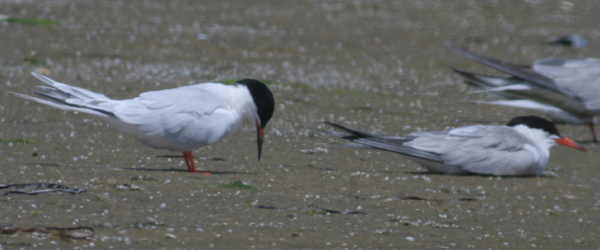 All of the above shots were digiscoped, a practice I was much more comfortable with by the end of the day, though my digiscoping skills are not quite up to Ben's standards (his shots of a rosie are here).  I did have a near disaster when I forgot that I had not screwed my camera tightly onto the scope and it slipped off, landing in the wet sand back first.  No harm done but I spent a good five minutes on the spot cleaning it as best I was able and another ten getting every grain of sand off once we were on our ride back to Providence.
As it got closer and closer to the time for us to catch the boat back I was becoming more and more worried that I would not get to see an Arctic Tern, a bird I was really expecting to finally track down.  Once again, I need not have worried.  In the last flock of terns we spotted before we got on the boat a single short-legged Arctic Tern was sitting patiently waiting for us to notice it.  Two life terns in one day!  Talk about good times!  Though I must admit I was a bit jealous of Helena's total of twenty-three lifers.
One last sighting awaiting us before we boarded the boat: six White-winged Scoters were floating in the bay!  Then, on the boat ride back Julie spotted a Long-tailed Duck (I'll also add that Julie is one of those really, really, really, good birders who manages to be a really, really, really, good birder without coming off as egotistical or annoying, a rare breed indeed).  I must say that having a day with such wonderful waterfowl without a single Mallard in sight was pretty cool.
Many thanks to the entire crew at Swarovski Optik who made the trip (and my two lifers) possible.  They were impeccable and kindly hosts.  Maybe they will even make this a yearly event…