Sometime last fall, unbeknownst to me, I was volunteered to lead a field trip for the Queens County Bird Club. The trip took place yesterday, Sunday, 13 April. The idea was that I would take club members on an exploration of some of the underbirded locations in the Rockaways, places that I have been doing my best to bird regularly, both because they are pretty good birding locations and because I like birding places where I am less likely to run into a herd of birders. Fortunately, we didn't find a whole pile of rarities, so hopefully lots of people won't end up birding my patches!
I kid, I kid. (Not really.)
Anyway, I should get around to the tale of the day. We met at the relatively late (for me) hour of 7:30 AM at the parking lot of Jamaica Bay Wildlife Refuge. Immediately upon arrival several of the nine birders got a year bird in one of the many Laughing Gulls flying around overhead, enlivening the skies with their laughing cries. (That is a Laughing Gull at the top of this post.) But it was not the plan to bird Jamaica Bay so we got the carpool set up and headed over the bridge into the Rockaways.
Our first stop was Rockaway Community Park, a small patch of land that was rather heavily polluted in the not-too-distant past, and still has a stench of burning tires about it. The city's attempt at planting lots of trees there seems to have had mixed success, with the cedars doing well but most of the deciduous trees looking rather the worse for wear. Our hope was that migrant passerines would be flocking through the (natural) large trees that border one edge of the park. Our hopes were dashed, though we did spot both species of kinglet and some common, year-round resident species. The best birds at Rockaway Community Park were undoubtedly the flock of seven Glossy Ibis that flew overhead, a year bird for pretty much everyone on the trip who hadn't spent time further south this winter.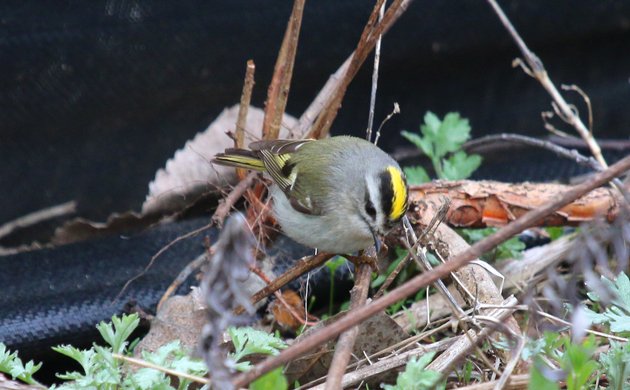 Golden-crowned Kinglet at Rockaway Community Park
From Rockaway Community Park we headed to the adjacent Edgemere Landfill, where the grass-capped hill usually attracts migrating grassland birds. Pretty much all we found were Red-winged Blackbirds and some Northern Harriers, though Northern Flickers were around in numbers around the base of the landfill and a Blue-headed Vireo, a year bird for many, was spotted foraging in a bare-branched trees. Even the ditch, of which I have fond memories, failed to produce the expected Wilson's Snipe.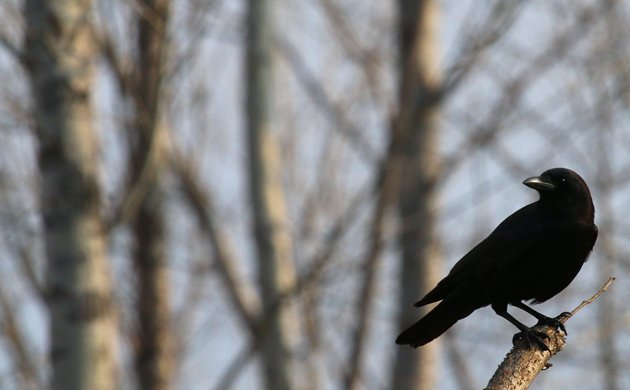 American Crow at Rockaway Community Park
Despite my pessimistic reporting, our group of birders seemed to be in high spirits as we made our way to our next stop, Rockaway Beach at B 38th Street. This location is perfect for access to the beach as it is just east of the roped-off area that is a no-go because of nesting Piping Plovers and Least Terns, but it allows access to that very colony and the beach, which can't be accessed further west because you would have to go through the colony to get there. And while the Least Terns were not back yet, we did spot five Piping Plovers, to say nothing of hundred-plus Northern Gannets that put on a show with the plunge-diving just offshore. We also spotted a singleton Black Scoter, a lone Long-tailed Duck, and both species of loon. In addition to the plovers, shorebirds included lots of very vocal American Oystercatchers, two Dunlin, and a small flock of Sanderlings. It was an enjoyable stop, even though the seemingly small loon with what looked like a rounded head turned out to be just a smaller-than-average Common Loon upon closer examination.
On to our final stop of the day, Dubos Point, which is actually just west of Rockaway Community Park. This wooded peninsula juts out into Jamaica Bay, and is surrounded on all sides by saltmarsh. The birding wasn't stellar, but we did finally find a Wilson's Snipe, though we accidentally flushed it, much to our dismay. What could have been the bird of the day ended up escaping without our being able to narrow it down to species. The orange-faced sparrow we spotted would have to go down on the checklist as Ammodramus sp., as we did not get the looks necessary to narrow it down to Nelson's Sparrow or Saltmarsh Sparrow. Heck, we couldn't even get a good enough look at its head to rule out Le Conte's Sparrow!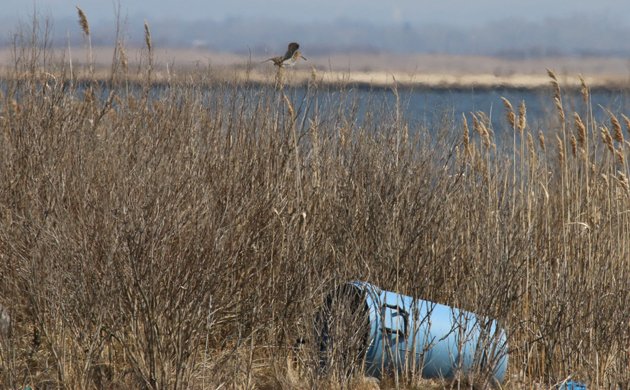 Wilson's Snipe in what passes for pristine habitat in the Rockaways
Despite ending the field trip on that rather frustrating note, we did finish up at noon with a total of 58 species, which is not bad considering that we didn't get a single decent flock of migrant passerines. Here's hoping that everyone enjoyed the trip and that no one remembers how, exactly, to get to those locations. Because if those patches get crowded with birders I am going to have to find some more spots to bird!