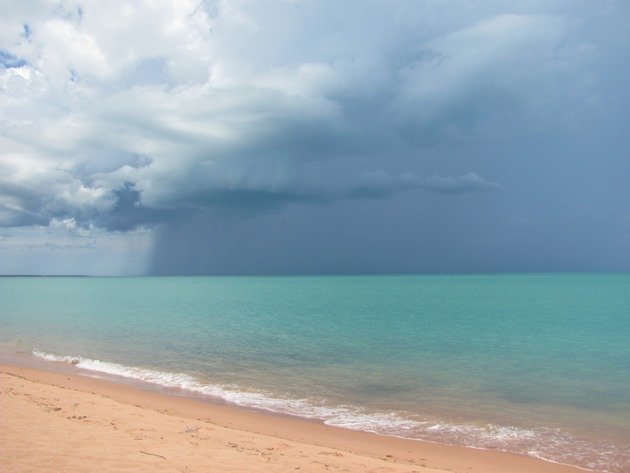 We have missed out on a good Wet Season in Broome for a few years now and finally we are catching up with much needed rain. Finally the ephemeral lakes are full after being dry last year after very little rainfall. In fact they are so full they are either not accessible or they are so full it would take hours to circumnavigate them without getting wet feet. The birds will be taking advantage of this water in a few months as surrounding areas dry out, but for now everywhere is wet and there is ample choice of places for the birds to be. Along the coast it is very busy with shorebirds and they are already starting to change into their breeding plumage ready for migration into the northern hemisphere in the coming months. We are seeing increasing amounts of lyngbya in recent weeks and rough seas during storms pushes it onto the shoreline in Roebuck Bay.
Walking along the shoreline at this time of year can have its challenges with storms building up fast and either swinging around Roebuck Bay and completely missing you, or catching up with you and saturating you! It is tropical weather and as such you are not going to get cold, but very wet! This week we arrived at the beach to see the storm in the header photo. It looked like it would swing around the bay, but we had already had a good soaking a couple of days before and we were prepared either way!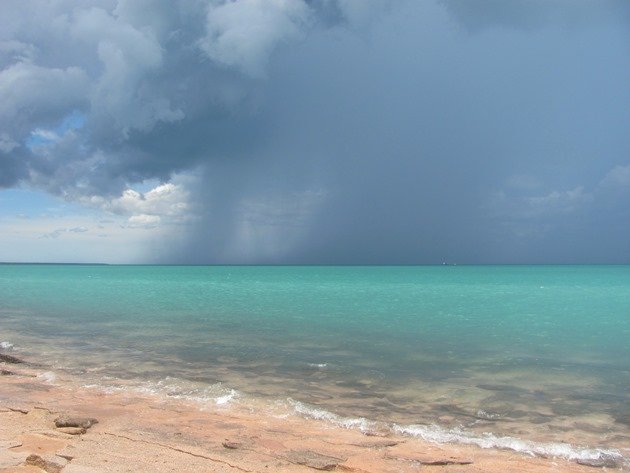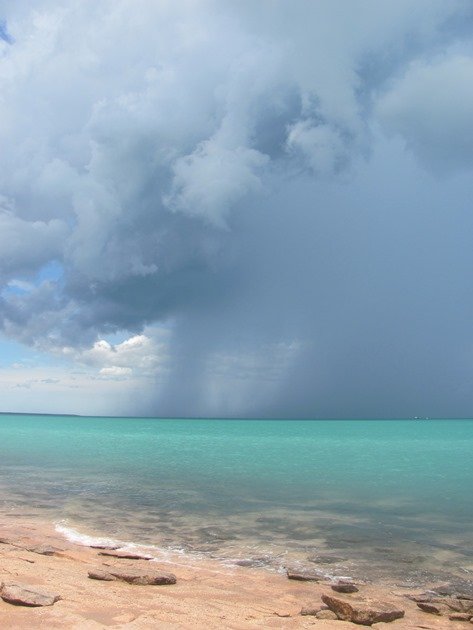 Stormy skies over the bay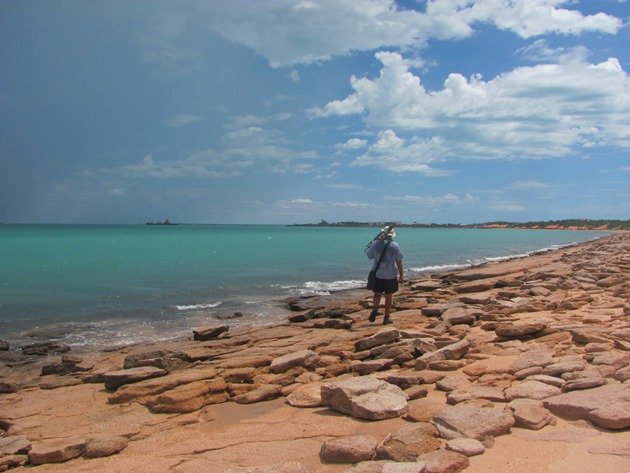 Heading for the port-us and the storm!
We were lucky with the storm swinging around and we lost sight of the port area during the worst of it and we only got slightly wet. It was very interesting watching the thousands of shorebirds in the rain event, because they stayed at their roost. We could observe the reaction after the heavy rain where they were and they shook all of their feathers and then took to the sea to bathe. We presume this was to remove all of the sand that had been thrown upwards during the heavier rain and onto their feathers. This beach is an excellent beach for observing Bar-tailed Godwit, Great Knot, Red Knot, Grey-tailed Tattlers, Terek Sandpipers, Greater Sand Plovers, Lesser Sand Plovers, Curlew Sandpipers, Ruddy Turnstones, Red-necked Stint, Grey Plover, Common Greenshank, Common Sandpiper, Whimbrel and a few Eastern Curlew. It was also nice to see the Semipalmated Plover at the back of the flock on February 3rd. One more bird on the 2017 year list!
Some of the roosting shorebirds all up the beach after high tide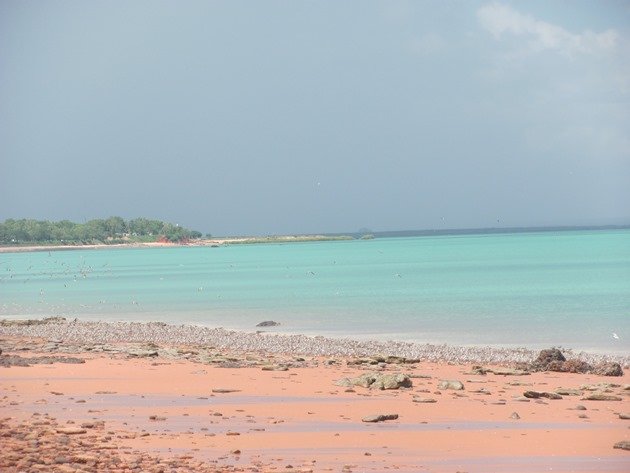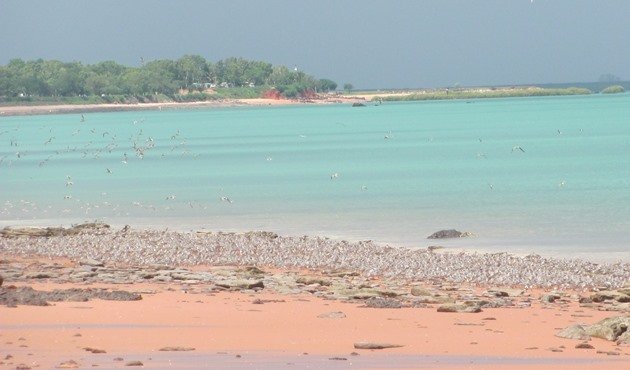 Roosting shorebirds after the storm
These isolated storms often move through very fast and not long after we were walking back from the port and the skies were mostly clear and the tide had raced out. We have very large tides here and it is important to know your tides when exploring the local coastline. Ideally you should go out to observe shorebirds after high tide when they are relaxed at roost and not running from a fast incoming tide. The tides for Broome in 2017 are available here.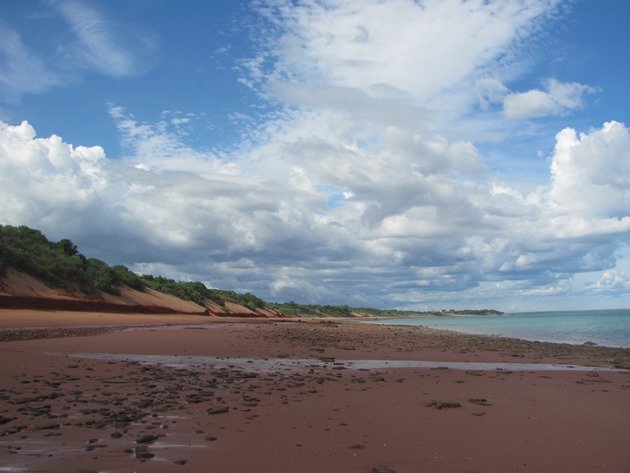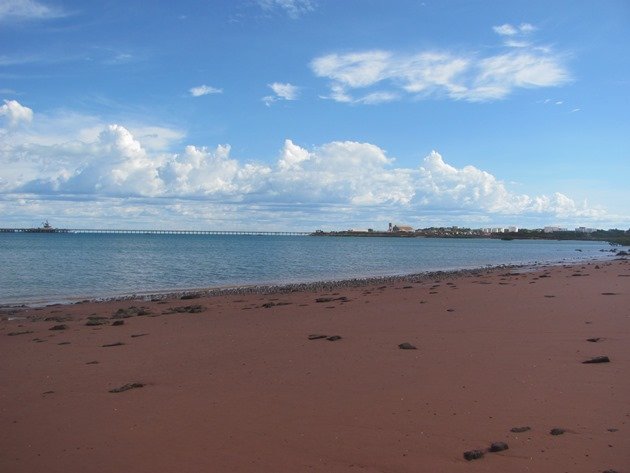 After the storm
Stormy weather also brings in some interesting birds that you would not necessarily observe onshore and two years ago it was a Common Noddy.  Recently a Brown Booby was resting on the rocks as we walked to the port and back. By the time we returned it had taken off again to feed out at sea.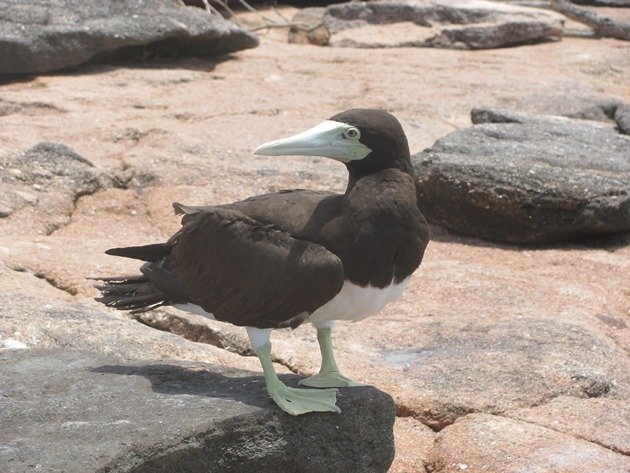 Brown Booby
We have also been observing a Central netted Dragon on a regular basis on the beach and we presume it is the same individual each day we visit due to its location. It lies in wait to catch insects and to soak up the warmth of the sand. No doubt it gets under some bushes when the rains arrive or buries itself into the sand.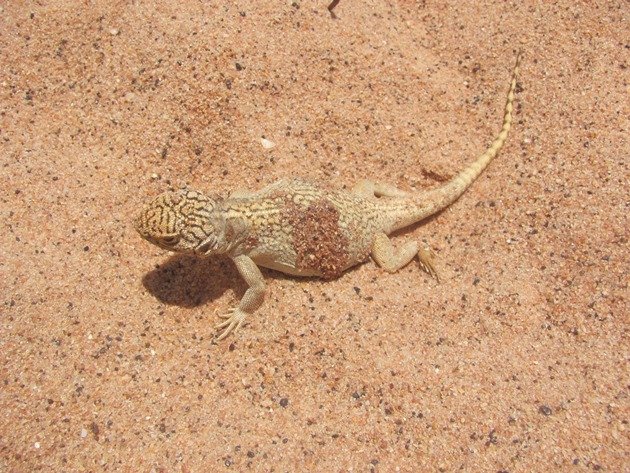 Central netted Dragon
It is only February and we have a few more months of Wet Season ahead, which does actually look like being wet this year! It is nice to have all this rain without cyclones and it will make for some excellent birding throughout the north in coming months. For now we are restricted to the bitumen, walking the beaches or wading on foot through the bush!