Living in New York City means that some birds are not very easy to find.  Living in New York City also means that I miss the company of some of the birders who helped teach me birding when I was first starting out as a birder.  Visiting upstate means that I can figuratively kill two birds with one stone and try to find the birds I haven't seen with birders I haven't birded with recently.  At least, that was the plan when I emailed Rich, Will, and Jory* about doing a morning's birding while I was upstate over Labor Day weekend.  We picked Sunday morning and I asked where would be the best place in Greene County to see Pileated Woodpecker, Eastern Screech Owl, and Ruffed Grouse, my three target birds.  Will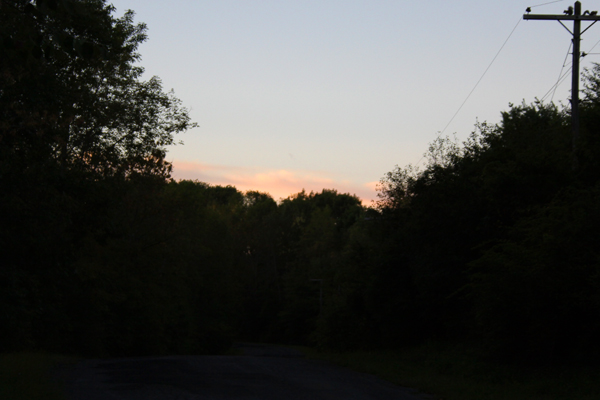 suggested Four Mile Point and Vosburgh Marsh along the Hudson River, and no one objected as it seemed like a pretty good idea, so plans were made to meet at 6:30 Sunday morning, pretty much as the sun rose, at Four Mile Point Preserve.
The ride north and east out of northern Ulster County to eastern Greene County was accompanied by gradually lightening skies and when I arrived, the first of our motley crew to do so, I listened for bird calls and enjoyed the half light of the pre-dawn.  A Wood Thrush whip-whip-whipped from the undergrowth and a couple of Eastern Towhees said their name and then Rich pulled into the lot and tried to whistle up a screech owl but no owl would respond.  Jory arrived and we watched a flock of Wild Turkeys and then the three of us walked up the hill that overlooks the Hudson River and watched a flood of Tree Swallows flow south before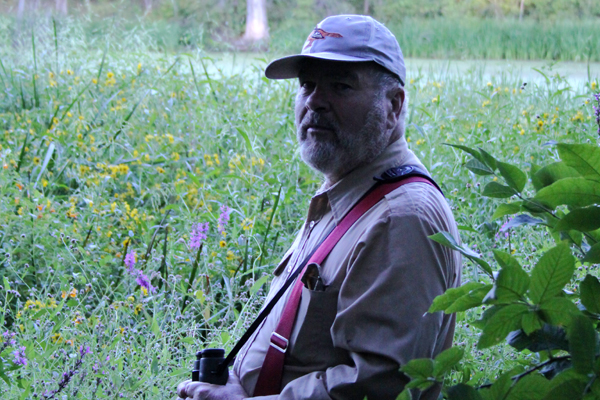 walking back down to the lot to meet Will.  He pulled in, we all agreed to head down the road a bit, and off we went.
As we pulled into our first stop on the side of Four Mile Point Road a juvenile Bald Eagle was flushed, not a bad bird for a New York City dweller.  Then Rich managed to whistle up an Eastern Screech Owl with ease, but not before he managed to attract a Sharp-shinned Hawk and startle a Pileated Woodpecker.  Even though my need for Pileated Woodpecker had been sated the day before it was still impressive to get two of my wanted birds within seconds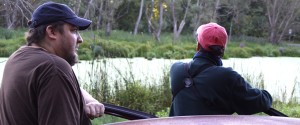 of each other.  A quick scan of the marsh from a tiny overlook in woods got us a Gadwall and a Green Heron and when we returned to the car we spotted the eagle again.
On to our next stop where the Hudson River borders the road to the east and a Scenic Hudson property borders the road to the west.  We scanned the river and added Great Egrets, Great Blue Heron, and Ring-billed Gulls to the day list, but they were all across the river at Columbia County's Stockport Station.  But, hey, the eBird county-lister in me was happy.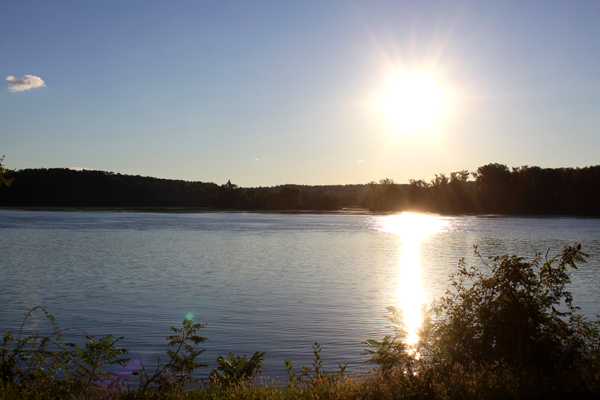 looking east across the Hudson River above and north up the Hudson River below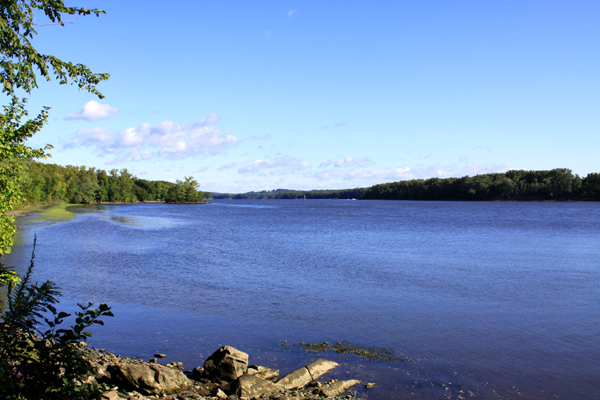 Once we were done scanning the river we made our way onto the Scenic Hudson parcel, which features a trail that runs back into the woods and then runs along a ridge that overlooks Vosburgh Marsh, in the hope of finding migrant songbirds and, maybe, Ruffed Grouse.  We hadn't been walking the single-file trail for very long when two birds flushed from the trees to our right and flew directly away from us.  They were clearly game birds of some kind but were they my sought after Ruffed Grouse?  A lively discussion ensued with every other possibility being brought up and discarded.  Just as we were settling on Ruffed Grouse** I noticed a feather floating down from above, where the birds had been roosting.  It landed on a branch so I walked over and picked it up and got confirmation.  Ruffed Grouse they were!  Three-for-three on my target birds!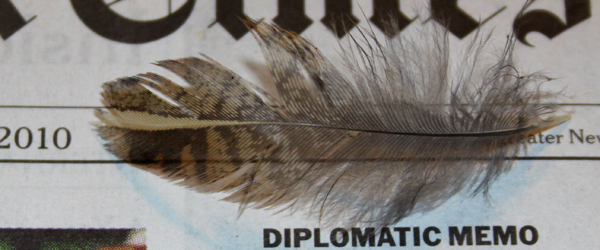 As we continued our walk we had a brief flurry of activity with nuthatches, woodpeckers, and a Scarlet Tanager all making an appearance.  Once we reached the marsh our highlights included another Green Heron, another Great Blue Heron, and small flocks of Blue-winged Teal and Wood Duck.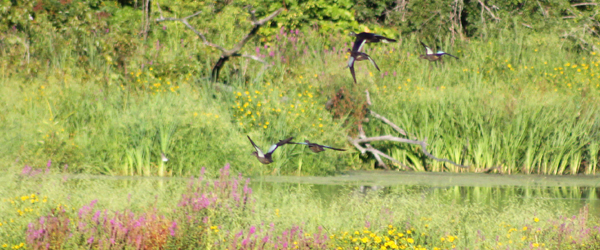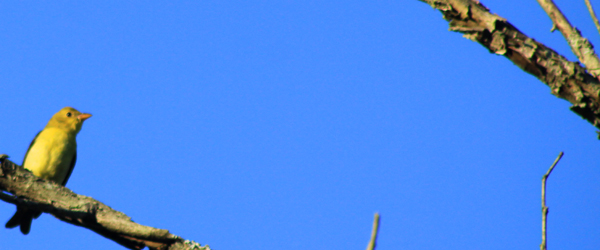 As we were walking back to the road I mentioned that I hadn't seen Purple Finch for the year yet, and seeing as we had already knocked off my target birds why couldn't we also get a Purple Finch.  We all decided it was pretty unlikely and that if I wanted Purple Finch we should have birded elsewhere.  So, of course, when we birded our last stop of the day, the very end of Four Mile Point Road, we came across a couple Purple Finch.  Sweet!
While the birds were good the company was better.  It was great to be birding familiar places with familiar faces and, though I had to skedaddle pretty quick to get back to my folks' house by the time Daisy and I had agreed upon, I did have time to snap one shot of the view from the New York State Thruway overpass in Catskill.  Gorgeous!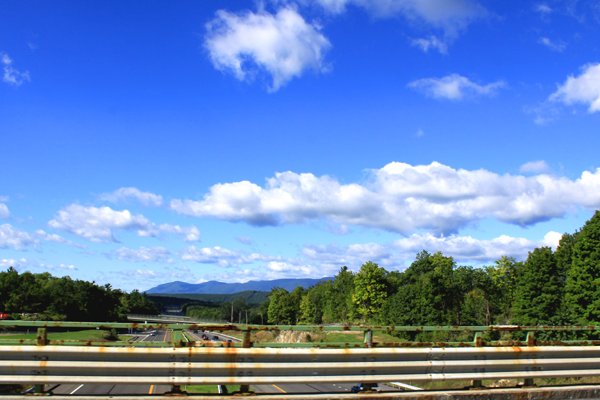 *Our retired (?) Quizmaster.
**Really, there was no doubt what the birds were and we were just having fun hypothesizing.
…