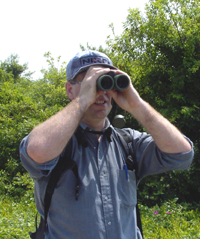 Bloggers rarely have the opportunity to put a face to the name, to encounter in what techies call "meatspace" the folks we know so well in cyberspace. This is, for the most part, a good thing. A blog allows a person to project a selective profile, either a fragmented, focused self or an idealized, extra-eloquent self. Many a blogger whose writing I enjoy is probably best left in the land of links and pixels. Some, however, come across in their work as such interesting and genuine personalities that e-mails seem insufficient for communication. These are the cases where I look forward to meeting the man or woman behind the blog. This was certainly the case this weekend when I went birding with Charlie Moores of Charlie's Bird Blog.
Not only is Charlie the publisher of one of the most enjoyable birding blogs out there, he's also an inveterate world-traveler and a heck of a nice guy. Business takes him all around the globe, so a stay in the unofficial capitol of the world, New York City was inevitable. Once he dropped in, we arranged a long-awaited excursion to the best summer birding ground in town, Jamaica Bay Wildlife Refuge.
Good, as in diverse, birding is tough to come by in New York City this time of year. The spring migrants have moved on but the shorebirds haven't yet arrived in force. Jamaica Bay, fortunately, bucks that trend by offering an impressive and ever-changing array of avians all year long. As a mark of pride, I'd like to note that our small birding crew, consisting of Charlie, Mason, and myself, spotted just about all the expected species and a couple of surprises besides.
Since Jamaica Bay's strategic asset, if you will, is its generous distribution of fresh- and saltwater habitat, one tends to focus on the resident waders, waterfowl, and shorebirds. The first category of bird was well-represented by the usual abundance of Glossy Ibis, Great Egret, Snowy Egret, Great Blue Heron, Tricolored Heron, Green Heron, and both night-herons. As far as waterfowl went, we didn't see any of the teals that have been hanging about, but we did see, along with the expected Double-crested Cormorant, Canada Goose, Mute Swan, Mallard , American Black Duck, and Gadwall, a single Lesser Scaup. Of course, I let Charlie field that scaup ID. The most common shorebirds were American Oystercatcher and Willet in dapper summer plumage, but at least one Killdeer also winged by.
Jamaica Bay offers far more than waterbirds. After all, where there is prey, there are predators like Osprey and Northern Harrier. The gulls included Herring Gull, Laughing Gull, and Great Black-backed Gull. Though a few different tern species have been hanging around the reserve lately, we only picked out Forster's Tern. Both crows, American and Fish, seemed to be in attendance along with Tree and Barn Swallow.
Further common species included Mourning Dove, Rock Pigeon, Blue Jay, American Robin, European Starling, Song Sparrow, House Sparrow, Northern Cardinal, Red-winged Blackbird, Northern Mockingbird, Brown-headed Cowbird, House Finch, and Gray Catbird. Less common but still expected birds were Cedar Waxwing, American Goldfinch, Yellow Warbler, Eastern Towhee, and the most Brown Thrasher I've seen in one day. The day's surprises were two flycatchers, Great Crested and Willow, and an utterly improbable Yellow-billed Cuckoo. What came as no surprise was how easy it is to pick up an ambiguous empid when birding with an expert.
Just a few hours at Jamaica Bay brought us over 50 species of birds. We all had a fine time, even Mason, and it didn't bother me in the slightest that a British birder knew my local birds much better than I did. In fact, the day's list includes four lifers, birds that the Core Team has either never seen or never identified. Which of these birds might actually make it to the list is a story for another day. Today, I'd like to simply reiterate that meeting Charlie Moores in person was great fun. If you ever get the chance to go birding with him (and if you live anywhere in the civilized world, you might), jump on it. In the interim, be sure to enjoy his ongoing adventures in avifauna.