Late yesterday morning I was in the home stretch of my favorite birding routine in Queens, which is taking two buses to Kissena Park and then walking through various and sundry parks back to Queens Boulevard where the subway takes me home.  It had been a good morning's birding, with an out-of-season Chipping Sparrow as the highlight, and I was looking forward to getting home and getting some laundry done.  Actually, it might be more accurate to say I was dreading doing the laundry when I got home which is why when my phone rang and it was Danny Melore asking if I wanted to go to Jones Beach it took me exactly two milliseconds for me to say yes.
When we got out of his car at the Coast Guard Station we were greeted by another birder who got us on a Peregrine Falcon perched quite high up on the radio tower over the station.  It was just possible to make out with our bare eyes, it was recognizable through our bins, and gorgeous through the scope turned up to 60-power.  Besides the peregrine there were many other birds in the water and foraging in the area and Danny and I got busy figuring out what was out there.  A flotilla of Long-tailed Ducks were joined on the remarkably flat water by Red-breasted Mergansers, Common Loons, Brant, Buffleheads, and the triad of common gulls.  On land a big flock of Canada Geese were sitting in the snow along with a rather aptly-named Snow Goose.  Burrowing down into the snow in search of food were Horned Larks and Snow Buntings that were a joy to digiscope, especially as they seemed much less flighty than those species normally are.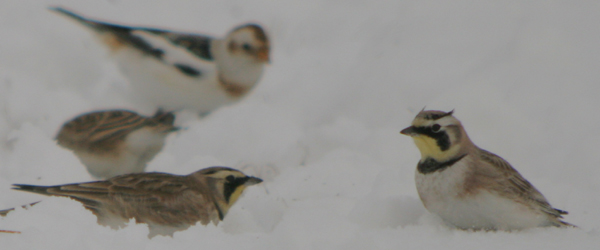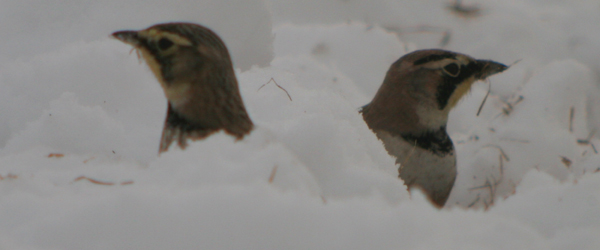 Of course, when the Peregrine Falcon left its perch and screamed past the larks and buntings all took to the air but only until the falcon was gone.  Then they settled back down and resumed burrowing for food.  After enjoying and photographing those birds my attention was drawn back to the water when I noticed one bird in particular getting rather close…it was a Red-throated Loon which was, unfortunately, in non-breeding plumage and therefore lacking its red throat.  Nonetheless, it was perfect for digiscoping!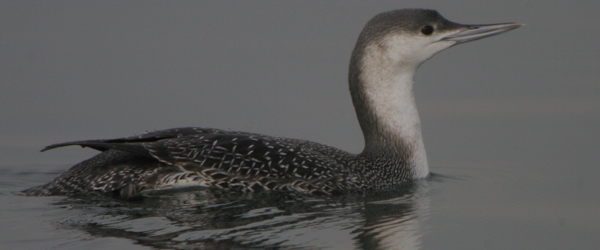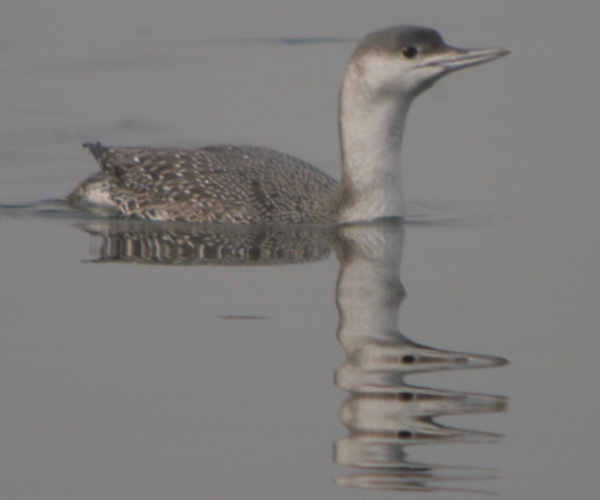 Of course, because Danny and I are birders, we were not content to just sit at the Coast Guard Station soaking up the wonderful birds in front of us.  No, we had to drive over to West End 2 and walk out into the dunes (on a marked trail) and search for Snowy Owls.  Of course, with snow coating the dunes what Snowy Owls were around, if there were any, were invisible.  When we reached the beach we headed south, pausing now and then to scan the water, and seeing more of the same waterfowl though we did manage to add Horned Grebe to our day list.
As anyone who has walked for too long along a beach knows, walking on sand can get tiring.  Add a couple of inches of snow on top of the sand and it gets even more tiring.  Then, when it starts to snow some more and cuts visibility down, well, let's just say that we rather rapidly regretted our decision to take the long way.  Out at the jetty at the southwesternmost part of Jones Beach we spotted a large flock of Sanderlings huddled together, and managed to pick a single Purple Sandpiper through the snow out on the edge of the flock.  Then we turned east and headed back to the car, entertained by the flocks of Sanderlings flying to the roosting spot that parted around us as they passed.
We made a half-hearted attempt to find the "Audubon's" form of Yellow-rumped Warbler that had been reported at Tobay Beach but gave up rather easily, more because we were tired out than anything else.  The ride back to Queens was uneventful and the laundry was still waiting for me when I got home…