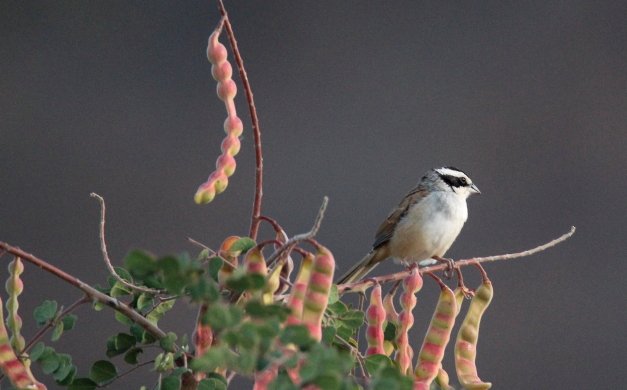 I am originally from California, so it is easy for me to deal with a geography defined by a low coastal mountain range, a central valley, and a much higher inland range (in California, the Sierra Nevada). But for the past 25 years, I have lived in Mexico's state of Michoacán. Here, the coastal range is the Sierra Madre del Sur, the central valley is known as la Tierra Caliente, or the Hot Country, and I live in the much higher Trans-Mexican Volcanic Belt.
The Tierra Caliente, or as biologists prefer to call it, the Río Balsas Basin, is a biological island that shares its very large number of endemic species with the more southern Oaxaca Valley. As a birder, I was eager to find the quickest ways to reach these species from my home. The answer turned out to be the little town of Paso Ancho, one hour southeast of my home in Morelia, and 3,000 feet lower, at an altitude of "only" 3,300 feet.
On my first trip there, I had the good luck to find the best sites right away. As I got out of my car, I immediately saw the first of many Black-chested Sparrows. The squeaky-toy-on-speed call of the Stripe-headed Sparrow was not far behind. The first is a true endemic, found only in southwestern Mexico, while the second can also be seen in Central America. I don't have to tell you which sparrow is which!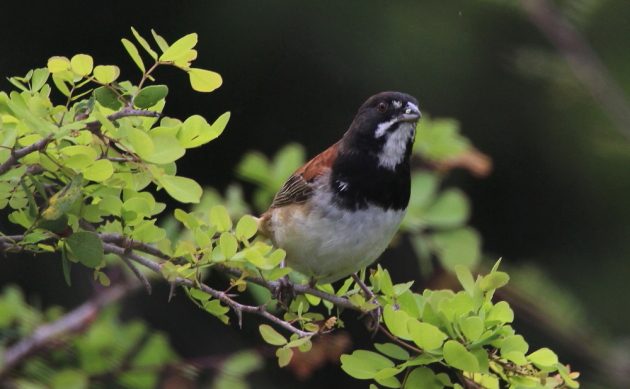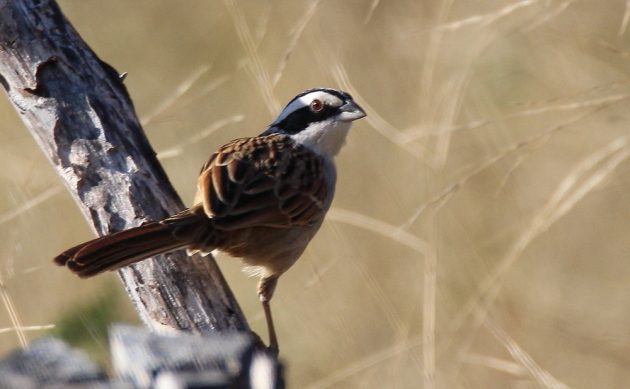 I was very lucky to quickly see a group of Banded Quails (a species only found in Mexico's Tierra Caliente) that first trip, as well as the similarly-named Banded Wren, with its haunting song.
In the biological island that is the Río Balsas Basin, the most typical hummingbirds are the Lucifer and the Tierra-Caliente-only Dusky Hummingbirds. The latter looks like a washed-out version of our more common Broad-billed Hummingbird. Various migratory orioles can be seen, but the residents are the semi-endemic Black-vented and Streak-backed Orioles. And the call I would identify as a Golden-fronted Woodpecker in the highlands, comes here from the endemic Golden-cheeked Woodpecker. Or, as I like to call it… Beetlejuice!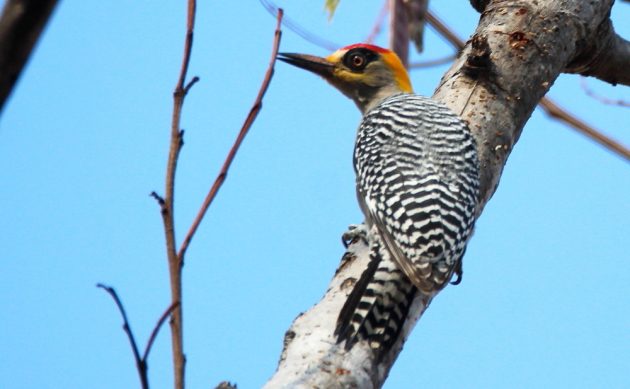 Those black eyes make this bird.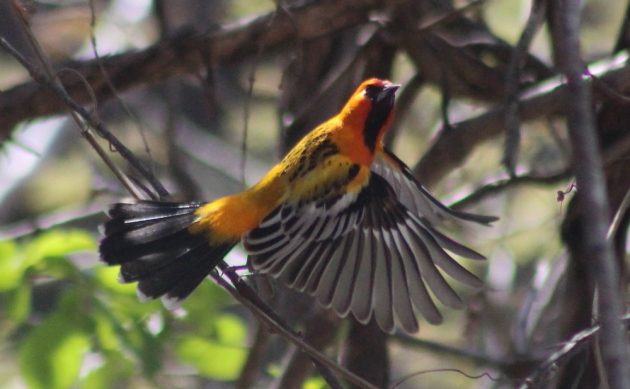 This is the Streak-backed Oriole. The Black-vented Oriole wears a simpler design of solid black head, wings, and tail, with a yellow-to-orange belly.
But the crown jewels of this first, drier section of the Paso Ancho area (and yes, the riparian area demands a post of its own, with many other gorgeous birds) are two species: one for its beauty, and the other for its rarity.
The truly endemic Orange-breasted Bunting is, in my mind, only matched for beauty by the Painted Bunting — which can also be seen in Paso Ancho, in the winter! That first visit, I only saw it from a distance. But later visits gave me much better photos: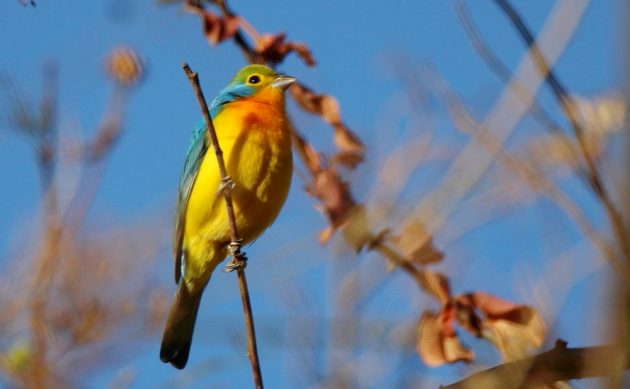 And then there are the Sinaloa Martins. There are currently only 114 sightings of this species registered on E-Bird, and until my first visit to Paso Ancho in 2016, none of them were from Michoacán. This species is so rare that no one knows for sure where it spends the winter. But my current total of four sightings suggests that it passes through Tierra Caliente in February on its way north, and again in July as it goes south. Or perhaps it spends the summer there, and I just haven't seen it yet in the intermediate months. Either way, when you look up the species on Merlin Mexico, it is my photo that they show first. And it's not even a good photo… which shows how rare this bird is! Merlin has also expanded the official range to include Michoacán, unlike earlier guides.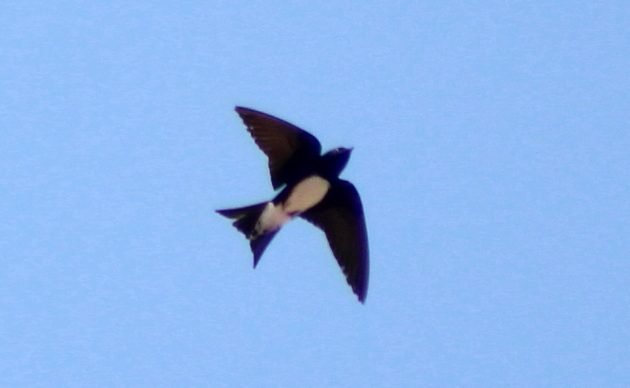 These birds can all be found in the drier area just south of the town of Paso Ancho. On our next visit, I will show you some of the species you can find along the river that runs though the town itself. Russet-crowned Motmots! Elegant Euphonias! Squirrel Cuckoos! Yellow-winged Caciques! Stay tuned.