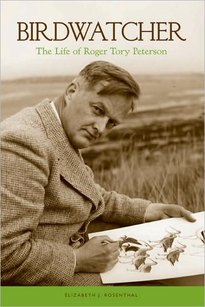 One hundred years ago this month, a true giant of conservation was born. While his origins may have been modest, his accomplishments over a long, storied life became the stuff of legend, particularly among the millions of modern birders he played no small role in creating. When it comes to biographies, could there possibly be one more relevant to the American birdwatcher than Birdwatcher: The Life of Roger Tory Peterson? I think not.
In Birdwatcher, author Elizabeth J. Rosenthal tracks Roger Tory Peterson's course from Jamestown, NY to all seven continents, from his earliest adventures with the celebrated Bronx County Bird Club to his encounters with a considerable chunk of the world's birds, from success to outsized success in a litany of achievements that might humble even the most accomplished naturalist. How pivotal a figure was Peterson to the modern era of birdwatching, nature appreciation, and conservation? Consider this: Peterson's primary claim to fame is his role as the undisputed father of the modern field guide. His innovative emphasis on field marks and identification of birds in the wild made his Field Guide to the Birds, published in 1934, the book which launched a million birders. That first edition facilitated the growth of an entire avocation. In a book that spans 390 pages, Rosenthal covers this seminal moment on page 29!
Birdwatcher… the title both says it all yet only hints at the genius of Roger Tory Peterson's life. Peterson went on to accomplish phenomenal things as a brilliant artist, author, educator, and naturalist. Although he was self-taught as an ornithologist, his knowledge of birds was so vast, his contributions so significant, that he was showered with honorary doctorates and awards. The Peterson Identification System essentially spawned an industry that encompasses far more than birds. He was central, though his work with a kaleidoscope of important individuals and organizations such as National Audubon Society, to the dynamic growth of American birdwatching but also went on to expand his impact to a global audience. Basically, so much of what happened in birding and conservation, both domestically and abroad, in the 20th century went through Roger Tory Peterson that Birdwatcher reads not just as the biography of a man but the history of a movement.
One aspect of Peterson's life that this history highlights extremely well was his efforts at the forefront of the environmental movement. From his role in the formation of the World Wildlife Fund to his international adventures to protect some of the world's great ecosystems, Peterson put his all into conservation. It should come as no surprise to anyone who has spent untold hours poring through any of the field guides he inspired that Peterson linked birdwatching to an interest in something bigger:
One cannot give a large share of his life to this carefree hobby without soberly reflecting on the mechanics of the well-integrated world of nature. One inevitably becomes a fervent conservationist… Such understanding comes slowly, but it does come if one inquires more deeply into the lives of birds and is not satisfied solely with being able to identify them.
I enjoyed Birdwatcher immensely. It didn't hurt that I am an ardent admirer of RTP; anyone who has read All Things Reconsidered is bound to feel the same way. But Elizabeth Rosenthal's diligence has deepened my respect for the King Penguin. This biography is admirably thorough; it seems as if she spoke to legions of Peterson's friends, family, and acolytes. In addition, she explored Peterson's influences and complexities, ensuring a nuanced, not always favorable view of this icon of avian observation. One aspect of the book I had trouble with the non-linear narrative, but Rosenthal's decision to examine Peterson's myriad endeavors by topic rather than by year is understandable. What matters is that the Great Man has a great biography in Birdwatcher.
You can learn more about this book and its author at the dedicated website.